Fluffy, buttery vanilla cupcakes are topped with a sweet-tart raspberry buttercream made from freeze-dried raspberries.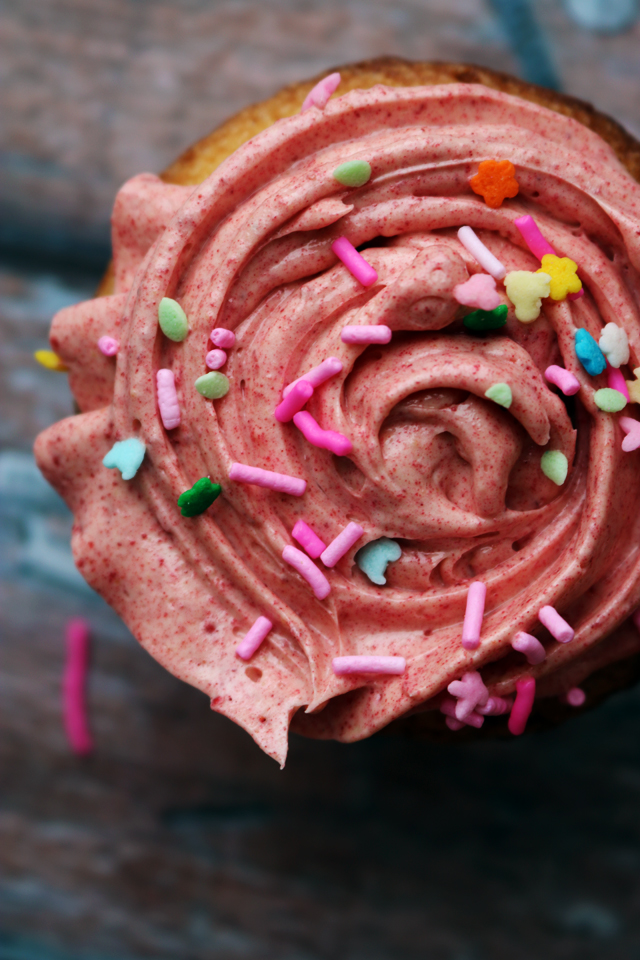 I just felt like we really needed cupcakes today.
These one day weekends can really grate on me, especially when we have stuff to do/places to be/four hours to spend in the car just getting to and from New Jersey. Not that I'm bitter or anything.
(Though I did try to teach Remy to say "Yiayia, you live too far!" on the ride to my inlaws yesterday in lieu of her screaming "GET OUT" for the last fifteen minutes. No dice.)
You're not going to believe this, but these cupcakes have actually been sitting in my drafts folder for a YEAR.
Between this, that, and the other thing I didn't get a chance to post them last spring and then it was fall/eternal winter and, even though there are no fresh berries at play here, it just didn't seem like the right time.
Well, I hear we are getting up to 72F on Friday AND I only have five days until my next day off (not that I'm counting or anything), so perfect timing if you ask me.
These cupcakes are buttery, light, and so very vanilla.
Kind of basic, but also not because you could pretty much top them with anything and they would be perfect. Because spring is (sort of) in the air, (or at least it was at this time last year), I went with a raspberry buttercream. Fruity buttercreams are notoriously difficult to maintain. Either the acidity from the fruit curdles your butter OR you can't add enough fruit puree to impart real fruit flavor without making the whole thing a watery mess.
The solution to this dilemma? FREEZE-DRIED FRUIT!!!!! Aka my new best friend for frostings, macaron flavors, or just snacking. You can buy pretty much any fruit (and some veggies) freeze-dried online, but Trader Joe's and Whole Foods also have pretty legit selections. Just ground them up into a flour and then you can flavor anything.
The world is your (fruit-flavored) oyster.
Buttery Vanilla Cupcakes with Raspberry Buttercream
Fluffy, buttery vanilla cupcakes are topped with a sweet-tart raspberry buttercream made from freeze-dried raspberries.
Ingredients
For the cupcakes
1½ cups cake flour
½ tsp baking powder
¼ tsp baking soda
1 tsp kosher salt
½ cup buttermilk, room temperature
1 tsp vanilla extract
9 tbsp unsalted butter, softened
1 cup sugar
1 large egg + 2 large egg yolks
For the raspberry frosting
38 + 38 g granulated sugar, divided
63 g egg yolks
75 g whole milk
250 g unsalted butter, cut into ½ inch pieces, at room temperature
20 g freeze-dried raspberry powder
Instructions
For the cupcakes
Heat oven to 375F. Line a cupcake tin with paper liners and set aside.
In a large bowl, whisk together the cake flour, baking powder, baking soda, and salt. Set aside.
In a small bowl, whisk together the buttermilk and vanilla. Set aside.
In the bowl of a stand mixer fitted with the paddle attachment, cream together the butter and sugar on medium-high speed until light and fluffy, about 4-5 minutes.
Lower mixer to medium speed and add in the whole egg. Then increase the speed back to medium-high for 15 seconds. Scrape down the sides of the bowl. Turn the mixer back down to medium speed and add in the yolks. Then turn the mixer back up to medium-high and beat for 20 seconds. Scrape down the bowl again.
Remove stand mixer bowl from the mixer and fold in the dry ingredients in 4 additions, alternating with the buttermilk-vanilla mixture. Mix until just combined.
Scoop the batter into the paper-lined cupcake tin, about ¼ cup in each cup.
Place in the oven and bake for 20-25 minutes or until lightly browned and cooked through. Remove from the oven and allow to cool for 10 minutes on a wire rack before removing the cupcakes from their tin. Allow to cool completely.
For the raspberry frosting
Whisk 38 g of the sugar with the egg yolks. Set aside.
Combine the remaining 38 g of sugar with the milk in a medium saucepan set over medium heat. Allow the sugar to dissolve. Once the milk mixture is just about to come to a simmer, remove it from the heat and combine it with the egg yolk mixture while whisking constantly. Return the mixture to the pan and place it over medium heat. Whisking constantly, bring it to a simmer and allow it to cook for 1 minute or until thickened.
Strain through a fine-meshed sieve into the bowl of a stand mixer fitted with the whisk attachment. Whisk for 8 minutes on high speed, or until cool.
Add the butter a few pieces at a time to the egg yolk mixture. Mix on high speed until it thickens and comes together. If it is too loose, then put in the fridge for 30 minutes and beat again.
Add in the raspberry powder and fold it in by hand.
Transfer to a piping bag fitted with the Wilton 1M tip and pipe swirls onto the cupcakes.
My favorite fruity cupcakes: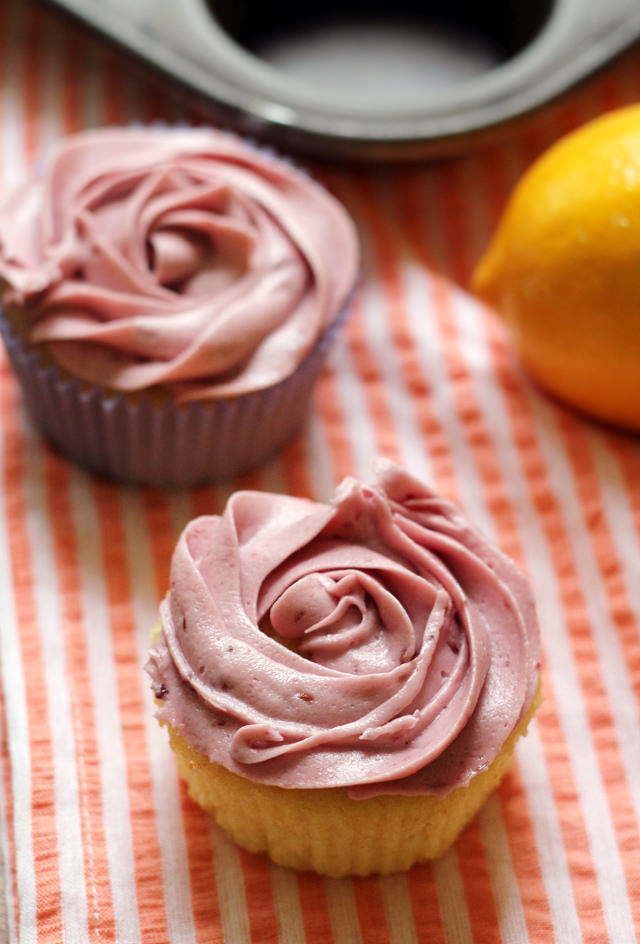 Meyer Lemon Cupcakes with Raspberry Buttercream