A uniquely flavored Persian tamarind, paneer, and chickpea stew that is tangy and deeply savory.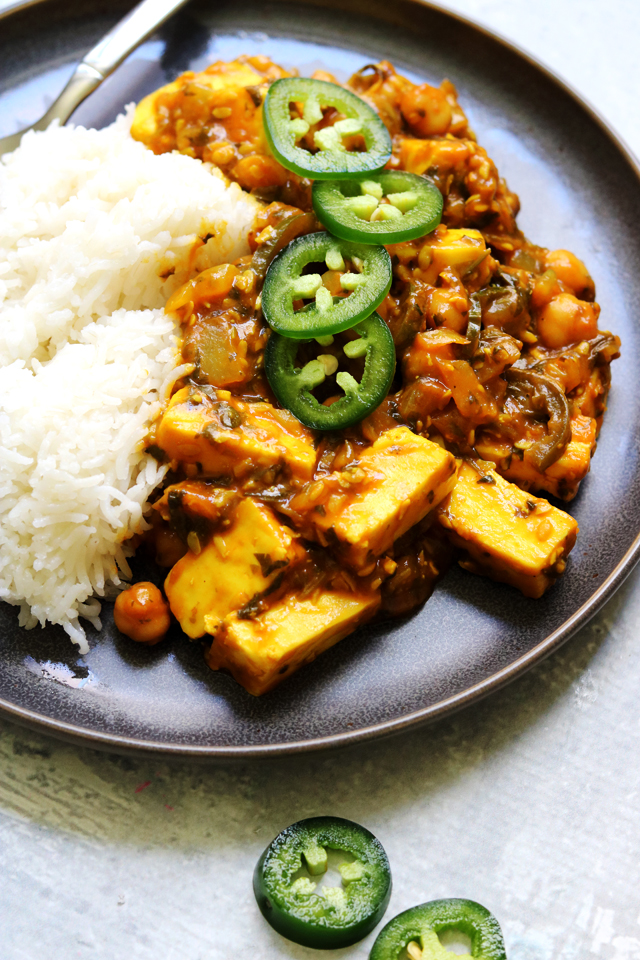 Dare I say it, but things are kind of sort of starting to come together.
As in: we bought a present for someone!!!
More than one, even. Maybe two?? Big strides over here.
For the record, I completely blame my holiday ennui on the fact that Thanksgiving came a week late this year. There was just no time to process anything and now I'm in denial that Christmas is next week.
By this time last year I had most of my holiday shopping done AND I'd already made and frozen five different types of cookie doughs so that they'd be ready to go to bake off fresh on the big day. In contrast, I only just finalized (<– and really, what is "finalized"…..) my cookie list last night.
It's going to be, uh…..interesting.
With everything that's been going on, I've been eating my feelings like a pro and mostly that's meant inhaling the leftover brownies from a party we hosted on Saturday but also I've been craving big hearty stews like this one!
The flavors in here are kind of exotic and atypical, but really really good. I highly suspect the pound of paneer cheese has something to do with it. Maybe.
Persian food and flavor profiles are some of my absolute favorites. It is always so richly spiced and the perfect balance of sweet/tart/tangy/bitter. This stew is no exception!!
It is an adaptation of a fish stew from the cookbook Bottom of the Pot, which is my Persian food bible. Although we do eat fish on occasion, I don't love it in leftover form and with a big pot of stew you're pretty much always guaranteed to have some leftovers.
What I DO love however is cheese and chickpeas, so here we are!! The stew has a pretty unique mix of flavors including sour tamarind, bittersweet fenugreek, spicy jalapenos, and lots of bright cilantro. I was worried how it would go over with the family but everyone loved it! Even Remy!
And now dinners are covered for at least a few days, leaving me more time to "edit" my cookie list. Yay.
Tamarind, Paneer, and Chickpea Stew
A uniquely flavored Persian tamarind, paneer, and chickpea stew that is tangy and deeply savory.
Ingredients
3 tbsp olive oil
1 onion, diced
kosher salt, to taste
6 garlic cloves, minced
1 tsp turmeric
1 jalapeno pepper, thinly sliced
2 bunches cilantro, minced
2 tbsp dried fenugreek
2 tbsp all purpose flour
2 tbsp tamarind paste, dissolved in 2 cups water
2 tbsp tomato paste
2 tsp brown sugar or honey
1 lb paneer, cubed
3 cups cooked chickpeas
Instructions
Heat the olive oil in a large pot over medium-high heat. Add the onion and cook until tender and golden, about 8 minutes. Season to taste with salt and then add in the garlic, turmeric, and jalapeno. Saute until fragrant, about 2 minutes. Add in the cilantro and fenugreek, cook 10-15 minutes or until fragrant.
Stir in the flour and 2 tsp salt. Saute for 1 minute to allow the flour to cook a bit and distribute throughout the dish. Stir in the tamarind mixture, tomato paste, paneer, and chickpeas. Decrease the heat to medium low and simmer for 30-40 minutes or until thickened slightly and the flavors have melded together. Season to taste with more sugar, salt, tamarind, or jalapenos.