Soft gingerbread tiles topped with a lightly spiced buttered rum glaze – easy to make and perfect for the holidays.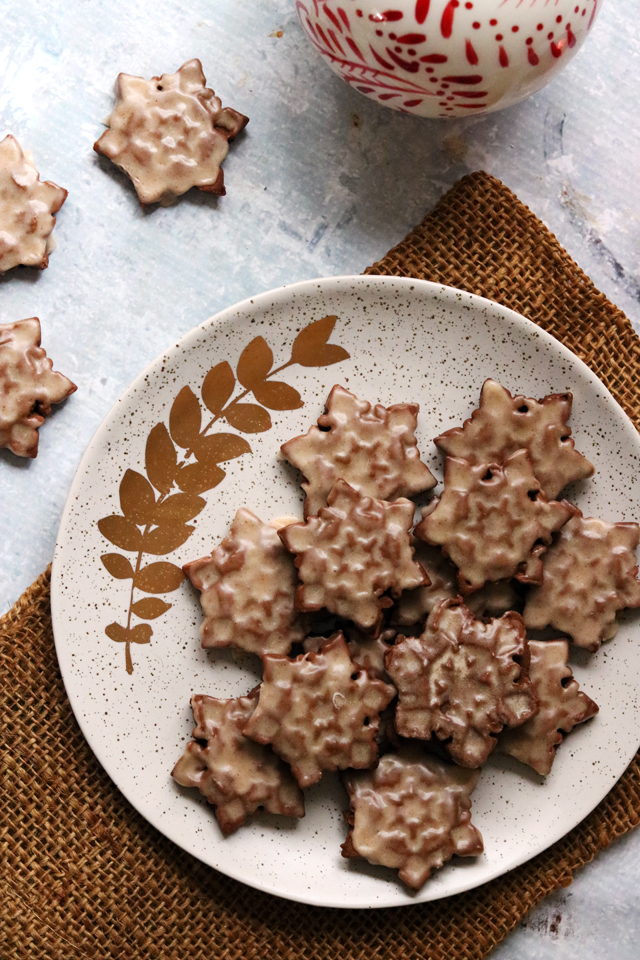 I may not be able to decorate a cookie with royal icing to save my life, BUT I am completely adept at searching Amazon for "Elsa snowflake" (<– in Remy's words) cookie cutters and clicking "Buy Now".
Like, a total pro. Case in point.
And honestly, the joy:effort ratio on these is probably unmatched especially when comparing them to your ultra intricate holiday sugar cookies.
Their flavor is all warm holiday spice and even though I thought I wasn't going to love the hefty amount of molasses in the mix, it definitely mellowed out after letting them sit for a day so that the flavors could meld and settle in.
Not only that, but the process for making these is super easy and approachable.
It goes a little bit like this:
Buy cookie stamps (we covered this above).
Make dough.
Roll out dough.
Stamp. Bake. Glaze. Inhale.
I feel like gingerbread can be a bit divisive, but this was a well loved cookie at our holiday party this past weekend and Remy may or may not have eaten seven (!!!!!) cookies when we weren't looking.
We are still paying the price of that sugar high, and I am still sitting here maintaining that it was pretty much worth it. The leftovers have made for excellent tea and coffee dippers throughout the past week and I'm thinking a certain Santa would also liked them dipped into some milk or a hot toddy, depending on the mood he's in.
Gingerbread Tiles with Spiced Buttered Rum Glaze
Soft gingerbread tiles topped with a lightly spiced buttered rum glaze - easy to make and perfect for the holidays.
Ingredients
6 tbsp (85 g) unsalted butter, room temperature
⅓ cup + 2 tbsp (90 g) dark brown sugar
¼ cup (100 g) blackstrap molasses
1 large egg yolk
1¾ cups + 2 tbsp (235 g) all purpose flour
1 tbsp Dutch processed cocoa powder
½ tsp baking soda
1 tsp ground ginger
½ tsp ground cinnamon
⅛ tsp ground cloves
¼ tsp kosher salt
¼ tsp freshly ground black pepper
For the rum butter glaze
⅔ cup (80 g) powdered sugar
⅛ tsp ground cinnamon
1 tbsp (15 g) unsalted butter, melted
1 tbsp dark rum
1 tsp warm water
Instructions
For the cookies
Combine the butter, sugar, and molasses in the bowl of a stand mixer fitted with the paddle attachment and cream together on medium-high speed until smooth and well combined. Add in the egg yolk and beat again until fully combined.
Add the flour, cocoa powder, baking powder, ginger, cinnamon, cloves, salt, and pepper to the mixer bowl. Mix on low until the dough starts to come together. Pour the dough onto a lightly floured work surface and knead until it comes together into a ball. Roll out the dough to ¼-inch thickness. Chill if needed for 15-20 minutes. (For more intricate cookie cutters as above, it is definitely important that the dough be chilled so it doesn't get stuck in the crevices).
Heat oven to 375F (190C). Line two baking sheets with parchment paper and set aside.
Dip your cookie stamps in flour (if using) and then press them into the dough firmly so that the pattern gets imprinted on the dough. Transfer the cookies to the prepared baking sheets. Re-roll the dough and chill again if needed. Continue to stamp and cut out cookies until all of the dough is used up.
Bake for 7-10 minutes, rotating the sheets halfway through, until firm.
For the rum butter glaze
While the cookies are in the oven, sift together the powdered sugar and cinnamon. Stir in the melted butter, rum, and water. Whisk until smooth. If the glaze thickens too much as it sits, add in a bit more warm water until it is the consistency of runny honey.
Remove the cookies from the oven and allow to cool for 5 minutes. While still warm, brush the glaze over the cookies with a pastry brush. Allow to cool completely on a wire rack before eating.