Crispy roasted cauliflower tossed with a mouth-numbing chile butter that will have you coming back for more.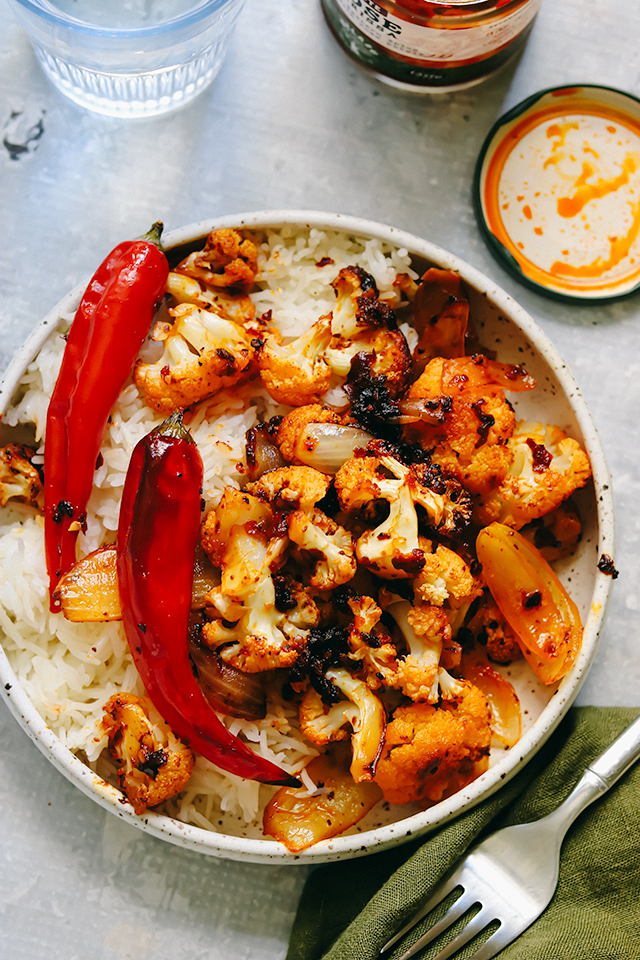 The real question here is what can't cauliflower florets do?!
Somehow they can be pizza dough and tortillas and I'm sure there's a recipe for cauliflower ice cream out there. 
Call me basic, but I prefer them in their actual cauliflower form. 
Specifically, doused in a spiced up butter sauce and roasted until they have a completely crispy, almost charred exterior with quite tender insides. Sound good? Yes, I thought so.
The inspiration for this recipe comes Ottolenghi's Flavor cookbook, though I simplified the process a little bit so that no one would want to pull their hair out while making it.  In the original, you're supposed to first boil whole heads of cauliflower for two minutes, then wait until they're cool enough to touch before cutting them into large-ish pieces and roasting them for an hour. 
I didn't even want to be doing that much work for dinner on a weekend, so I knew something had to give. 
Instead, I skipped the boiling step, chopped the cauliflower up into florets and threw it straight onto a sheet pan. SO MUCH EASIER and actually more delicious because each individual floret gets super crisp and fabulous.
The real star here, though, is the chile butter sauce that gets poured over the cauliflower just before baking. It's infused with three kinds of pepper flakes and a whole lot of harissa, giving it SO MUCH FLAVOR.
And heat. Oh, the heat. It's not unbearable but will definitely make your tongue tingle in a real way. I love that feeling.
The butter also could NOT be easier to make. It's basically just stirring a bunch of things into melted butter. 
We ate this over rice as a main meal but it could also be a side, a great taco filling, an intriguing pizza topper – the options are endless.
Roasted Cauliflower in Chile Butter
Crispy roasted cauliflower tossed with a mouth-numbing chile butter that will have you coming back for more.
Ingredients
2 large whole cauliflowers, cut into florets
2 onions, peeled and cut into eighths
8 red chiles, whole, with a vertical slit cut in them
8 tbsp unsalted butter, melted
7 tbsp olive oil
2 tbsp aleppo chile flakes
2½ tsp tomato paste
½ cup harissa
1¼ tsp urfa chile flakes
½ tsp red pepper flakes
3 garlic cloves, grated
1½ tsp sugar
2 tsp kosher salt
Instructions
Heat oven to 400F.
In a large bowl, toss together the cauliflower, onions, and red chiles. Set aside while you prepare the chile butter.
In a small bowl, combine the melted butter, olive oil, aleppo chile flakes, tomato paste, harissa, urfa chile flakes, red pepper flakes, garlic, sugar, and salt. Whisk to combine.
Pour the butter mixture over the vegetables and toss until well combined. Divide the vegetable mixture between two parchment-lined baking sheets, pouring any extra chile butter over the top.
Roast for 30 minutes, stirring and rotating the pans once halfway through.
Decrease the oven temperature to 375F and roast for another 20 minutes, again stirring and rotating the pans halfway through.
Serve immediately.