Glazed apple pie slices are a midwestern classic version of an apple slab pie made with flaky homemade pastry, a simple apple filling, and topped with vanilla glaze.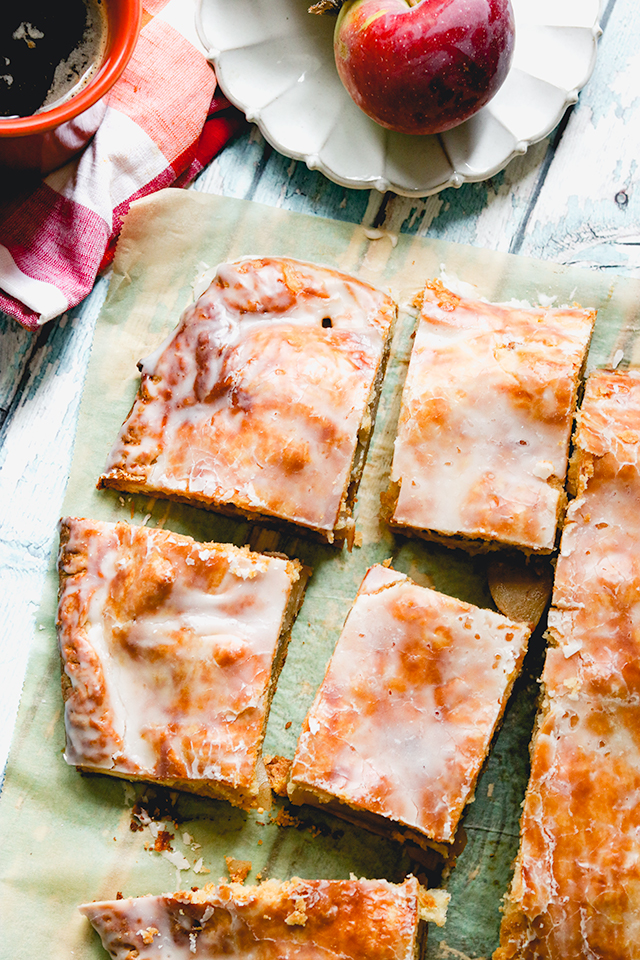 We're fall official, and I am HERE FOR IT.
I don't know about you guys, but the past few days I just cannot take the hot weather anymore.
I'm so over it!
Sweater weather with a chai latte in one hand and an apple pie slice in the other is exactly where I want to be right now.
If you've never heard of glazed apple slices before then pull up a chair and get excited because your universe is about to rocked.
These are a midwestern US fall staple that fall somewhere between an apple pie meets a slab pie meets those warm apple hand pies that used to be on the McDonalds dollar menu (I mean that in the best way, truly – those things were delicious even if completely artificial in every way).
They're handheld with a warm apple cinnamon sugar filling and I truly wish I were eating one right now.
Glazed apple slices start with a simple homemade pastry dough that comes together in the food processor and just requires a brief rest in the fridge before it's ready to be rolled out. I was nervous initially about having to roll it to such a large size, but as you can see I took a "rustic" approach and just kind of free-formed it. 
The filling is also really easy – just a simple mix of thinly sliced apples, sugar, cinnamon, and nutmeg. You will want to use a tart apple for this, like Granny Smith, so that it doesn't become overly cloying or sweet. 
Since we want the filling to be pretty thick and stay inside the bars after cutting them, we use a secret ingredient to thicken it and absorb any excess moisture – CORN FLAKES. Crushed up and sprinkled over the bottom crust, they soak up all the extra apple juice that is released as this bakes, ensuring that the bottom crust stays flaky and the filling holds together.
The final bake is brushed with a vanilla icing before eating that adds a little bit of extra sweetness to each bite. Basically, I just love it. 
Make a batch and share with a friend on a fall adventure this weekend! (Sweaters mandatory, obviously.)
Glazed Apple Pie Slices
Glazed apple pie slices are a midwestern classic version of an apple slab pie made with flaky homemade pastry, a simple apple filling, and topped with vanilla glaze.
Ingredients
For the pastry
2¾ cups (352 g) all purpose flour
2 tbsp sugar
1 tsp fine sea salt
1 cup (225 g) unsalted butter, cold and cut into cubes
½ cup (113 g) whole milk
1 large egg yolk
For the filling
2¾ lb (1.25 kg) Granny Smith apples, peeled, cored, and thinly sliced
⅓ cup (75 g) brown sugar
⅓ cup (67 g) sugar
1 tsp ground cinnamon
½ tsp freshly grated nutmeg
⅛ tsp fine sea salt
For assembly and icing
3 cups (85 g) cornflakes, finely crushed
1 large egg white
pinch of fine sea salt
1 cup (120 g) powdered sugar
4 tsp water
½ tsp vanilla extract
Instructions
For the pastry
Combine the flour, sugar, and salt in the bowl of a food processor. Pulse to combine. Add in the cubed butter and pulse again just until the mixture appears crumbly.
In a small bowl, whisk together the milk and egg yolk. Slowly pour in the milk mixture with the processor running and blend just until the dough comes together.
Pour the dough onto a clean work surface and divide it in half. Shape each portion into a disk, wrap in plastic wrap, and refrigerate for 1 hour.
For the filling
In a large bowl, toss together the apples, sugars, cinnamon, nutmeg, and salt. Set aside.
For assembly
Heat oven to 400F. Line a baking pan with parchment paper and set aside.
Roll out one disk of dough to a rectangle that is slightly smaller than your baking sheet. Place the dough on the parchment. Scatter the crushed cornflakes over the top of the dough. Top with the apple filling, spreading it over the cornflakes in an even layer, leaving a ½-inch border around the edges.
Roll out the second disk of dough into a similarly sized rectangle. Place this on top of the apples. Fold the bottom layer of dough up around the edges to make a 1-inch border and crimp the top and bottom pieces of dough together to seal.
In a small cup, whisk together the egg white and salt until the mixture is loose. Brush the surface of the dough with the egg white mixture.
Place in the oven and bake until golden, about 50-60 minutes. Allow to cool for 15 minutes.
To make the icing, whisk together sugar, salt, water, and and vanilla. Brush over the top of the warm pie.
Allow pie to cool completely before slicing and serving.