Roasted winter veggies get tossed with a spicy sriracha vinaigrette…get your taste buds excited!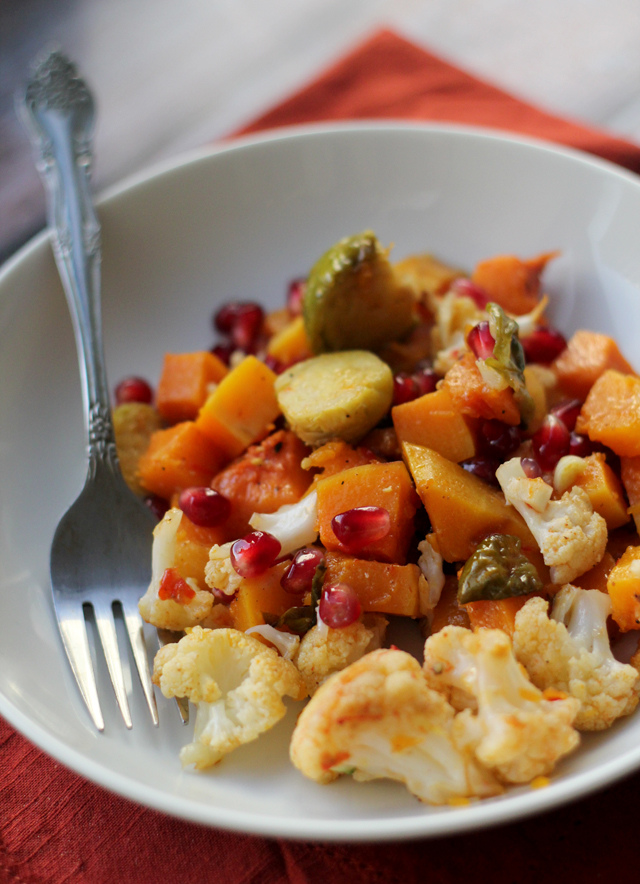 I got it into my head on the way home from The.Boy's parents' house last night while I was mid car-sleep dream that I should use either "ninja-style" or "kung-fu-style" in my post today.
Something like "I kicked those nonstop ALL THE SUGAR cravings to the curb, NINJA-STYLE with this salad."
It sounded good until we got home and I unpacked the leftovers that The.Boy's mom had packed us and I uncovered a WHOLE TRAY of baklava. That I, apparently, in a sugar-induced stupor, had REQUESTED.
So instead of kicking the sugar cravings anywhere, I invited them into my home and said "Welcome. Namaste."
Awesome.
Moral of the story – I think I need to grow a pair. And/or stop trying to make any life decisions while still under the influence of the sweet stuff.
And for the record, NO I am not one of those people who rates sugar up there with hallucinogenic drugs, nor do I believe it is addictive. But moderation in all things. Even moderation.
The thing about having two places to go for the holidays is that you end up making twice the "normal" amount of food to bring and thereby end up eating twice the "reasonable" amount of food. We went to my mother's house on Christmas Eve, where I brought a cake, a tart, and a salad and then to The.Boy's family's on Christmas Day where I brought a different cake and a different salad.
This salad, to be precise.
This salad, which is all roasted veggies! Spicy dressing! Sweet bursts of pomegranate juice!
It's a can't go wrong kind of salad.
Especially when you covertly stuff it into your bag to take home with you. Ninja-style.
Done and done.
This is my submission to WEEK 8 of the 12 Weeks of Winter Squash! Gasp. Time flies.

Roasted Butternut Squash, Brussels Sprout and Cauliflower Salad with Sriracha Vinaigrette
Roasted winter veggies get tossed with a spicy sriracha vinaigrette...get your taste buds excited!
Ingredients
8 oz brussels sprouts, halved lengthwise
1 cauliflower head, cut into small florets
1 small butternut squash, peeled, seeded and cut into 1-inch dice
2 tbsp olive oil
1 tbsp white balsamic vinegar
1 tsp sea salt
1 tsp freshly ground black pepper
½ tsp ground nutmeg
¼ tsp cayenne pepper
1 pomegranate's worth of arils
For the dressing
2 tbsp sriracha (or to taste)
1 large clove garlic, minced
1 shallot, minced
1 tsp honey
2 tbsp white wine vinegar
¼ cup extra virgin olive oil
salt and black pepper, to taste
Instructions
Preheat oven to 400. In a large bowl, toss the brussels sprouts, cauliflower florets, and butternut squash with the olive oil, white balsamic vinegar, salt, pepper, nutmeg, and cayenne pepper. Arrange on a parchment-lined baking sheet and let roast for 35 minutes, or until tender.
In the meantime, whisk together the sriracha, garlic, shallot, honey, white wine vinegar, and olive oil for the dressing in a small bowl. Add enough salt so that you can actually taste it. You want the dressing to seem a tad bit saltier than necessary.
When the veggies are done roasting, toss them with the pomegranate arils and the dressing. Taste for seasoning.