The ultra smooth caramel chocolate ganache, fluffy whipped cream filling, and rich chocolate cake make this a dessert to write home about.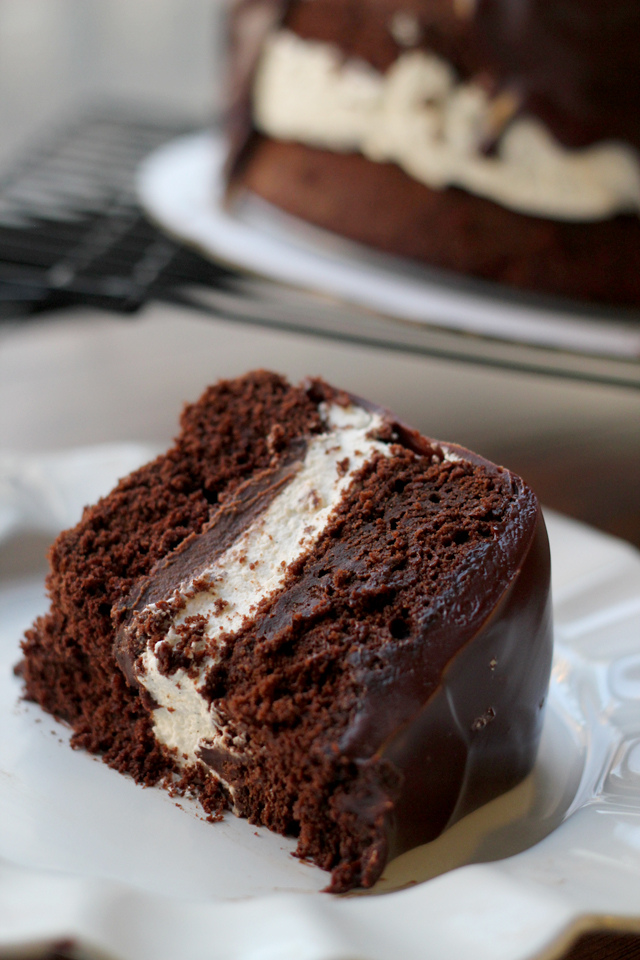 I was always more of a Hostess cupcake girl.
But with two rich chocolate cake layers covered in salted caramel ganache and stuffed with a vanilla bean filling? I could be a Ding Dong convert. Easy.
Of course, not the actual Ding Dong (or Ring Dings, as they were also called depending on whether it was before or after Hostess merged with Drake. And then un-merged. And then merged again.) because who knows what weirdo strange ingredients make these shelf stable over 500 (million) years.
But an epic cake that resembles the childhood treat if you squint really hard and convince yourself that those little shrink-wrapped pieces of chocolate cardboard actually tasted good.
Except…this cake does taste good. Like, SO.GOOD.
If you have any more Christmas fêtes, New Year's Eve parties, or just a lazy Friday afternoon (ahem) ahead of you, then I definitely recommend this cake tag along with you. I mean, if you want to make jaws drop, that is.
It tends to have that effect on people.
One year ago…Lasagna of Fall Vegetables, Gruyere and Sage Bechamel, Broccolini with Tofu, Sesame and Coriander
Two years ago…Garlic-Roasted Butternut Squash and Kale Wheatberry Salad with Pomegranate
Three years ago…Standing Rib Roast with Porcini and Bacon Sauce, Spicy Parmesan Green Beans and Kale
Four years ago…Chocolate-Dipped Cranberry and Pistachio Biscotti
Salted Caramel Ding Dong Cake
The ultra smooth caramel chocolate ganache, fluffy whipped cream filling, and rich chocolate cake make this a dessert to write home about.
Ingredients
For the cake
1 cup natural unsweetened cocoa powder
4 oz semisweet or bittersweet chocolate, chopped
1 cup hot strong coffee
¾ cup buttermilk
1½ tsp vanilla extract
2 cups cake flour
1 tsp baking powder
1 tsp baking soda
1 tsp kosher salt
2 cups sugar
1 cup unsalted butter, room temperature
3 large eggs
For the caramel ganache
9 oz semisweet or bittersweet chocolate, chopped
1⅛ tsp kosher salt
1 cup sugar
1½ cups heavy cream
1 tsp vanilla extract
For the filling and assembly
1¼ tsp unflavored (kosher/vegan) gelatin
1½ cups chilled heavy cream
½ cup powdered sugar
1 tbsp vanilla bean paste
flaky sea salt
Instructions
Preheat the oven to 350. Spray two 9-inch cake pans with baking spray. Line the bottoms of the pans with parchment and then coat the paper with spray.
For the cake, place the cocoa powder and chocolate in a medium metal bowl. Pour the hot coffee over them and let sit for 1 minute. Stir until smooth. Stir in the buttermilk and vanilla. Set aside.
In a medium bowl, whisk together the cake flour, baking powder, baking soda, and salt.
In the bowl of a stand mixer fitted with the paddle attachment, cream together the butter and sugar until light and fluffy, about 4 minutes. Add in the eggs one at a time, beating to blend after each addition and scraping down the sides of the bowl as necessary. Add the dry ingredients to the bowl in 3 additions, alternating with the chocolate mixture. Divide the batter evenly between the two greased pans and smooth the tops.
Bake the cakes until a tester inserted into the centers comes out clean, about 35 minutes. Transfer to wire racks and let cool in cake pans for 10 minutes. Run a knife around the cakes to loosen and then invert onto wire racks. Peel off the paper and let cool completely. Turn cakes over. If needed, use a long serrated knife to cut off any bumps or dome from the top of each cake so that it is flat and even.
For the caramel ganache, place the chocolate and salt in a medium bowl. Stir the sugar and ¼ cup of water in a medium saucepan over medium-low heat. Cook until the sugar dissolves. Increase the heat and cook, swirling occasionally, until the sugar is deep amber, about 9 minutes. Remove from the heat and whisk in the cream. Return to the heat, stirring until caramel dissolves. Pour over the chocolate. Add the vanilla and stir until smooth. Let cool slightly.
Place one cake layer in a springform pan. Pour 1 cup of the ganache over it. Chill until set, about 30 minutes. Cover the remaining ganache and let sit at room temperature.
For the filling, place 2 tbsp cold water in a small heatproof bowl. Sprinkle the gelatin into it and let stand until soft, about 10 minutes.
Microwave the bowl with the gelatin in it until it dissolves, 1-2 minutes. Set aside.
Place the cream and powdered sugar in a large bowl. Add the vanilla bean paste. Beat until soft peaks form. Stir in the gelatin and beat until firm peaks form.
Spoon the filling over the chilled ganache in the pan. Smooth the top. Gently top with the second cake layer. Cover tightly with plastic wrap and chill until cream is set, at least 6 hours or overnight.
Remove the sides from the springform pan. Scrape off any filling that might have leaked out of the sides so that they are smooth. Transfer the cake to a wire rack.
Rewarm the remaining ganache until it is just pourable (not scalding!). Pour the ganache over the cake so that it drips down the sides. Chill until ganache is set, about 1 hour. Sprinkle cake with flaky sea salt before serving.
Notes
Adapted from
Bon Appetit