Cuddle up with this warm, hearty vegetarian pho is the Vietnamese version of chicken-less noodle soup!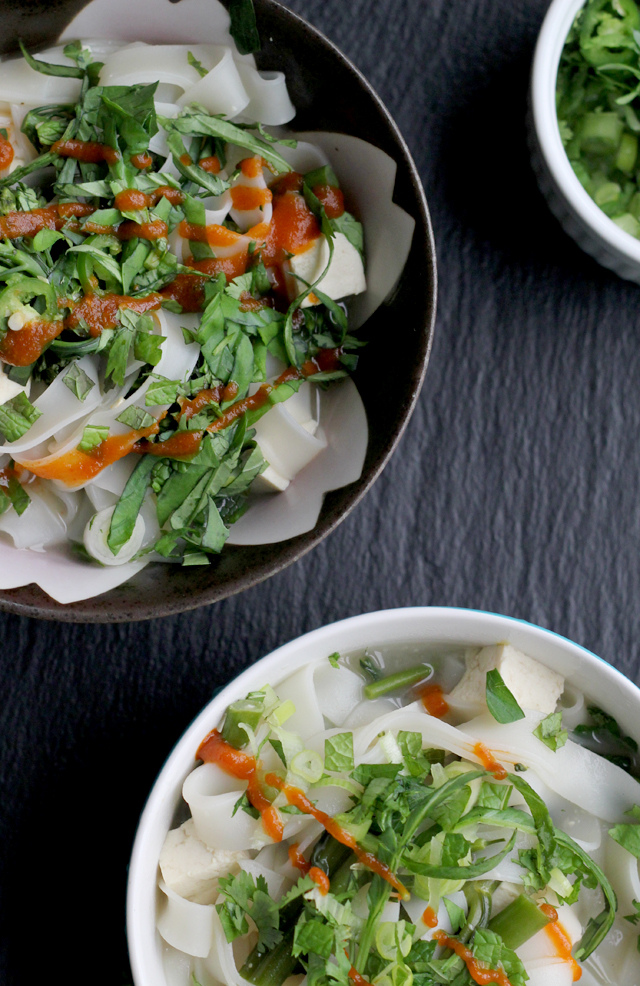 Failure to pre-read: the number one cause of recipe failure since 1999/infinity/beyond.
I don't know what it is about cracking open a cookbook or pulling up a web page to just skim through it the day before you plan on tackling it.
But it is basically the most insufferable task of all time.
More insufferable than stumbling into a 3 hour chill time or an 8 hour simmer when you want dinner and you want it NOW?
Ehhhhhh. Probably not.
Though in that moment, when all that stands between you and sleep is a quick recipe once over? Sleep wins. Every time.
Solution: Picture Cook. A cookbook that takes the process of recipe writing and reading, chews it up, spits it out, and totally reinvents it in a crazy new way.
I mean, basically it is as the title says: a cookbook in pictures. There's a legend at the beginning of the book, which decodes a few key symbols (like heat levels, oven temps, blender settings, etc.) but other than that, it's all pictures all the time. Each recipe is basically a flow chart with arrows showing you the order in which steps need to be carried out, but other than a strip at the bottom of the page, which denotes the ingredients in both image and text form, there is almost no writing. And even with such limited verbiage, it is surprisingly comprehensible. Probably even more so than if it were all spelled out for you.
It actually makes me giddy to flip through it – devious even – as if I'm balking tradition. And I just love that I can see all the steps that a recipe entails with just one glance.
In a strange twist of fate, this book was actually written by one of my high school classmates, which is pretty cool in and of itself (at least to me). While she is also a vegetarian, the book has a mix of veggie and omnivore-friendly options (though it is slightly skewed more towards the veg) and features some great recipe classics, such as eggplant parm, lasagna, chili, panzanella, myriad taco filling suggestions, and so many more. Seriously, this book has all the basics, and while I think it would be a great addition to anyone's collection with its adorable quirkiness, it seems especially perfect for the beginner cook whose eyes glaze over at the sight of a long list of ingredients and instructions. I think we all know one of those.
I chose to dive into the world of Picture Cook with this Pho, which can be made with either a meat or veggie spin. I, of course, went the veggie route and could not have been happier. The broth is richly flavored with star anise, cinnamon, cloves, onion, and ginger, and is then stuffed with fun mix-ins like broccolini, rice noodles, and a spicy herb relish.
And then it's finished off with a drizzle of sriracha.
Because, obviously.
Chicken-less soup for the soul. Without a single surprise simmer. Gotta love it.
One year ago…Peppermint Macarons
Two years ago…Frittata with Thai Red Curry, Broccoli, Shallots and Feta Cheese, Italian Rainbow Cookie Cake
Three years ago…Slow-Roasted Halibut with Fried Capers, Caramelized Lemon and Almonds over Chickpeas and Skordalia, Brazilian Black Bean Soup
Four years ago…Roasted Corn Pudding in Acorn Squash Cups, Broccoli Salad
Vegetarian Pho
This warm, hearty vegetarian pho is the Vietnamese version of chicken-less noodle soup!
Ingredients
½ pot water
1 onion, quartered
1 hand of ginger, thinly sliced
32 oz vegetable broth
4 star anise
12 peppercorns
1 cinnamon stick
4 cloves
2 tbsp miso
1 lb rice noodles
2 bunches of broccolini, coarsely chopped
14 oz extra firm tofu, cubed
¼ cup mint, minced
¼ cup basil, minced
¼ cup cilantro, minced
¼ cup parsley, minced
4 scallions, thinly sliced
jalapeno, thinly sliced
sriracha, to taste
Instructions
In a large pot, bring the water, onion, ginger, vegetable broth, star anise, peppercorns, cinnamon stick to a boil. Simmer for 35 minutes. Strain out the onion, ginger, and spices. Return the seasoned broth to the pot. Season to taste with salt.
Return broth to a simmer. Add the miso and broccoli into the pot, along with the rice noodles and tofu. Simmer until rice noodles are tender.
While the noodles are cooking, toss together the mint, basil, cilantro, parsley, scallions, and jalapeno in a bowl.
Ladle the soup into bowls. Top with the herb blend as well as a squirt of sriracha.
Notes
Recipe from
Picture Cook: See. Make. Eat.
I am submitting this to Souper Sunday hosted by Deb of Kahakai Kitchen.