A carrot sheet cake with brown butter cream cheese buttercream that is perfect for all of your spring celebrations!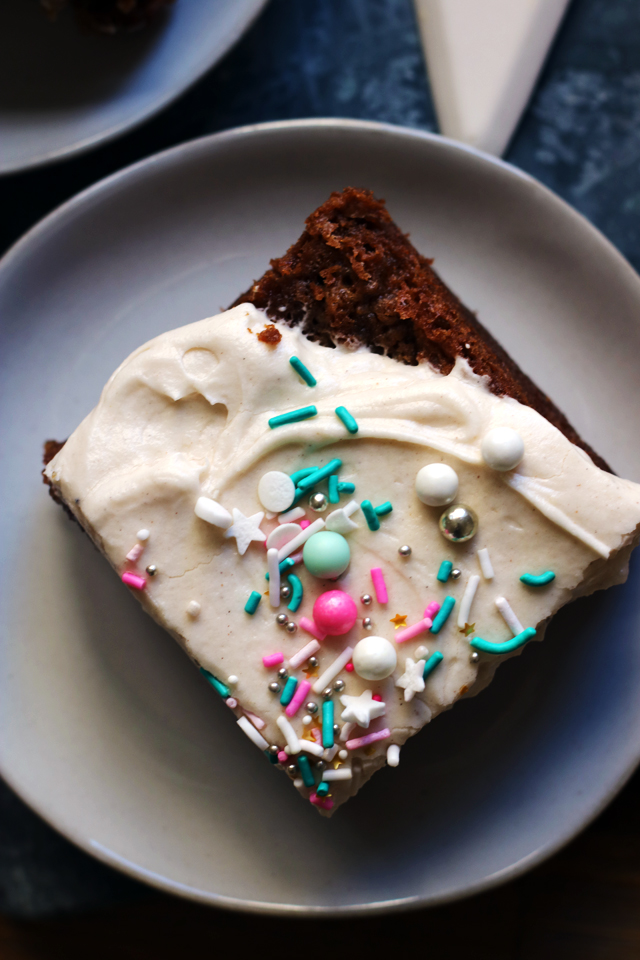 Carrot cake and I have a long and loving history together. For the longest time I was absolutely sure it was what I would choose for my wedding cake, but then I met this pistachio cake and the rest is history.
And I've been trying to make it up to my beloved carrot cake ever since!!
Honestly though, I have such high carrot cake standards that I've found it hard to even find carrot cakes out there worthy of sharing on the blog. I've shared other carrot cake-ified things like ice cream and pancakes and cookies, and then of course there was the super high maintenance (but not for the feint of heart) Milk Bar carrot cake – so good but impossible to make every time a carrot cake craving occurs because LYFE and WORK and KIDS.
This here though is a carrot cake FOR THE PEOPLE.
So long as you're a person who loves carrot cake and brown butter and cream cheese frosting.
Oh, and did I mention it's a sheet cake so there's no layering or impossible frosting jobs involved here?
YAAAASSSSSSS.
My memory is not the best, but I'm pretty sure I made this for Easter last year. It's perfect for serving a crowd, everyone loves it, and it's so easy to throw together in the midst of cooking six billion things.
The original recipe includes walnuts in the cake batter but I'm not the biggest fan (and I have several family members who claim to not be able to eat nuts due to stomach issues) so I omitted them. You can also feel free to add raisins or pineapple or whatever else floats your carrot cake boat.
Carrot Sheet Cake with Brown Butter Cream Cheese Buttercream
A carrot sheet cake with brown butter cream cheese buttercream that is perfect for all of your spring celebrations!
Yield:
9x13-inch sheet cake
Ingredients
For the cake
2½ cups all-purpose flour
2 teaspoons baking soda
2 teaspoons ground cinnamon
1 teaspoon freshly ground nutmeg, if using dried nutmeg, use ½ teaspoon
1 teaspoon salt
½ teaspoon ground ginger
½ cup unsalted butter, at room temperature
1 cup white granulated sugar
1 cup brown sugar
½ cup vegetable oil
3 large eggs
¾ cup buttermilk
2½ cups grated carrots
For the frosting
½ cup of unsalted butter, at room temperature
8 ounces cream cheese, at room temperature
½ teaspoon ground cinnamon
⅛ teaspoon ground cardamom
1 teaspoon pure vanilla extract
Pinch of salt
3 cups powdered sugar
2 tablespoons heavy cream
Instructions
For the cake
Heat oven to 350F. Grease a 9x13-inch baking pan and line with parchment paper. Set aside.
In a large bowl, whisk together the flour, baking soda, cinnamon, nutmeg, salt, and ginger. Set aside.
In the bowl of a stand mixer fitted with the paddle attachment, cream together the butter, sugar, and brown sugar until light and fluffy, about 3-4 minutes. Pour in the oil and the eggs. Beat until well combined.
Add the flour mixture, alternating with the buttermilk, in three additions. MIx until just combined. Add the carrots and fold into the batter with a rubber spatula.
Pour the batter into the prepared baking pan and transfer to the oven. Bake for 35-40 minutes or until a toothpick inserted in the center comes out clean. Set aside to cool completely.
For the frosting
While the cake is baking, cut the butter into cubes. Melt the butter in a small saucepan over medium heat and cook until it starts to brown and turn an amber color. It should also smell deliciously nutty. Pour it into a freezer-safe bowl and stir it to cool it down. Place the bowl in the freezer to chill until it reaches the consistency of room temperature butter.
Once the butter is the right consistency, place it in a stand mixer bowl along with the cream cheese. Beat until smooth. Add in the cinnamon, cardamom, vanilla, salt, powdered sugar, and heavy cream. Beat for three minutes on medium-high speed. If it is too loose, transfer it to the fridge to chill for 10 minutes, then beat again.
Spread over the cooled cake. Decorate as desired.