A hearty white bean soup topped with wine-braised caramelized leeks.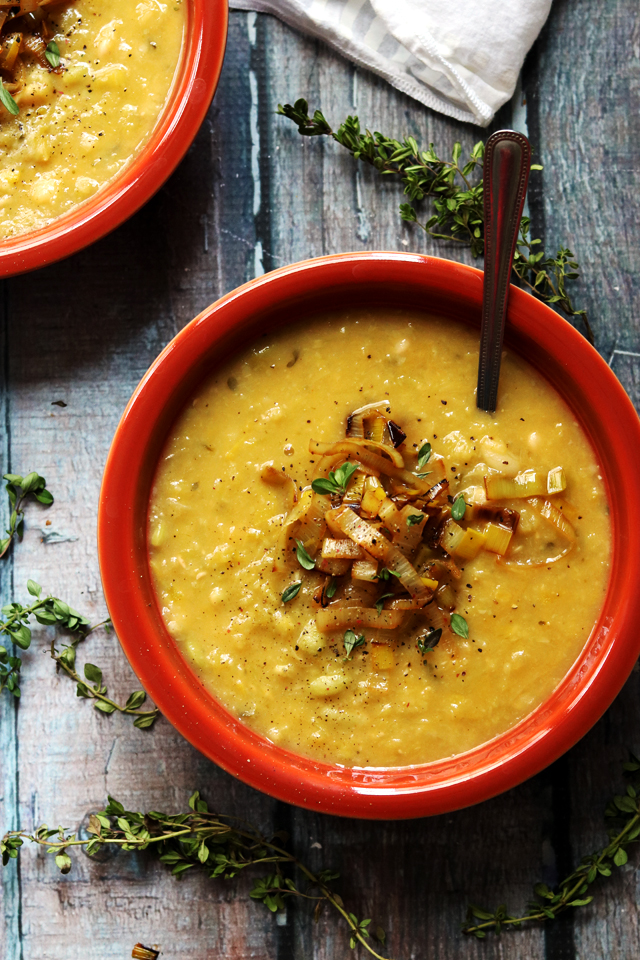 I brought a white bean salad (recipe to be shared soon! ish!) for lunch this week and my friend David laughed, saying "you do love your beans". He's referring to the insane amount of Instagram stories I've posted that are essentially just odes to my Rancho Gordo Bean Club deliveries. I can't help it! An entire box full of six different varieties of beans just waiting to be made into delicious meals like this.
Heck yes, I DO love my beans.
The last box I received came with three different types of white beans, including the flageolets I used in this soup. If you haven't cooked with dried beans before, then YOU MUST. It does take more time to prepare them, but it is always worth it. They have such a better flavor and texture than canned beans. I try to cook a pound in my Instant Pot every weekend to have on hand for any number of meals and it is so easy and mindless. Just dump in the pot with a few bay leaves, water, and salt, then set it and forget it!
Anyway, as I said, I used flageolets but you can use just about any white beans you want for this. The soup is super hearty and it is topped with a wine-braised caramelized leek concoction that turns it from ordinary to extraordinary. I left it chunky for the photos but then ended up pureeing it smooth because I preferred it that way. But you do you! There's no wrong way to eat this.
Wine-Braised Leek and White Bean Soup
A hearty white bean soup topped with wine-braised caramelized leeks.
Ingredients
1½ cups dried flageolet or white beans, soaked
3 tbsp butter
4 medium leeks, cleaned and chopped
2 bay leaves
6 parsley branches
4 sprigs of thyme
6 cups vegetable broth
salt and black pepper, to taste
2-3 tbsp creme fraiche
⅓ cup white wine
Instructions
Melt two tablespoons of the butter in a large Dutch oven or soup pot over medium heat. Add in two thirds of the leeks, the bay leaves, parsley, thyme, and ½ cup of the broth. Cook covered for 5 minutes. Add in the beans and the rest of the broth. Bring to a boil. Lower heat to a simmer and cook, partially covered, for 45 minutes. Add 1 tsp salt and continue to cook until the beans are tender, about 15-30 minutes. Remove from the heat and puree to desired consistency. Stir in the creme fraiche and season to taste with salt and black pepper.
Meanwhile, melt the rest of the butter in a small skillet and add the remaining leeks along with the wine. Stew covered on medium heat until tender, about 15 minutes. Season to taste with salt and black pepper.
Divide the soup among serving bowls and top with dollops of the leeks. Serve warm.