A decadent honey-almond fig tart made with a honey-infused almond frangipane filling and topped ripe, in-season figs.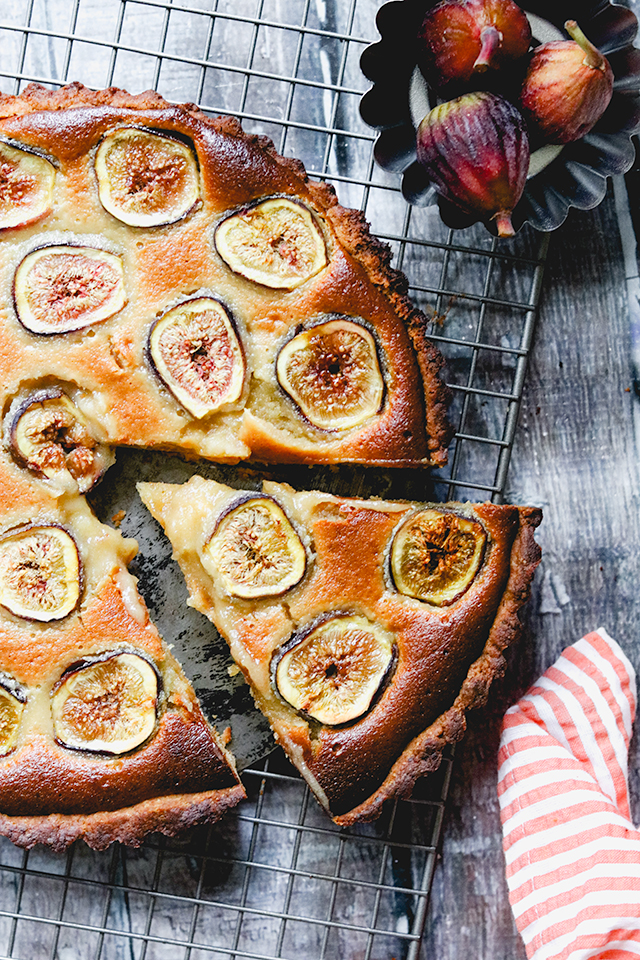 This honey-almond fig tart is heavenly!!
A sweet tart shell filled with a honey-almond frangipane and dotted with fresh figs in every bite. What is there not to love??
Fresh fig season is fleeting, so my modus operandi when I find them is this: buy now, plan later.
It's very unlike me since I am a major (read: obsessive compulsive) planner when it comes to our grocery list, but the truth is that if you even take the time to blink, fig season may be over. 
It's unpredictable, but so worth it for these sweet sticky luscious things.
My original intentions for these was some kind of ornate frou frou cheesecake, but you guys. Something bad happened. I GOT COLD FEET.
And also, lazy. I just couldn't deal with the thought of spending the day baking a cheesecake only to have to let it cool overnight before being able to dig into it. It was just not happening.
So instead I turned to my cookbooks, specifically the eternal classic Baking: From My Home To Yours by the QUEEN HERSELF (Dorie Greenspan) and found this wonderful (easy!) tart.
This bake starts with a wonderful sweet tart dough that is made from flour, powdered sugar, butter, and an egg yolk. You make it in a food processor and then Dorie has the genius suggestion to press it into your tart pan directly instead of wasting time (and expletives) trying to roll it out and then transfer it to the pan.
I find sweet doughs like this to be very sticky and even the trick of rolling it out between two sheets of parchment paper never works for me. This press-in method was a game changer and the dough ended up just as melt-in-your-mouth tender as any other sweet crust dough I've made before.
The filling is equally as simple and is also made in the food processor! I honestly did not even clean mine in-between making the crust and making the filling, I just tapped it out over the sink to release any major loose crumbs. 
This turns a classic almond frangipane into something extra special with a honey infusion. It's lovely and sweet with decadent floral notes that compliment the sweet-tart figs perfectly. The honey flavor definitely comes through quite a bit, so you'll want to use a good quality honey for this (or at least one where you really like the flavor).
It's the perfect transitional dessert to see us out of summer and get us (mentally? emotionally?) ready for fall eating.
Honey-Almond Fig Tart
A decadent honey-almond fig tart made with a honey-infused almond frangipane filling and topped ripe, in-season figs.
Ingredients
For the sweet tart shell
1½ cups (180 g) all purpose flour
½ cup (60 g) powdered sugar
¼ tsp kosher salt
9 tbsp (127 g) cold unsalted butter, cut into ½-inch cubes
1 large egg yolk
For the almond cream
8 tbsp (113 g) unsalted butter, room temperature
⅓ cup honey
⅔ cup (80 g) powdered sugar
1 cup (112 g) almond flour
4 tsp cornstarch
1 large egg
1 large egg yolk
16 ripe figs
Instructions
For the sweet tart shell
Combine the flour, powdered, sugar, and salt in the bowl of a food processor. Pulse to combine. Add in the cold butter and pulse until the butter is broken down into pieces no bigger than a pea. Add in the egg yolk and pulse just until the dough starts to clump together. Turn the dough onto a clean work surface and knead to incorporate any remaining dry ingredients.
Press the dough into a 9-inch tart pan with a removeable bottom, evenly pushing it over the bottom of the dough and up the sides of the pan. Freeze for at least 30 minutes.
Heat oven to 375F.
Grease the shiny side of a piece of aluminum foil and press it, greased side down, onto the surface of the frozen crust. Place on a baking sheet and bake for 25 minutes. Carefully remove the foil and place on a wire rack to cool slightly while you prepare the filling.
For the almond cream
Heat oven to 375F.
Combine the butter, honey, and powdered sugar in the bowl of a food processor. Process until completely smooth. Add in the almond flour and process again until well blended. Add in the cornstarch and pulse to blend, then add in the egg and egg yolk. Process for another 15 seconds.
Place the tart pan with the parbaked shell in it on a baking sheet lined with parchment paper. Pour the filling into the prepared tart shell.
Cut the figs in half lengthwise and arrange over the surface of the cream.
Place in the oven and bake for 30-35 minutes, or until the cream has puffed and started to brown. A toothpick inserted in the center should come out clean. Remove from the oven and transfer to a wire rack to cool before slicing and serving.