With white chocolate, chocolate chips, AND cocoa powder these double (and by double I mean triple) chocolate cookies are a chocolate lover's dream!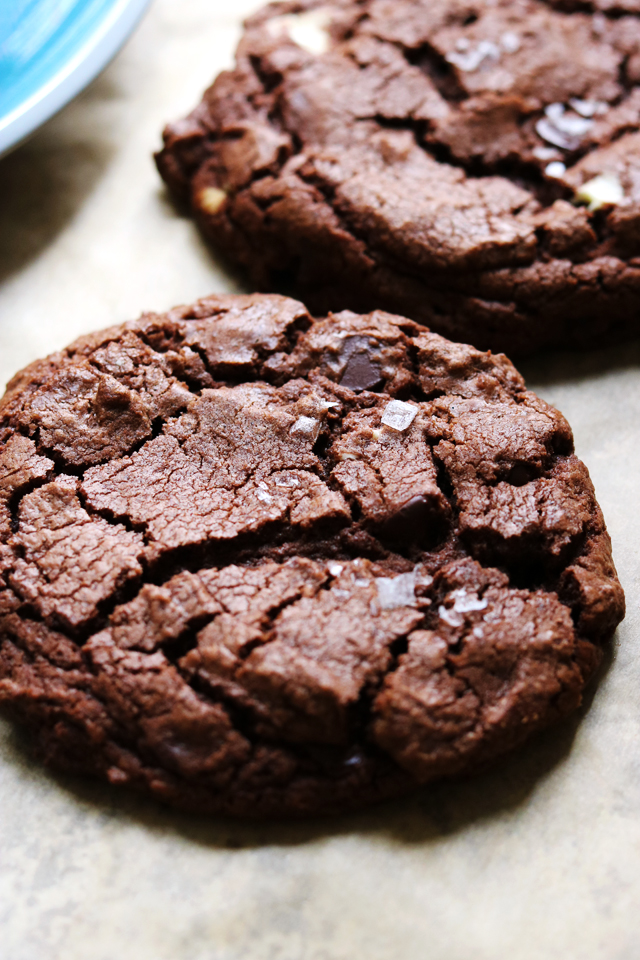 Obviously the day after Halloween, when you've just eaten ALL THE CHOCOLATE, is exactly the right time to make double (eerrr TRIPLE) chocolate cookies.
You wouldn't want to go into chocolate withdrawal, after all. Nope, best to wean slowly.
One XXL cookie at a time.
This is probably going to sound crazy but I actually don't really love chocolate. ESPECIALLY chocolate candy!! It does nothing for me. We could have bags of M&Ms, Snickers, Three Musketeers whatever and it wouldn't tempt me in the slightest. I suspect it's the fact that they're all made with milk chocolate, which is just too sweet without enough depth of flavor for me. If I'm going to have chocolate, I want something that's rich, deep, dark, and completely indulgent.
These cookies are exactly that.
They're from the Sister Pie cookbook, which is probably my greatest bake book discovery of this year (okay, maybe tied with Ottolenghi's Sweet cookbook). I've yet to meet a Sister Pie pie I didn't like, and the cookies are pretty magical too.
These chocolate cookies have melted chocolate (both chopped white chocolate and bittersweet chocolate chips) stirred into the dough along with chocolate chunks and cocoa powder so they really are a chocolate lover's dream. They are crispy on the outside but that perfect chewy gooey texture on the inside. I bet you could even used some chopped leftover Halloween candy in place of some of the chips just for cost-effectiveness and to use up some of your stash.
I almost forgot the best part, which is that…there is NO chill time required!! It drives me crazy when you're making cookies and then the recipe instructs you to chill the dough overnight. I appreciate the fact that sometimes it really does make the texture better, but all too often when I'm craving cookies I want them YESTERDAY. Not in 24-48 hours.
No, this recipe offers almost instant cookie gratification. Or, like, in the 30 minutes it takes to mix together and bake them. Love that.
double (and by double I mean TRIPLE) chocolate cookies
With white chocolate, chocolate chips, AND cocoa powder these double (and by double I mean triple) chocolate cookies are a chocolate lover's dream!
Ingredients
6 oz white chocolate, chopped
2⅓ cups bittersweet chocolate chips
2⅔ cup all purpose flour
½ cup cocoa powder
1½ tsp baking powder
1 tsp baking soda
1½ tsp kosher salt
1 cup butter, room temperature
¾ cup sugar
¾ cup packed brown sugar
2 large eggs, room temperature
2 tsp vanilla extract
flaky sea salt, for sprinkling
Instructions
In a large microwave-save bowl, combine 4 oz of the white chocolate and 1⅓ cups of the chocolate chips. Heat in 30 second intervals until melted, stirring after each one. Allow to cool slightly while you prepare the rest of the cookies.
In a medium bowl, whisk together the flour, cocoa powder, baking powder, baking soda, and kosher salt. Set aside.
Combine the butter and sugars in the bowl of a stand mixer fitted with the paddle attachment. Cream together on medium high speed until light and fluffy, about 4 minutes. Add in the eggs and vanilla. Mix until combined, about 2 minutes. Scrape down the sides of the bowl. Pour in the melted chocolate and mix on low speed until just combined.
Add in the flour mixture and mix on low until it is just combined. Add in the remaining chocolate chips and white chocolate. Mix until just combined.
Heat oven to 350F. Line two baking sheets with parchment paper.
Scoop the cookie dough using a ¼-cup measure. Place on the baking sheets. Slightly flatten each cookie with your palm. Sprinkle sea salt flakes over the top.
Bake for 16-18 minutes, one tray at a time, just until the cookies start to develop cracks on top. Remove from the oven and transfer to wire racks to cool.