A refreshing hummus soup topped with an heirloom tomato salsa that is absolutely bursting with fresh flavor.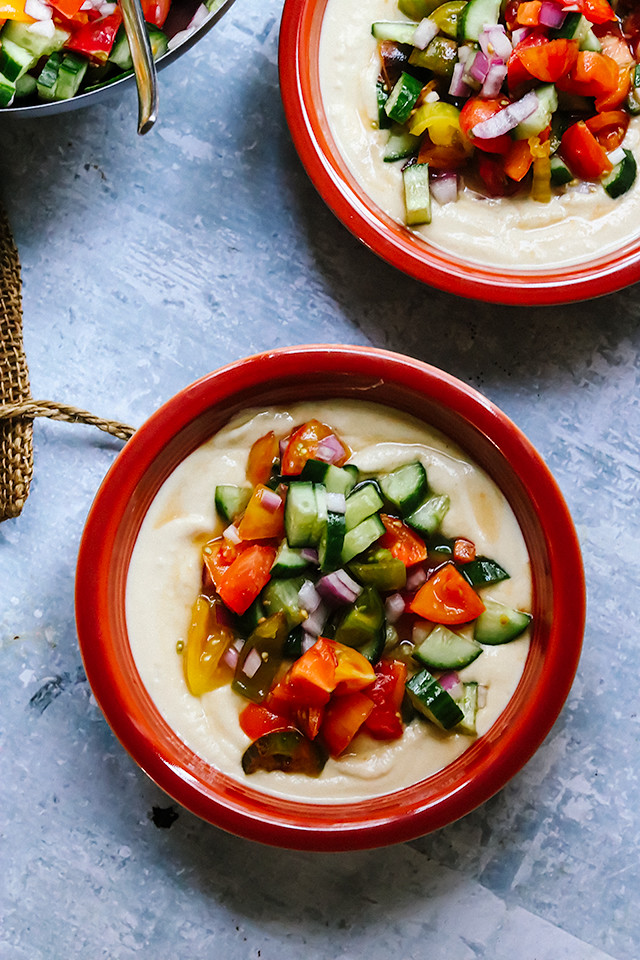 Every once in a while I put recipes on my meal plan that I KNOW I'll hate.
Anything with beets or mushrooms or fennel. Gazpacho. (But never celery. NEVER. EVER. CELERY.)
Why do I do this?
Maybe I like a challenge. Maybe I'm crazy. Who can say really? (Don't ask my husband, though. He will definitely have opinions.)
And eevvveerryyyy  once in a blue moon I surprise myself and end up loving something that I'm sure I'll despise. (<– yup, that. That's why I do it.)
Which is exactly how I ended up here posting this COLD SOUP, which absolutely blew my mind.
Normally cold soup sends chills of disgust down my spine, but somehow someway I convinced myself to make this and I will never be the same. In the best way.
Imagine if you took the best hummus, thinned it out a bit, and then topped it with the freshest heirloom tomato salsa.
Yep, that's this.
It comes together quick snap and is so incredibly simple, yet so incredibly delicious. That being said, I have to warn you that because this is so bare bones it will only be as good as the ingredients you put in it. I cooked my chickpeas from scratch and it really makes the difference. Of course, that adds time to the recipe, but it is 99% hands off and you can get it done on a weekend (what will you be doing anyway, #quarantinelife) and then throw the soup together in less than 10 minutes on a weeknight. BAM. Love it. Making it again this weekend.
Hummus Soup with Heirloom Tomato Salsa
A refreshing hummus soup topped with an heirloom tomato salsa that is absolutely bursting with fresh flavor.
Ingredients
2 cups chopped heirloom tomatoes
2 cups chopped cucumber
½ cup red onion
3 tbsp olive oil, divided
salt and black pepper, to taste
3 cups cooked or canned chickpeas
3 tbsp lemon juice
¼ tsp ground cumin
2 garlic cloves
¼ cup tahini
Instructions
In a large bowl, combine the tomatoes, cucumbers, red onion, 2 tbsp of the olive oil, salt and black pepper. Season to taste and set aside.
In a high-powered blender, combine the chickpeas, lemon juice, 1 tbsp olive oil, cumin, garlic, tahini, salt, and black pepper. Gradually add 1 cup of water and blend until smooth until it is smooth and thin enough to be pourable. Season to taste with lemon juice, salt, and black pepper.
Pour into serving bowls and top with the tomato salsa.