Intensely rich and fudgy rye chocolate brownies that get their depth of flavor from wholesome rye flour and lots of chocolate.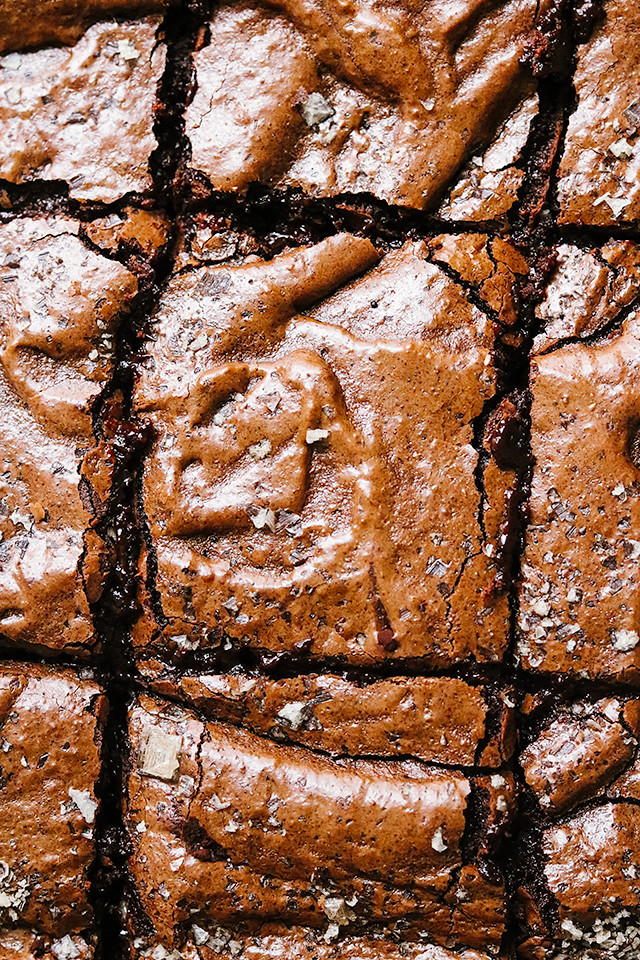 These brownies are full of love, joy, and MOLTEN CHOCOLATE.
So pretty much all of the best things in life.
Also, an ingredient that I'm obsessed with: RYE FLOUR.
Not to be confused with rye bread, which is so strongly flavored with caraway seeds that it can be very polarizing. I, for one, am not a fan.
But rye flour is completely different!! It just has this hearty nutty wholesome hint of something wonderful to it.
I've used it before successfully in pie crusts and fruity desserts, but adding it to chocolate is easily my new favorite way to eat it.
Similarly to espresso powder, rye flour somehow makes the chocolate flavor more intense while maintaining the rich, gooey molten fudge brownie texture that we all know, love, and downright expect from our brownies.
I hold my brownies to VERY high standards and will settle for nothing less.
This brownie recipe is from The Violet Bakery Cookbook, which is my new favorite cookbook for recipes that seamlessly incorporate whole grain flours into decadent desserts.
I don't know how Claire Ptak does it, but she DOES, and she does it well.
My life plans involve baking my way through it and I'm not the least bit sorry about it.
These brownies feature a heck of a lot of dark chocolate (10 oz!!) and come together very quickly.
They come out of the oven with crackly tops, fudgy centers, and a perfect sprinkle of sea salt flakes to balance out all of that richness.
Eating one is a true perfect bite, especially if you're topping it with a cool scoop of ice cream, which is exactly my intention for the weekend.
Rye Chocolate Brownies
intensely rich and fudgy rye chocolate brownies that get their depth of flavor from wholesome rye flour and lots of chocolate.
Ingredients
150 g (2/3 cup) unsalted butter
300 g (10.5 oz) dark chocolate, broken into pieces
50 g (1/2 cup) cocoa powder
200 g (1.3 cups) rye flour
½ tsp baking powder
1 tsp salt
200 g (1 cup) sugar
200 g (1 cup) dark brown sugar
4 large eggs
1 tbsp vanilla extract
1 tsp flaky sea salt
Instructions
Heat oven to 350F (180C). Grease a 9x13-inch baking sheet and line with parchment paper.
Combine the butter and chocolate in a microwave-safe bowl and heat in 30 second increments in the microwave until completely melted, stirring after each. Allow to rest while you prepare the remaining ingredients.
In a separate bowl, whisk together the cocoa powder, rye flour, baking powder, and salt.
In the bowl of a stand mixer fitted with the whisk attachment, whisk together the sugars, eggs, and vanilla until light and fluffy. Slowly pour in the melted chocolate and mix until just combined. Fold in the dry ingredients by hand.
Pour the batter into the prepared baking pan and smooth into an even layer. Sprinkle with the flaky sea salt.
Bake for 20-25 minutes, or until the brownies are just barely set. Allow to cool completely in the pan before cutting into squares.