This Massaman curry noodle soup has all the flavor of your favorite Thai takeout, but in cozy vegetable noodle soup form!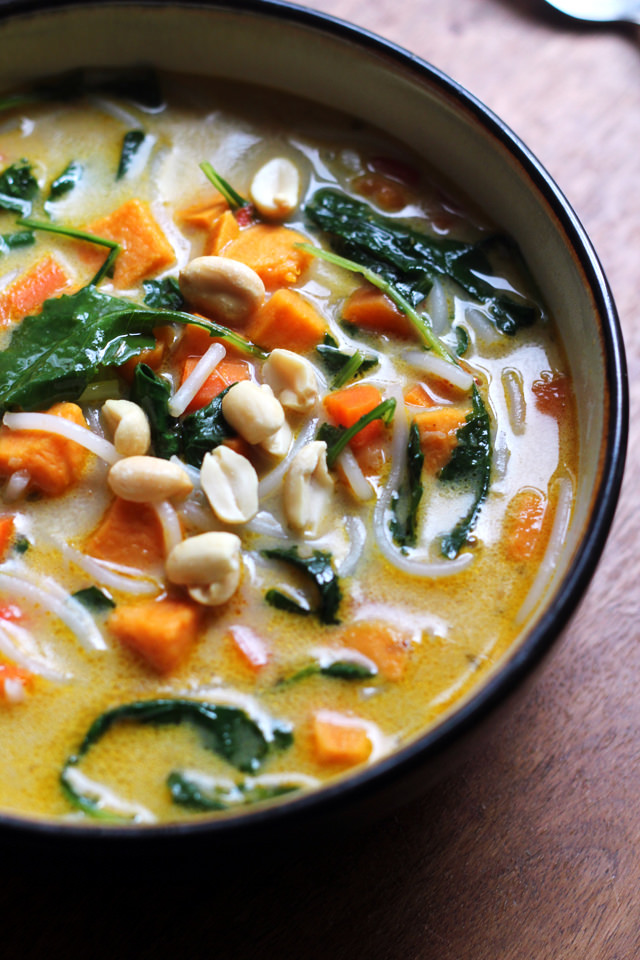 It might be some sort of faux pas to lust after soup so close to Memorial Day.
So, oops?
And also: better late than never.
In all fairness, it was sub-freezing outside when I first made this and we were fresh off a homemade curry paste high and so in.the.mood for something warm and cozy to thaw our aching bones.
And now it's breached 80F here in the northeast, not counting the humidity, and we can't even dream of soup without turning on the A/C.
Okay, maybe I can, but I have the body temperature control of an infant. So. There's that. But for those of you with a normal hypothalamus. I get it: you're over it.
But….maaayyyybbeeeee…..there is room for an exception?
Because this soup is SO worthy.
To be honest, it was born of good old fashioned GUILT. The kind that hides itself in the back of your refrigerator and haunts you for weeks until you rediscover it, moldy and unmentionable, two months later. I suspect we've all been there.
Well, at the time I couldn't bear the thought of my precious little homemade Massaman curry paste falling prey to such a terrible fate, so I did what any normal person in the middle of a Northeast winter would do.
I soup'ed it. And I really think you should too.
Sure, it's warm out and whatnot, but I really think we have room in our hearts for one.more.bowl. Especially one as sweet spicy coconutty noodly perfect as this.
Plus it's got kale and sweet potatoes and carrots, making it a bikini body super food.
I meeeaaaannn. They don't call it a (Massaman curry noodle) soup diet for nothing.
You know you want to.

Massaman Curry Noodle Soup
This Massaman curry noodle soup has all the flavor of your favorite Thai takeout, but in cozy vegetable noodle soup form!
Ingredients
2 tbsp olive oil
4 cloves garlic, minced
2 Anaheim chiles (or other spicy red chiles), seeded and minced
1 tbsp minced ginger
6 medium carrots, peeled and diced
2 large sweet potatoes, peeled and diced
6 cups vegetable broth
1 (14 oz) can coconut milk
2 tbsp massaman curry paste, plus more to taste
14 oz fresh udon noodles
5 oz baby kale
salted peanuts, to garnish
Instructions
In a large Dutch oven or soup pot, heat the olive oil over medium heat. Add the garlic, chiles, and ginger to the pot. Saute for 1 minute, or until fragrant. Add in the carrots and sweet potatoes. Saute for 4-5 minutes, stirring frequently, and then stir in the vegetable broth, coconut milk, and curry paste. Bring to a boil and then lower the heat, simmering for 15-20 minutes or until vegetables are tender.
Stir in the udon noodles and baby kale, continuing to simmer until kale is wilted. Season to taste with salt and black pepper, and more curry paste to taste. Serve garnished with peanuts.
Notes
An Eats Well With Others Original
Because curry never goes out of season: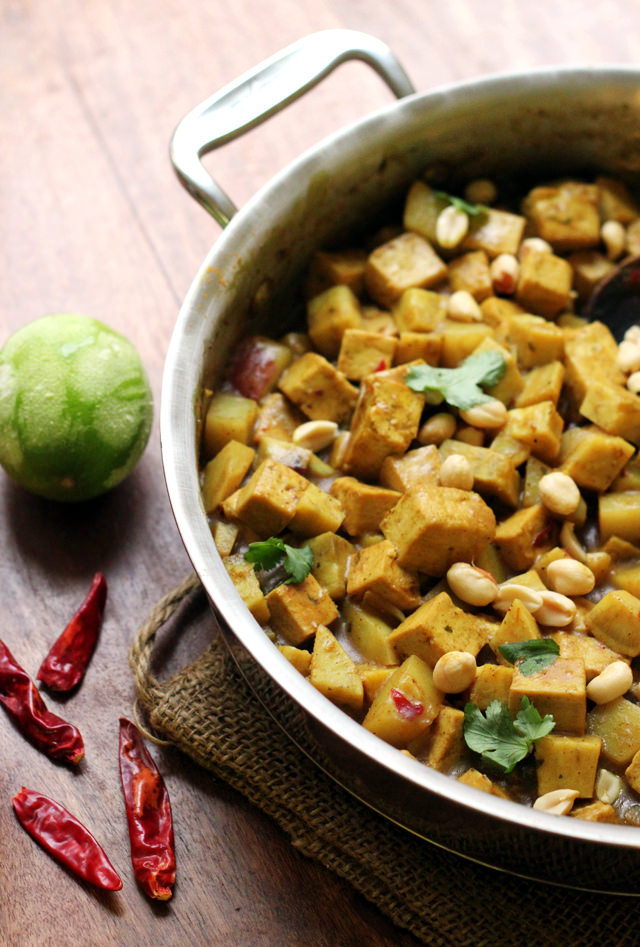 Massaman Curry with Peanuts, Potatoes, and Cardamom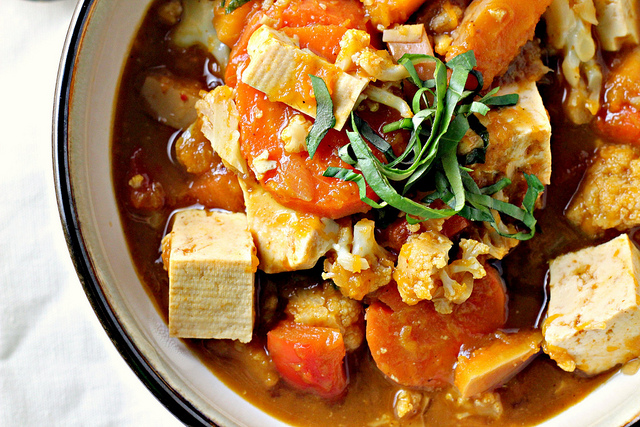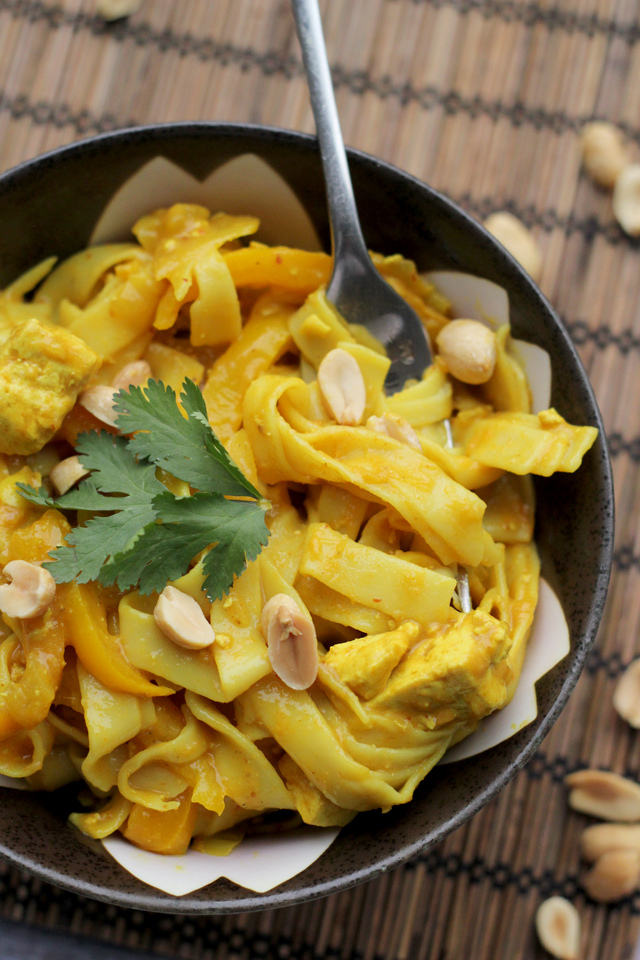 From Around the Web:
Zucchini and Green Pea Coconut Curry from Healthier Steps
Thai Curry Lentil & Sweet Potato Soup from Sweet Peas and Saffron
Curry Roasted Vegetable and Avocado Naan-wich from Naturally Ella
Coconut Curry Carrot Soup from Sippity Sup
Vegan Cauliflower, Potato, and Chickpea Curry from Blogging Over Thyme