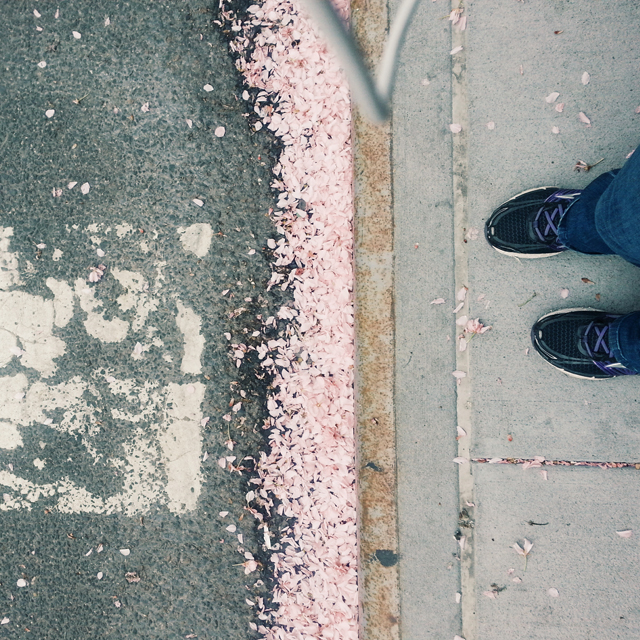 1. It was raining pink today in NYC! Bad for the allergies, but easy on the eyes.
2. Also, it was 600,000 degrees. I'm not necessarily complaining, but…..SPRING WHERE ART THOU.
3. The.Boy and I are totally behind on Mad Men, through no fault of our own. We miss it pretty much every weekend and then try to watch it on our cable provider's on demand station…and I swear they put it up during daytime hours and remove it during prime time. So when I'm at home laying on the couch watching tv trash, I see that it's there and have to wait for the.boy to watch it…but then by the time he gets home, it's gone.
4. I'm not hallucinating, I swear.
5. Also, for those inquiring minds, my latest tv trash obsession is Married At First Sight. Yes, it is as bad as it sounds. Yes, I am addicted.
6. Our whole building has smelled like something died in it for the past two days. Thankfully it hasn't permeated our apartment, but as soon as you step into the hallways it is DEADLY.
7. OR someone just cooked fish. A lot of really really really bad, Salmonella-ridden fish.
8. On Sunday, I bought this turmeric juice from Whole Foods thinking that it would cure my achy breaky sore 12 mile run legs…and it was the most disgusting thing I have ever tasted in my life. Has anyone else ever tried this? If not, DON'T. If so…I'm sorry.
9. I got the Original Elixir, and I really should have read the ingredients list first, but I'm still not sure why anyone thought it was a good idea to combine spearmint, cayenne, cardamom, cinnamon, turmeric, honey, lemon, and ginger all in one beverage.
10. Also, it cost an arm and both my legs. So just…really, don't do it.