These s'mores brownies are THE ULTIMATE with a fudgy brownie base topped with gooey burnt marshmallows, a dreamy milk chocolate ganache, and a crunchy graham cracker crumble.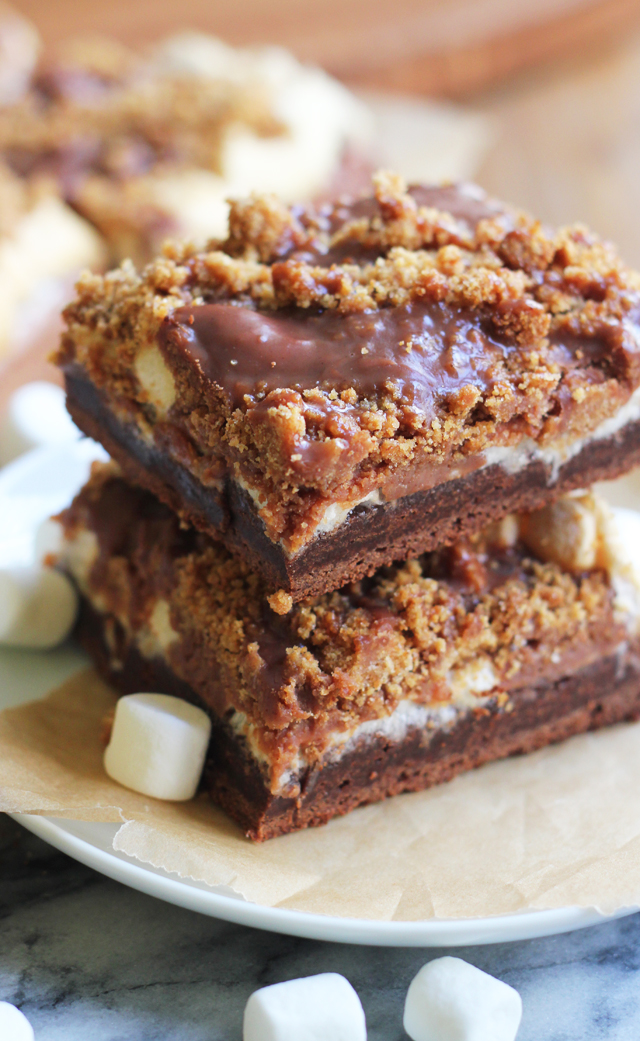 I just felt like my our Thursday could use some chocolate.
And marshmallows.
And the butteriest (<–definitely a word) graham cracker crumble.
And more chocolate.
You understand.
It has been a sort of high stress week at work, where I am trying to tie up a lot of loose ends so I can get my paper written and submitted, and I am slightly ashamed to admit that this has turned me into a raving bitch lunatic.
Evvvveerryyyttthhhiiinnngg irritates me.
Namely: people who leave messes in common areas with no intention of cleaning them up,
people who use up the last of a common reagent and don't tell anyone, and ummm.
People. Any and all.
It's a problem, especially when you're in the kind of work environment like I am, where everyone is in close quarters at all times.
I NEED SPACE.
And a chill pill.
And more chocolate.
(And tequila shots.)
Since I don't see the majority of those things happening in the near future, I went with the one thing that I can control.
CHOCOLATE.
Brownies for me! Brownies for you! Brownies for my coworkers so they can remember that I am actually a nice person underneath this bitchy grouchy exterior! And brownies for my Leftovers Club partner, Johanna from Notes from A Messy Kitchen, because this recipe makes a LOT of very fudgy very RICH very DECADENT brownies and no one should be tasked with devouring all of them! It will be hard to resist because they are hella good…but trust me. This is a one and done situation. But it will be so satisfying.
Stress Free (Brownie Filled) Thursday? We got this.
See what the other members of The Leftovers Club baked up this month:
S'mores Brownies
These s'mores brownies are THE ULTIMATE with a fudgy brownie base topped with gooey burnt marshmallows, a dreamy milk chocolate ganache, and a crunchy graham cracker crumble.
Ingredients
For the graham cracker topping
1½ cups graham cracker crumbs
¼ cup sugar
5 tbsp butter, melted
For the brownies
⅔ cup butter
5 oz unsweetened chocolate, coarsely chopped
1¾ cups sugar
2 tsp vanilla extract
3 large eggs
1 cup all purpose flour
5 cups mini marshmallows
For the ganache
6 oz milk chocolate, chopped
⅔ cup heavy cream
Instructions
For the graham cracker topping, heat oven to 350F. In a medium bowl, whisk together the graham cracker crumbs and sugar. Stir in the butter until all the crumbs are moist. Line a baking sheet with parchment paper and press the crumb mixture into a 10-inch circle. Bake for 10 minutes. Let cool.
For the brownies, heat the oven to 350F. Line a 9x13-inch pan with parchment paper. Set aside.
In a microwave-safe bowl, melt the butter and chocolate together in 30 second intervals, stirring after each, util melted. Allow to cool to lukewarm.
In the bowl of a stand mixer fitted with the paddle attachment, beat together the sugar, vanilla, and eggs on high speed for five minutes. Beat in the chocolate on low speed until combined, scraping down the bowl as necessary. Add in the flour and mix until just combined.
Pour the batter into the prepared pan and spread in an even layer. Bake for 28 minutes. Remove the pan from the oven and scatter the marshmallows over the top. Bake for 12-14 more minutes or until the marshmallows are golden. Remove from the oven and let cool.
To make the ganache, put the chocolate in a small heatproof bowl. Heat the heavy cream until it just starts to boil. Pour over the chocolate and let sit for a minute. Whisk the mixture until it comes together and is smooth. Let cool until lukewarm.
Pour most of the ganache over the marshmallows. Sprinkle with the graham cracker crumble and then drizzle with the remaining ganache. Let cool in the fridge for a few hours to set up. Slice into squares before serving.
More brownie love: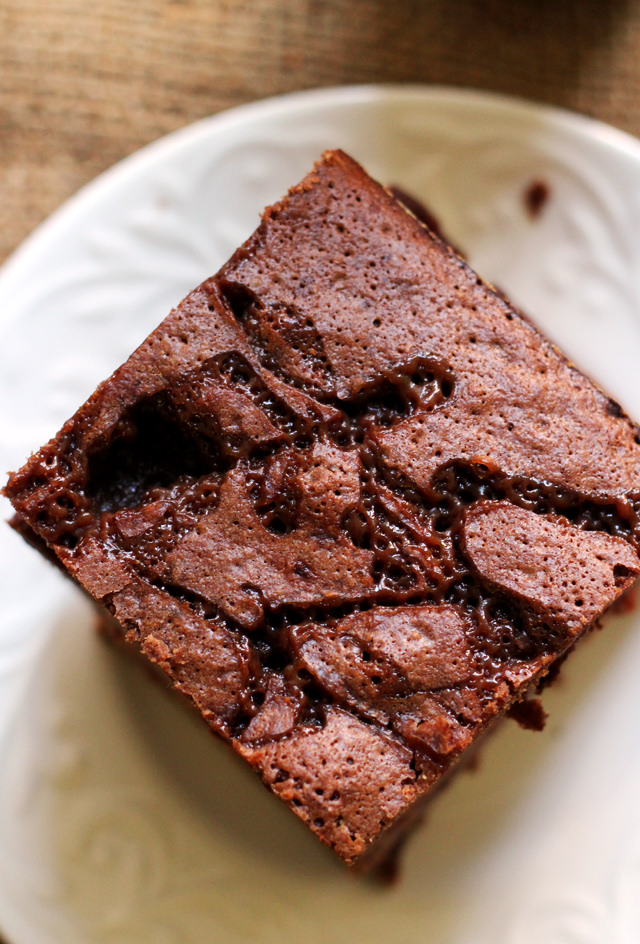 Beer Brownies with Salted Whiskey Caramel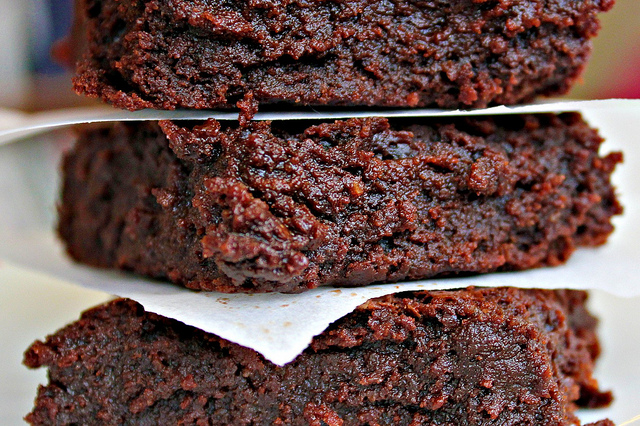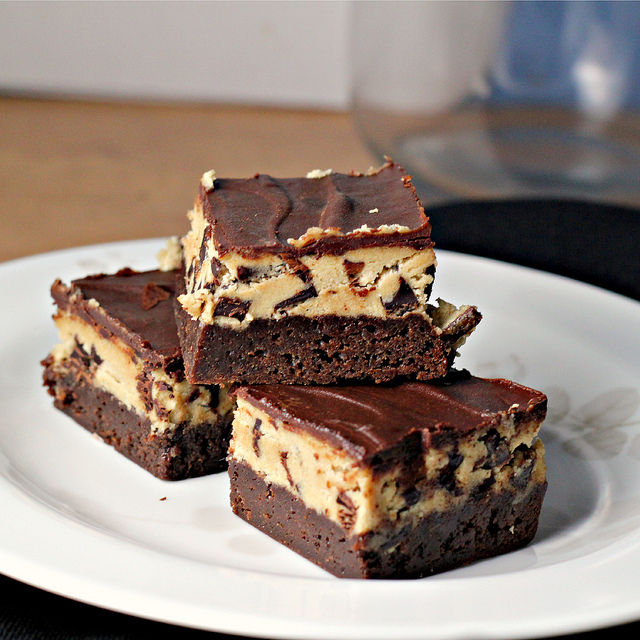 Chocolate Chip Cookie Dough Brownies
From Around the Web:
Espresso Cheesecake Brownies from Annie's Eats
Greek Yogurt Brownies from Cinnamon Spice & Everything Nice
Matcha-Glazed Brownies from My Name Is Yeh
Tiramisu Brownies from My Baking Addiction
Double Malt Brownies from Taste and Tell