How does one explain to a normal, sane, not-indoctrinated-into-the-sweet-potato-loving-cult-in-which-you-live, person that you've put sweet potatoes in their lasagna rolls?
That orange vegetable consumption is a way of life around here?
That yes, there are, in fact, more orange vegetables out there than just carrots?
How soon is too soon to show the person you're dating the shrine to orange vegetables you have oh so carefully nestled under your pillow?
And what can you do, other than thank the heavens multiple, very profuse, times that said person, even though he is not sure that he even likes sweet potatoes in any form other than marshmallow-covered, digs in. With vim and vigor.
And decides that, um yes.  He'll have thirds.
Many rules were broken on Friday night's dinner date.  Not only did I let a male individual into my apartment without first taking a road trip to the local police station for a thorough background check…
…but I cooked a never-before-seen-or-made, totally original dish.  That could have totally bombed.
One is not supposed to take chances like that on fourth dates.  That's like…definitely a law in some states.
But sometimes you have to have faith in your own abilities. In your own taste buds.  In the power of the sweet potato!
(No, really…it's a force to be reckoned with.  Especially when combined with pesto.)
But did you really expect any less from the most nutritionally dense vegetable out there?  I think not.
Between good Friday night dates and fabulous half marathon Sundays.  It's been a pretty good week so far around here.
Not to mention some fantastic news that I got yesterday…being that I WON THE SAUCY MAMA RECIPE CONTEST!!!  Honestly, I couldn't have done it without you and all your votes and support so thank you thank you thank you!
And honestly, what I think it's come down to is positive thinking.  Believing that everything is going to be okay.  Beyond okay.  Great, even.
I truly think that when you're in a better frame of mind, you just make good things happen for yourself.  It's self-perpetuating.  A domino effect.  So let's not only expect the best…let's make it happen.
Sweet Potato Spinach Pesto Lasagna Rolls
Serves 5-6 (or one hungry boy and three normal servings), an Eats Well With Others Original

Ingredients
5 cloves garlic
5 oz basil, leaves torn off
2 tbsp pine nuts
2 tbsp olive oil
2 oz spinach
15 oz part-skim ricotta
6 oz mozzarella, grated, divided
1/3 cup parmesan cheese
4 medium sweet potatoes
12 lasagna sheets
2 cups tomato basil sauce
salt and black pepper, to taste
Instructions
Preheat oven to 350 and set a pot of salted water to boil.  In the meantime, combine the garlic, basil, pine nuts, olive oil, and spinach in a food processor and blend until smooth.  Add salt to taste.
In a large bowl, mix together the ricotta, half of the mozzarella, parmesan cheese, and pesto that you just made.
Poke sweet potatoes all over with a fork.  Wrap each in a damp paper towel and microwave on high for 2 minutes per side or until fork-tender.  Remove from microwave.  When cool enough to touch, remove the skin and mash the sweet potato flesh in with the ricotta-pesto mix.  To make it REALLY smooth, food process it until totally blended.  Season to taste with salt and black pepper.
When water comes to a boil, add the lasagna noodles.  Cook until just al dente.  Line two large baking sheets with wax paper.  Using a pair of tongs, remove the noodles from the cooking water one by one and place them next to each other on the cookie sheets.
Spread 2-3 tbsp of sweet potato-ricotta filling on each noodle. Beginning at one end, loosely roll each sheet.  Spread 3/4 cup of the tomato sauce onto the bottom of a 9×13-inch baking pan.  Place the rolls, seam side down, into the baking pan, fitting them as snugly against each other as possible.  Top with the remaining tomato sauce and mozzarella.
Cover pan with aluminum foil and bake for 30 minutes.  Remove foil and bake for 15 minutes or until cheese starts to brown.  Let cool for about 5 minutes before serving.
I am submitting this to Presto Pasta Nights, which is being hosted this week by Juli of Pictures of all my Princesses.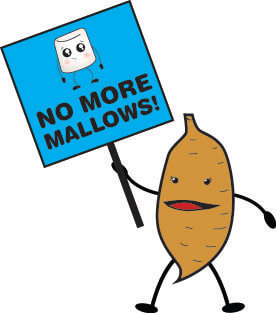 This dish will be entered in the North Carolina Sweet Potato Commission's No More 'Mallows Recipe Contest. Because sweet potatoes aren't just for sugary casseroles anymore.
You are reading this post on Eats Well With Others at https://joanne-eatswellwithothers.com. Excerpts and links may be used, provided that full and clear credit is given to the author and or owner of Eats Well With Others. All rights reserved by Joanne Bruno.