The perfect sweet treat for a spring brunch or dessert, this chocolate berry bread pudding is filled with juicy bursts of blueberries and raspberries in every bite.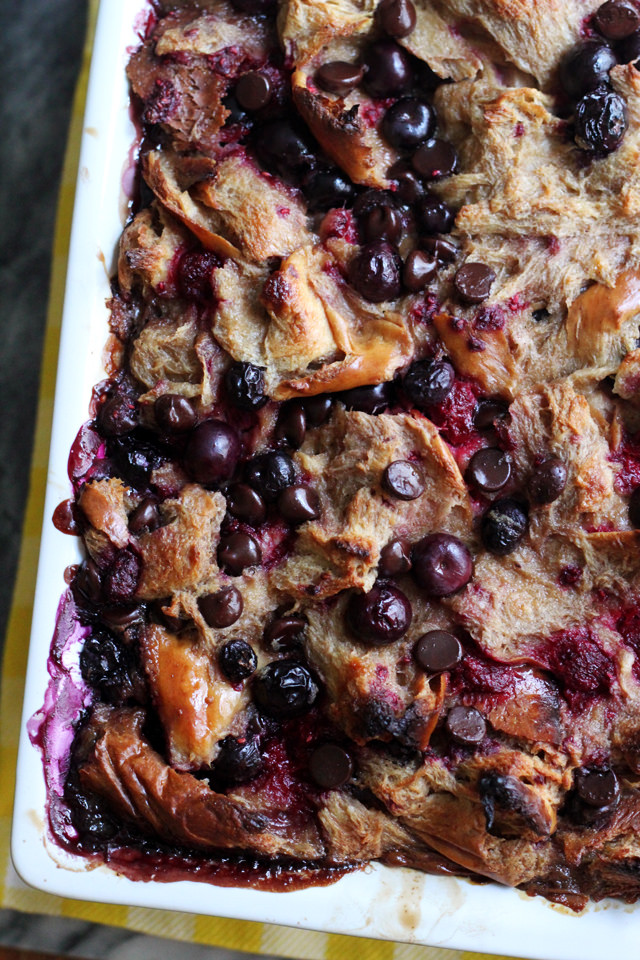 I've been a coffee addict for as long as I can remember.
It may have something to do with the fact that my mother started feeding it to me STRAIGHT FROM THE WOMB. But who knows. Maybe not.
I'm sure she meant well, but I'm also sure that when she let us have our first venti lattes totally-not-decaf sips at age 10 and a half, she secretly hoped that we would love it as much as she did so that she wouldn't be the lone addict in the house. My dad liked coffee just fine and would drink it, maybe, if it the opportunity arose, but my mom would live and die by her morning brew – 8 cups and one for the road. And not a sip less.
Congrats mom. YOU WIN!
To this day, I refuse to get out of bed if there is no less than 16 oz of coffee in my near future, and it has to be strong and dark and life-affirming. (#NoPressure.)
I'm super particular about that first cup (it HAS to be warm and it HAS to taste like a kick in the face), but at least once a week, I also treat myself to something a little bit fancier later in the day. These can add up, though, and at some point I realized how much I was spending on those coffee shop drinks and decided I had to rein myself in!
So I was super happy when I discovered a new line of Iced Coffee ready-to-drink beverages from International Delight! These taste JUST like your iced coffee shop favorites…but straight from your own fridge so you can have a drink that tastes all kinds of fancy at your disposal in less than two minutes. I so love that.
I was able to snag both the vanilla and the caramel macchiato flavors at the store recently, and I have been OBSESSED with having a cup of them for dessert every night. It's heavenly.
Just like my momma shared her love of coffee with me (never mind that I was an inappropriately young age at the time), I felt like it was only right for me to share my love of these International Delight Iced Coffees with her, especially with Mother's Day coming up.
Since this holiday is All About That Brunch AND since I shared a savory bread pudding with you all last week, I couldn't resist going sweet for this recipe.
In the name of balance.
And moderation.
And fairness.
(And chocolate-smothered berries.)
Bread puddings can be REEAALLLYYY rich from all the heavy cream and eggs, so I lightened this by replacing half of the heavy cream with International Delight's Vanilla Iced Coffee. It adds a hint of coffee flavor to the mix that ends up complimenting the juicy berries and sweet chocolate so well.
This bread pudding is absolutely the best straight from the oven while it is still warm and gooey, but if you must wait to eat and serve it, then allow it to come to room temperature before eating for the best eating experience. I INSIST.
And if you want to stay in the loop about the great new flavors and products that International Delight is always coming up with, exciting member giveaways, and coupons then sign up for their newsletter!
Chocolate Berry Bread Pudding
The perfect sweet treat for a spring brunch or dessert, this chocolate berry bread pudding is filled with juicy bursts of blueberries and raspberries in every bite.
Ingredients
1 loaf challah bread, torn into cubes
12 oz blueberries
12 oz frozen raspberries
1 cup dark chocolate chips
2 cups International Delight Vanilla Iced Coffee
2 cups heavy cream
4 large eggs
1 cup brown sugar
½ tbsp cinnamon
Instructions
Heat oven to 350F.
In a large bowl, toss together the challah bread cubes, blueberries, raspberries, and dark chocolate chips so that they are well combined.
In a medium bowl, whisk together the Iced Coffee, heavy cream, eggs, sugar, and cinnamon. Pour this custard over the bread mixture and toss until all of the bread is soaked in it.
Pour the soaked bread cube mixture and any leftover liquid into a 9x13-inch baking pan. Bake for 50-60 minutes, or until set in the center. Serve warm or at room temperature
Notes
An Eats Well With Others Original
Bring on the bread pudding!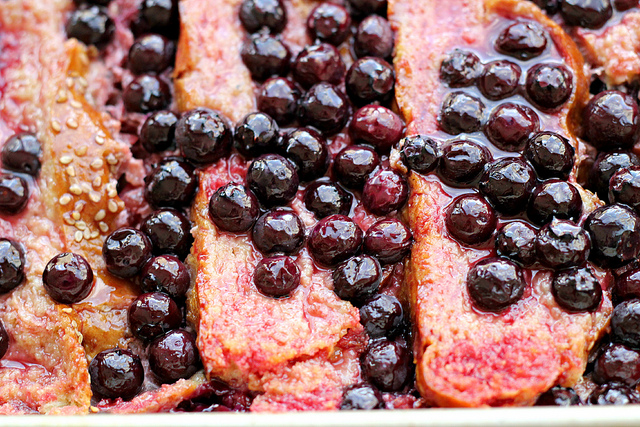 Rhubarb, Blueberry, and Ginger Brioche Bread Pudding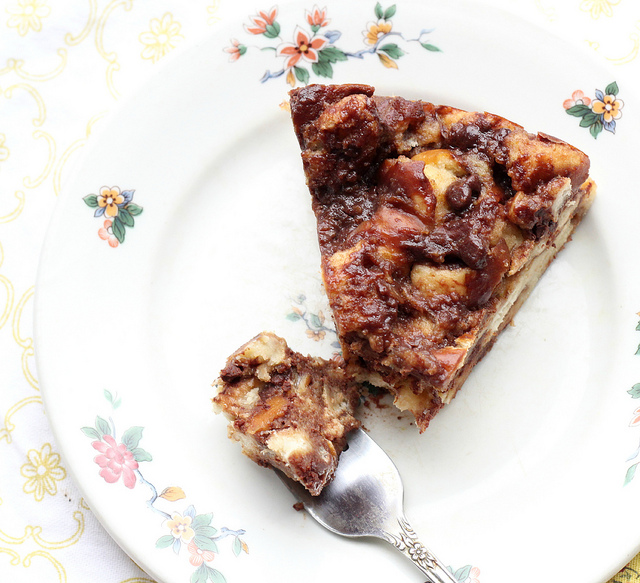 Chocolate-Covered Pretzel Bread Pudding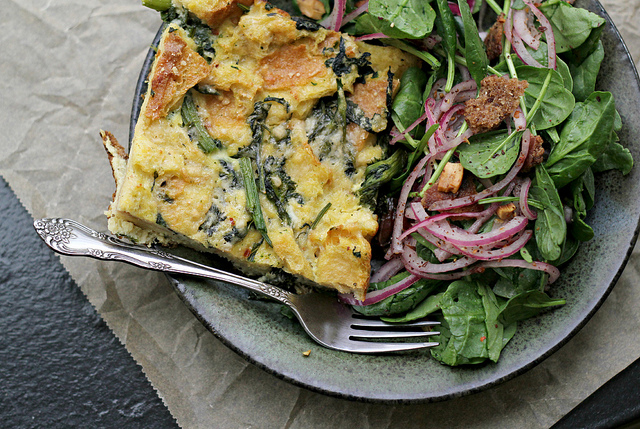 Parmesan Bread Pudding with Broccoli Rabe
From Around the Web:
Cinnamon-Caramel Bread Pudding from Recipe Girl
Brownie Bread Pudding from Sugarhero
Old Fashioned Challah Bread Pudding with Whiskey Sauce from Climbing Grier Mountain
Caramel Rum and Banana Bread Pudding from Bakers Royale
New Orleans-Style Bread Pudding with Whiskey Cream Sauce from A Cozy Kitchen
This conversation is sponsored by International Delight. The opinions and text are all mine.