This Post Brought To You By UNCLE BEN'S®. As always, my thoughts and opinions are my own. Whether eaten as a side dish or a vegetarian meal, this oven-baked brown rice and eggplant casserole is full of fresh flavors that won't fail to please.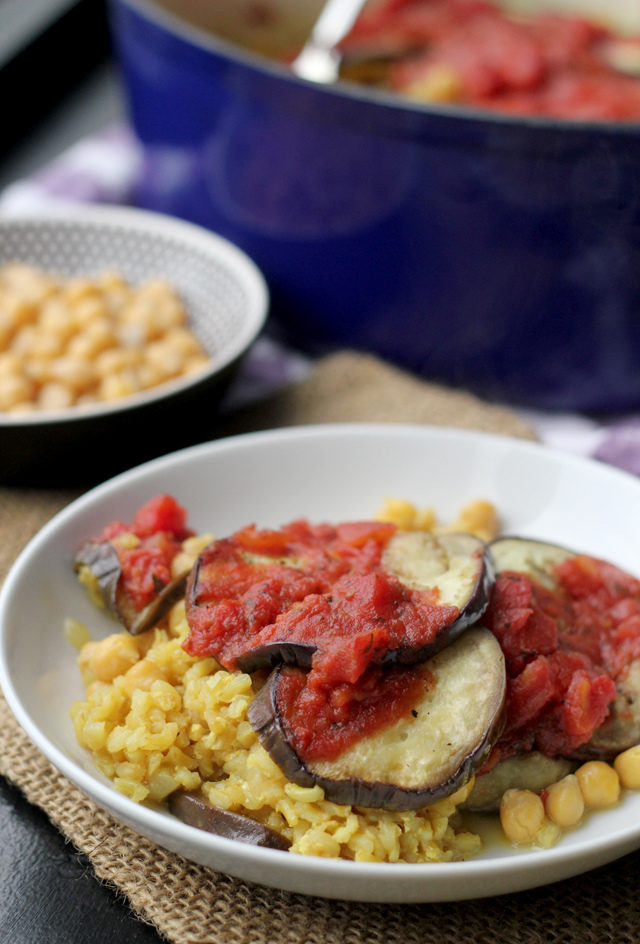 Sometimes healthy living is a day-by-day kind of thing.
It's not being the person to finish off the last of the box of chocolate-covered-toffees sitting outside your boss's office even though you are working on the computer less than two feet away from it for five hours straight.
It's walking the 15 blocks to the grocery store instead of taking the bus even though it is the ever invigorating "feels like -20F" outside.
And then it's the sense of triumph you feel when you realize you have reached your destination and haven't been passed by a bus, so had you decided to give into your laziness…you would still be waiting.
In -20F. 20 minutes later.
(Go health.)
Sometimes it's hard to see the larger picture of our goals when it feels like every day has a million difference choices, and we need to get them all right if we want to move forward.
So I like to give every day, and every choice within that day, it's own chance.
No one decision is going to make or break anything, after all, but it's what we do on the whole that really counts.
It's just not worth it to sweat the small stuff:
Not the piece of dark chocolate I have after dinner every night, not the pilates class that I really meant to attend last Wednesday except that I kind of decided to bake brownies instead, not the fact that we might never be able to afford a caterer at our wedding and will very likely be serving pizza that we will order from the closest place that will deliver to Prospect Park.
Rather, focus on the victories.
Like, today I made this healthy, wholesome, delicious meal.
And it is one step in the right direction.

I made this recipe using UNCLE BEN'S® Whole Grain Brown Ready Rice, which is a great way to get whole grains like brown rice into your life, especially when you don't feel like you have enough time to cook them from scratch. With a brown rice and chickpea pilaf base that is then topped with roasted eggplant and fresh-flavored tomatoes, this is a healthy vegan casserole that will make everyone happy.
Oven-Baked Brown Rice and Eggplant Casserole
Whether eaten as a side dish or a vegetarian meal, this casserole is full of fresh flavors that won't fail to please.
Ingredients
1 tbsp olive oil, plus more for eggplant
1 large onion, diced
2 tsp garlic, minced
½ tsp salt, plus more for eggplant
¼ tsp black pepper
¼ tsp turmeric
2 packages Uncle Ben's Whole Grain Brown Ready Rice (or 4 cups cooked brown rice)
2 cups vegetable broth
1 small eggplant
1 cup greek yogurt
½ lb dried chickpeas, soaked overnight and boiled until tender
14 oz canned diced tomatoes
Instructions
Heat 1 tbsp olive oil in a medium saucepan over medium heat. Add the onion to the pan and saute until starting to brown, 3-4 minutes. Add in in the garlic, salt, black pepper, and turmeric. Saute for 1 minute, stirring constantly. Stir in the brown rice and vegetable broth. Bring to a boil, then cover and simmer for 30 minutes.
In the meantime, slice the eggplant crosswise into ¼-inch thick slices. Spread out on a work surface and sprinkle with salt. Allow to sit for 10 minutes. Rinse and pat dry.
Heat a large skillet over medium-high heat. Brush both sides of the eggplant with olive oil. Add to the skillet and cook for 30 seconds to a minute per side, or until browned. Set aside.
Heat oven to 350.
When rice is done, pour into a shallow casserole pan. Stir in the greek yogurt.
Top with the chickpeas, then layer the eggplant on top, followed by the tomatoes.
Bake, uncovered, for 30-40 minutes, or until eggplant is cooked through and mixture is bubbling. Let cool slightly before serving.
Nutrition Information
Serving size:
⅙th of recipe