Challenge yourself in the kitchen by learning to make homemade fettuccine!! It is way easier than it looks and pairs perfectly with a simple and fresh tomato-basil sauce.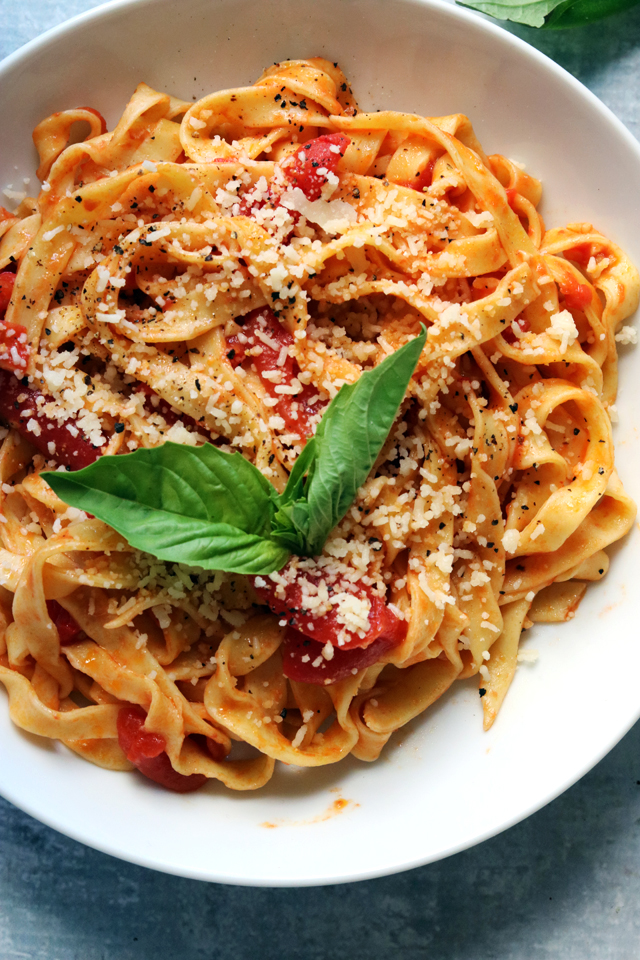 Let's step outside of our comfort zone in the new year!!
I have dreams of learning how to make homemade croissants, perfecting my macarons, delving a little bit more into homemade breads, making more fancy French composed desserts…but first, let's start with something that seems way more complicated than it is – pasta making.
The last time I attempted to make homemade pasta was back in the 2012 era and let's just say it turned my apartment into a semolina dough crime scene. To put it mildly.
There was pasta dough and flour everywhere. It kept tearing, getting stuck in the machine, and generally just not doing what I wanted it to do. Basically it was just a total disaster.
Those were the pre-Remy days when I could completely destroy my apartment like that and it was of no consequence because I had all the time in the world to clean it up. Also, we could eat second dinner at midnight if the first dinner was a total failure and no one would be running around the kitchen screaming that they're hungry and sneaking bites of chocolate chips and ruining their appetite.
Nowadays I try to keep the dinner mess to a minimum and stick pretty closely to our 7PM dinnertime schedule.
We still have quite a bit of chocolate chip-sneakage even with that, but what can you do.
So it was with great trepidation that I decided to try my hand at pasta-making again. I was inspired by the online cookbook club I'm in as we were cooking our way through Marc Vetri's Mastering Pasta cookbook and the pasta doughs kept getting such rave reviews.
OMG, what a different experience.
No cursing, no house-wide flour mess (err, well no more than usual), and one delicious dinner that came together in under an hour.
All credit goes to Vetri's egg yolk pasta dough, which is a total dream to work with. I don't know if it's the NINE (yes, NINE!!!) egg yolks or the ratios of all the ingredients but the dough was silky smooth and slithered it's way through my pasta machine without any issues.
Honestly, I went from having a hunk of dough to strands of fettuccine in less than five minutes. Pretty incredible.
Because I really wanted to let the homemade pasta shine, I kept the sauce really simple here – a very basic tomato basil sauce that can simmer away on the stove while you're waiting for your pasta water to boil. It is a new favorite dinner in our house and one that I will be repeating often – because it is totally doable, so I can!
Homemade Fettuccine with Easy Tomato-Basil Sauce
Challenge yourself in the kitchen by learning to make homemade fettuccine!! It is way easier than it looks and pairs perfectly with a simple and fresh tomato-basil sauce.
Ingredients
For the homemade fettuccine
1 cup + 2 tbsp (170 g) tipo 00 or all-purpose flour
7 tbsp (55 g) durum flour
9 egg yolks
1 tbsp (15 mL) extra-virgin olive oil
3 tbsp (45 mL) water, plus more as needed
For the tomato-basil sauce
¼ cup (60 mL) extra-virgin olive oil
1 garlic clove, smashed
1 cup (240 g) whole peeled San Marzano tomatoes
¼ tsp red pepper flakes
salt and freshly ground black pepper, to taste
10 fresh basil leaves, torn into large pieces
Instructions
For the homemade fettuccine
Combine both flours in the bowl of a stand mixer fitted with the paddle attachment. With the mixer running on medium speed, add in the egg yolks, oil, and water one at a time. Continue mixing just until the dough starts to come together, about 2-3 minutes, adding a bit more water if necessary.
Remove the dough to a lightly floured work surface and knead it until it feels smooth, about 5 minutes. It is ready when you can stretch it and it gently pulls itself back into place.
Flatten the dough into a disk and then wrap in plastic wrap. Set aside to rest for 30 minutes.
To roll out the dough, cut it into four equal pieces. Shape each piece into an oval that is wide enough to fit into your pasta roller. Set your roller to its widest setting and roll the pasta through it. Pass it through the widest setting again. Set the roller to the next narrowest setting and pass the dough through the roller again. Continue to do this until the dough is about ⅛-inch thick (setting 2 or 3 on a KitchenAid mixer attachment). Gather the fettuccine into nests and dust with flour. Allow to sit, covered, until you are ready to cook.
For the sauce
Heat the oil and garlic in a large saute pan or pot over medium heat. Once the garlic is fragrant, add the tomatoes, crushing them one by one as you add them to the pot. Lower the heat to medium and cook, stirring occasionally, for 30 minutes.
Meanwhile, bring a large pot of salted water to a boil. Add the fettuccine to the pot and cook until tender, about 4-5 minutes. Drain and reserve a cup of the pasta water.
Add the pasta to the pan with the sauce along with ½ cup of the reserved pasta water. Toss together and cook over medium-high heat until the sauce starts to reduce slightly and becomes creamy, tossing constantly. season to taste with salt and black pepper. Stir in the basil leaves and toss again to combine.
Serve warm, garnished with black pepper and parmesan cheese.