A meatless stuffed pepper recipe in which smoky roasted peppers are filled with a bright and zesty mixture of chickpeas, goat cheese, and fresh herbs.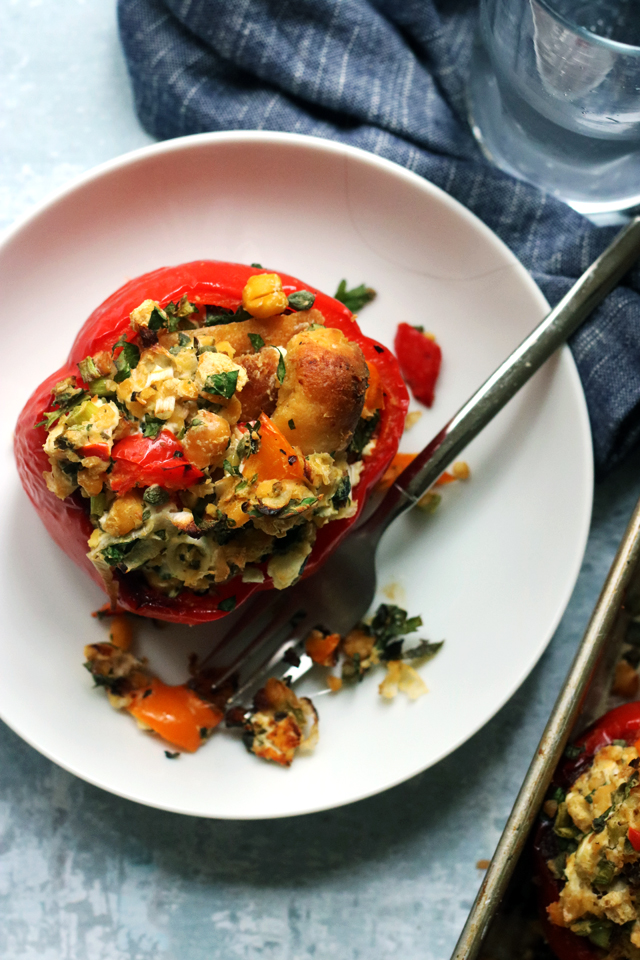 Another recipe rescued from the depths of my email inbox!!!
It's not as photogenic as its fruit- and brown butter-laced counterpart, but its infinitely more useful when affronted with the eternal question of "what's for dinner" that somehow comes up every. dang. day.
Often, I'm like "didn't we just talk about this yesterday??" as I cave and make my food-despising toddler "tacos" (aka bean and cheese quesadillas) for the twelfth day in a row.
#momlaziness: the struggle is real.
BUT every once in a while I come across a recipe that gets me so excited that it seems worth it to fight the good fight against two-nager pickiness.
I'm really not sure what initially caught my eye about this recipe.
Probably the fried bread cubes.
Or the briny caper-y goodness.
Or the goat cheese crumble.
Or that it would use up all of the herbs getting soggy in my crisper drawer.
Most likely ALL OF THE ABOVE.
In full disclaimer, getting this meal on the table does take a bit of effort.
One of my biggest pet peeves in life is stuffed roasted pepper recipes where the peppers are basically still raw. I find that so unappealing. It takes a bit of extra oven time, but roasting the peppers on their own, unstuffed, lets their flavor deepen and just makes for a better stuffed pepper overall. In this case, it also really doesn't take much extra time because you can prepare the filling while the peppers are in the oven.
I would say it took me a full hour to get this meal on the table, but it made a TON of food (enough for 2 meals and a lunch for us!). Totally worth the effort, in my opinion.

Roasted Stuffed Peppers with Chickpeas, Goat Cheese, and Herbs
A meatless stuffed pepper recipe in which smoky roasted peppers are filled with a bright and zesty mixture of chickpeas, goat cheese, and fresh herbs.
Ingredients
½ cup extra virgin olive oil
6 bell peppers
salt and black pepper, to taste
1 (15 oz) can chickpeas, rinsed
7 oz baguette, cut into ½-inch pieces
8 garlic cloves, minced
¼ tsp red pepper flakes
8 scallions, sliced
¼ cup minced fresh parsley
¼ cup minced fresh basil
3 tbsp capers, chopped
1 tbsp lemon juice
6 oz goat cheese, crumbled
Instructions
Heat oven to 475F. Grease a 9x13-inch baking pan with olive oil. Set aside.
Cut the top ½-inch off of the bell peppers, reserving the actual pepper "meat" and discarding the stems and the seeds. Arrange the bell pepper bottoms and tops cut side down in a single layer on the prepared baking pan. Brush with 1 tbsp olive oil and season with salt and black pepper.
Place peppers in the oven and roast for about 20 minutes, or until starting to blister. Flip the peppers so that they are cut side up and then let them cool for 5 minutes. Season the insides with salt and black pepper.
Lower the oven to 350F.
Pour the chickpeas into a large bowl and then use a potato masher to coarsely mash them. Chop the bell pepper tops into ¼-inch dice and add them to the bowl with the chickpeas.
Heat ¼ cup of the olive oil in a large skillet over medium heat. Add the bread cubes and cook. stirring occasionally, for 5-7 minutes or until golden and crispy. Push bread to the side so that it only takes up half of the skillet, then add 2 tbsp of olive oil to the empty space. Add in the garlic and red pepper flakes. Cook until fragrant, about 30 seconds. Toss together the garlic mixture and the bread.
Transfer the bread mixture to the bowl with the chickpeas. Allow to cool for 10 minutes.
Once cool, stir the scallions, parsley, basil, capers, and lemon juice into the chickpea mixture. Season to taste with salt and black pepper. Fold in the goat cheese until just combined.
Spoon the filling into the peppers, dividing it evenly among them. Place in the oven and cook for 20 minutes. Serve warm.