This magical baked raspberry tart has a lovely pate sucree crust and a filling that is rich with brown butter and sweet-tart raspberries.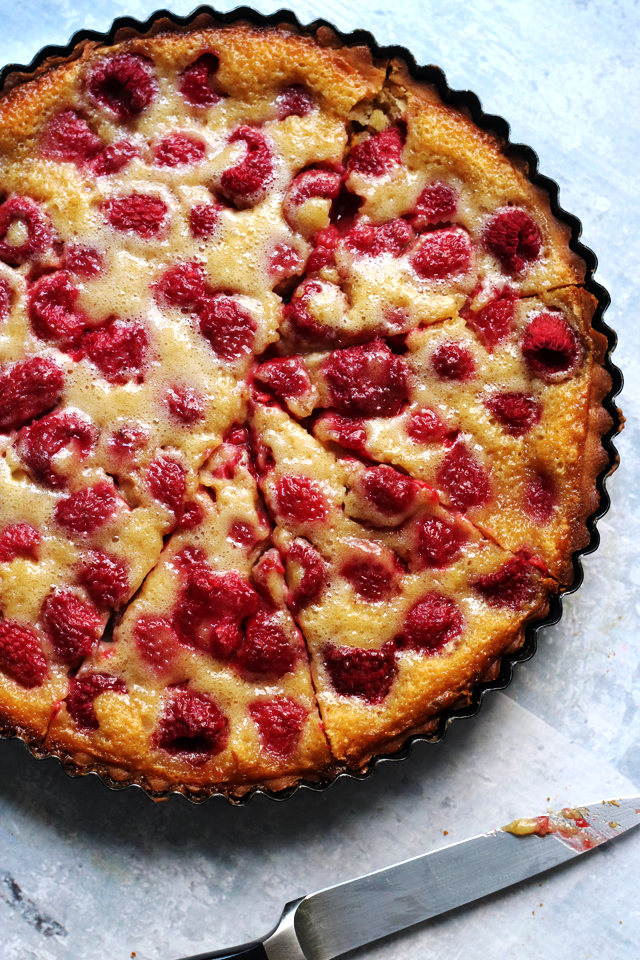 Getting a little crazypants over here with the fruity desserts.
In the past two weeks I've made blueberry crumble bars, a strawberry pandowdy, and this raspberry tart. Not to mention I've got my eyes (and heart. and stomach.) set on making a raspberry peach pie in the next 48 hours.
Oh, and I've exercised exactly zero percent of the time.
NOT. EVEN. SORRY.
And even though this baked brown butter raspberry tart is the most recent to come out of my oven, it shoved all those other desserts out of the way and downright insisted that I share it with you first.
If you're looking for summer dessert magic – hi, yes, over here!!!!
Maybe it was fate (probably it was my laziness in cleaning up my email inbox), but I discovered this tart in one of the gazillion emails I get from America's Test Kitchen each week. 99% of the time I skim through them, see a recipe I want to make, promise myself I'm going to add it to the menu for next week, and then promptly forget about it. BUT this time I saw the recipe while I was at work and then that same day Remy came home from my in-laws' house with a tub full of raspberries that she had picked from their garden.
Like I said, this tart and I were meant to be and I have the love handles to prove it. I may or may not have eaten it for breakfast every day (<- don't judge) on my most recent stretch of night shifts. The brown butter vanilla custard filling reminds me of a gooey butter cake filling but less cloying rich and more nutty with bits of tart berry in every bite. It would probably also be fabulous with sour cherries or blackberries, but I suspect strawberries or blueberries would just be too sweet.
Baked Brown Butter Raspberry Tart
This magical baked raspberry tart has a lovely pate sucree crust and a filling that is rich with brown butter and sweet-tart raspberries.
Ingredients
For the pastry crust
1 large egg yolk
1 tbsp heavy cream
½ tsp vanilla extract
1¼ cups all purpose flour
⅔ cup confectioner's sugar
¼ tsp kosher salt
8 tbsp unsalted butter, very cold, cut into ½-inch cubes
For the filling
6 tbsp unsalted butter
1 large egg + 1 large egg white
9 tbsp sugar
¼ tsp kosher salt
1 tsp vanilla extract
1 tsp kirsch
1½ tsp lemon juice
2 tbsp wondra flour
2 tbsp heavy cream
10 oz fresh raspberries
Instructions
For the pastry crust
In a small bowl, whisk together the egg yolk, heavy cream, and vanilla. Set aside.
In the bowl of a food processor, combine the flour, sugar and salt. Pulse for four 1-second pulses. Add the butter cubes into the food processor bowl and pulse until the mixture is the consistency of wet sand, about twenty 1-second pulses. Add in the egg mixture with the machine running and process just until the dough comes together. Mound the dough onto a sheet of plastic wrap and form into a 6-inch circle. Wrap tightly with plastic wrap and refrigerate for at least 1 hour or up to 48 hours.
Remove the dough from the fridge. Roll it out between two lightly floured sheets of parchment paper into an 11-inch round. Transfer to a 9-inch tart pan and press into the sides of the pan, using excess dough to patch up any breaks or cracks. Run the rolling pin over the top of the pan to remove any extra overhanging dough. Place the tart pan on a baking sheet and freeze for 30 minutes.
Meanwhile, heat oven to 375F. Once the dough is frozen, grease one side of a piece of aluminum foil. Press the foil greased side down inside the frozen tart shell. Fill with pie weights or dried beans. Bake for 20-25 minutes or just until the edges start to turn golden. Remove the foil and pie weights from the pan. Return the tart crust to the oven and bake until the sides are medium golden brown, about 5 minutes. Remove from the oven to cool.
For the filling
While the tart crust is cooling, make the filling. Heat the butter in a heavy-bottomed saucepan over medium heat until it is golden brown and nutty. Transfer quickly to a small bowl to stop the cooking and prevent it from burning. Set aside to cool until lukewarm.
Meanwhile, whisk the egg and egg white together in a medium bowl until combined. Add in the sugar and salt and whisk vigorously for 1 minute. Slowly whisk in the brown butter until combined, then whisk in the vanilla, kirsch, and lemon juice. Add in the wondra flour and cream, whisking until combined.
To assemble
Place the raspberries on the bottom of the cooked tart crust in an even layer. Pour the filling evenly over the top. Place the tart on a baking sheet in the oven. Bake until the filling is set and the surface is puffed and a deep golden brown at the edges, about 30 minutes, rotating the pan about 20 minutes in. Allow to cool to room temperature, then remove the tart pain ring, cut into wedges, and serve.