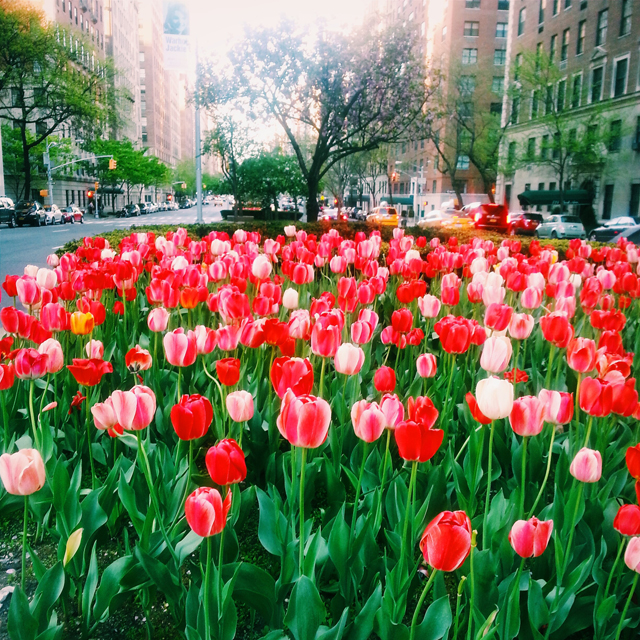 1. Spring on Park Avenue. It's basically the best.
2. Until of course it's the worst and downpours for the better half of the weekend, causing all the bugs to crawl up from the ground, through your pipes, and you wake up at 6AM on Tuesday morning to a cockroach on your bathroom floor. Yes, I might have died a million deaths in that moment. He was large (upwards of 2 inches) and in charge, and was roaming around like he owned the place. Little does he know, an exterminator is on his way this AM to clear out the rest of his roach family. There is zero tolerance for arthropods in this apartment. ZERO.
3. Sometimes I think The.Boy forgets that I'm a real girl. Like when he looked at me in shock when I told him that I bought four dresses and three pairs
 of
 shoes
 online for our engagement photos this Sunday. I mean, necessary. Am I right? Besides, I'll probably return most of the a few things. Maybe.
4. I also booked a hair appointment and a makeup session at Sephora. But those will be our little secret…
5. If I made this my wedding invitation, how many people do you think would be offended?
6. Kind of in love with these paper heart garlands on Etsy but also kind of on the fence because I feel like I could make them myself. If I had any semblance of patience for anything that isn't edible. Like, I could spend hours making pie crusts but tell me to fold laundry for 20 minutes and I am out.
7. So, apparently May is salad month. Kind of ironic that it directly follows grilled cheese month. But also kind of glorious. At least, I know my arteries are jumping for joy.
8. Because the program that I'm in at school is run by three different institutions, we are going to have to move from our current housing situation to that of one of the other institutions this summer. I went to look at some of the available apartments yesterday. And some of them DON'T HAVE OVENS. They have a stove and a space below it where an oven should be. But NO OVEN. I find this baffling.
9. Between that and the cockroach…I may be having a nervous breakdown.
10. Come August, there is a high chance you will find me handcuffing myself to my apartment door in protest. Be prepared.