A black and blue pie topped with a brown sugar crumb topping and filled with the perfect sweet-tart combo of blackberries and blueberries.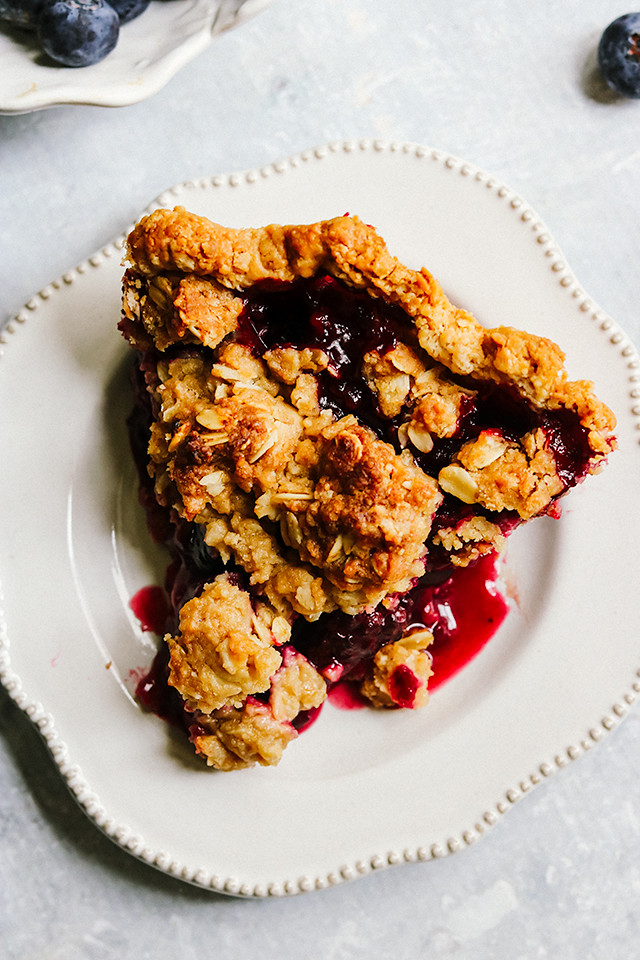 It's Friday so please just hand me the glass (bottle…I mean bottle) of rosé and a slice of pie, and no one will get hurt.
I've been waiting all week for this!! The countdown starts the second Remy gets up on Monday (so, at 6AM ugh) and ends at 5PM on Friday when I feel like I've been morally responsible enough in waiting to crack open the vino. That's also about the time I hand her the Amazon tablet and let her go crazy with the PBS Kids app, all under the guise of needing time to "cook dinner" (aka hide in the kitchen and eat pie straight from the pie pan).
(JK, I adore her and can't get enough of her. Most of the time.)
This is real life.
Really really.
Whether you're hiding from your child this afternoon or not, YOU NEED THIS PIE.
Because it's the weekend.
Because it's berry season.
Because this pie is freaking fabulous. It is basically the epitome of everything I want a summer berry pie to be, and then some! Simple, so the berries can really shine, but also with a humble oat crumble that will make you want to cry it's so good.
Also, despite it being a single crust pie YOU DO NOT NEED TO PARBAKE THE CRUST. Just shouting that from the rooftops because parbaking is the bane of my existence. I always get crust shrinkage no matter how long I chill it or how many pie weights I use or how hot my oven is. One day I'll figure it out.
But today is not that day because this is a no parbaking zone. Just toss your filling together, throw it in your pie crust, and go.
Like, now.
Black and Blue Pie with Brown Sugar Crumb
A black and blue pie topped with a brown sugar crumb topping and filled with the perfect sweet-tart combo of blackberries and blueberries.
Ingredients
For the crust
2½ cups all purpose flour
1 tsp sugar
1 tsp kosher salt
1 cup unsalted European-style butter, cut into ½-inch cubes
½ cup ice
1 cup ice water
2 tbsp apple cider vinegar
For the brown sugar crumb
1 cup all purpose flour
½ cup old-fashioned rolled oats
¼ cup packed dark brown sugar
1 tsp kosher salt
8 tbsp unsalted butter, melted
2 tbsp whole milk
For the filling
3 tbsp all purpose flour
3 cups fresh blueberries
3 cups fresh blackberries
¾ cup sugar
2 tbsp fresh lemon juice
pinch kosher salt
Instructions
For the crust
Whisk together the flour, sugar, and salt in a large bowl. Add the cold butter cubes and toss so that they are coated with the flour. Using a pastry blender, cut the butter into the flour until the largest butter pieces are the size of peas. The rest of the mixture should look and feel like Parmesan cheese.
Place the ice in a liquid measuring cup. Add ice water until it reaches the 1 cup mark, then stir in the apple cider vinegar.
Add the ice water-vinegar mixture to the pie crust mixture by the tablespoon, mixing with your hands, until the dough comes together. Remove it from the bowl and cut it into two equal pieces. Pat each piece into a 2-inch thick disc, wrap in plastic wrap, and refrigerate for at least 2 hours or overnight. (This makes enough for two single crust pies or one double crust pie, so freeze any unused discs. This recipe only uses one.)
Once chilled, roll the dough into a 13-inch round on a floured surface. Fit into a pie plate and crimp as desired. Freeze the crust for at least 20 minutes.
For the brown sugar crumb
In a medium bowl, whisk together the flour, oats, brown sugar, and salt. In a measuring cup, mix together the melted butter and milk. Pour onto the dry ingredients and use a fork or your hands to combine until it starts to form large clumps. Refrigerate until ready to use.
For the filling
Heat oven to 400F.
In a large bowl, combine the flour, berries, sugar, lemon juice, and salt. Toss together until the berries are completely coated in the flour. Take a handful of berries and squish them in your fingers to break them open and completely smash them. Mix the squished fruit back into the filling.
Pour the filling into the chilled crust. Top with the crumble, breaking it into large crumbs as you do. Place the pie on a parchment-lined baking sheet and into the oven. Reduce heat to 375F and bake for 1 hour, or until the pie is bubbling in the center.
Transfer to a wire rack to cool for 2 hours before serving.