A farro and kale salad that is light and refreshing for an easy summer lunch or light dinner. It features, peas, radishes, cucumbers, and a saffron vinaigrette.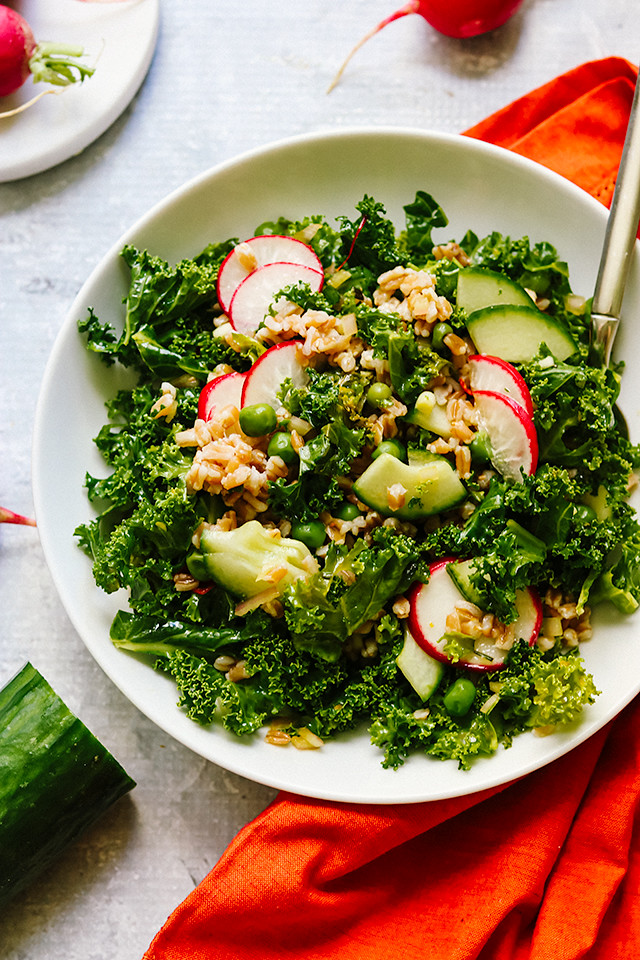 Anyway else feel like we're stuck in a weird time warp dream and maybe at some point we'll wake up and it will be March again?
Yeah, that's me.
Every week as I'm trying to figure out what to cook, I'm like well, it's early spring so… BUT GUYS IT'S BASICALLY SUMMER. Like, in five days.
How is this possible?
So, forgive me, but this salad feels like the EPITOME of spring eating.
It has fresh peas, radishes, cucumbers, a bright citrusy saffron vinaigrette, and is just so gloriously green!!
That being said, it also completely works for summer so don't let my season amnesia get in the way of you making it.
What's also really impressive about this salad is that it combines a handful of things I don't really love, but still made me fall in love with it!
I am SO meh about curly kale, radishes, and cucumbers. And orange is really not my favorite of citrus family. So why did I make this?
We recently started getting Misfits Market produce boxes and it's kind of like getting a CSA box in that you don't have any choice in what you're going to get each week, it just appears filled with lots of goodies. The week I made this, the goodies were (you guessed it): curly kale, oranges, cucumbers, and radishes.
So here we are. And this is exactly why I kind of love the whole concept of the box (even though as a total control freak over my meal planning, it can occasionally be exasperating) – it made me try a recipe that I probably wouldn't have otherwise tried!
To make this, first you start with cooking the farro. Two thirds of the way through cooking, add your peas to the pot so they can cook along with it (and you only have to dirty one pot – huzzah!). While that's cooking, chop your veggies, make your dressing, and toss everything together! The whole meal pretty much comes together in 30 minutes, or in the time it takes your farro to cook. It keeps really well in the fridge, especially because curly kale is so hearty and can stand up to sitting for a few days in the fridge. In fact, it even gets more flavorful as time goes on because the dressing really works itself into the kale. We ate it with a simple pan-seared salmon for dinner one night and then on it's own for lunch the rest of the week. The best kind of meal.
Farro and Kale Salad with Saffron Vinaigrette
A farro and kale salad that is light and refreshing for an easy summer lunch or light dinner. It features, peas, radishes, cucumbers, and a saffron vinaigrette.
Ingredients
1 cup farro
3 cups water
1 cup fresh or frozen peas
1 tbsp kosher salt, divided
1 dried arbol chili pepper
1 small shallot
1 small garlic clove
1 sprig fresh rosemary
zest of ½ orange
¼ cup seasoned rice wine vinegar
2 tbsp fresh orange juice
⅛ tsp saffron threads
¼ cup extra virgin olive oil
½ lb curly kale, stemmed and deribbed
½ lb radishes
1 large English cucumber
1 cup walnuts, toasted
Instructions
Combine the farro, water, and 1½ tsp salt in a medium pot. Bring to a boil, then lower to a simmer and cook for 20 minutes. Add in the peas and arbol chili. Cook for another 7-10 minutes, then drain and set aside to cool.
Meanwhile, mince the shallot, garlic, and roasemary leaves. Toss them with the orange zest in a big salad bowl. Set aside.
For the dressing, combine the vinegar, orange juice, and saffron in a small saucepan. Heat over medium heat. Once the mixture starts to simmer, remove immediately from the heat and allow to cool to room temperature. Pour into the salad bowl.
Remove the chili de arbol from the farro mixture and take out its seeds. Mince the chili and add it to the salad bowl. Add the olive oil and remaining 1½ tsp salt to the salad bowl. Whisk to combine.
Finely chop the kale leaves and add them to the salad bowl, tossing with the dressing, and massaging the kale to tenderize it a bit. Thinly slice the radishes. Quarter the cucumber lengthwise, then remove its seeds. Thinly slice the cucumber. Add these vegetables, the farro, and peas to the salad bowl. Toss to combine.
Add the walnuts just before serving.