Fresh corn grits topped with collard greens and roasted cherry tomatoes make for a hearty breakfast or brunch.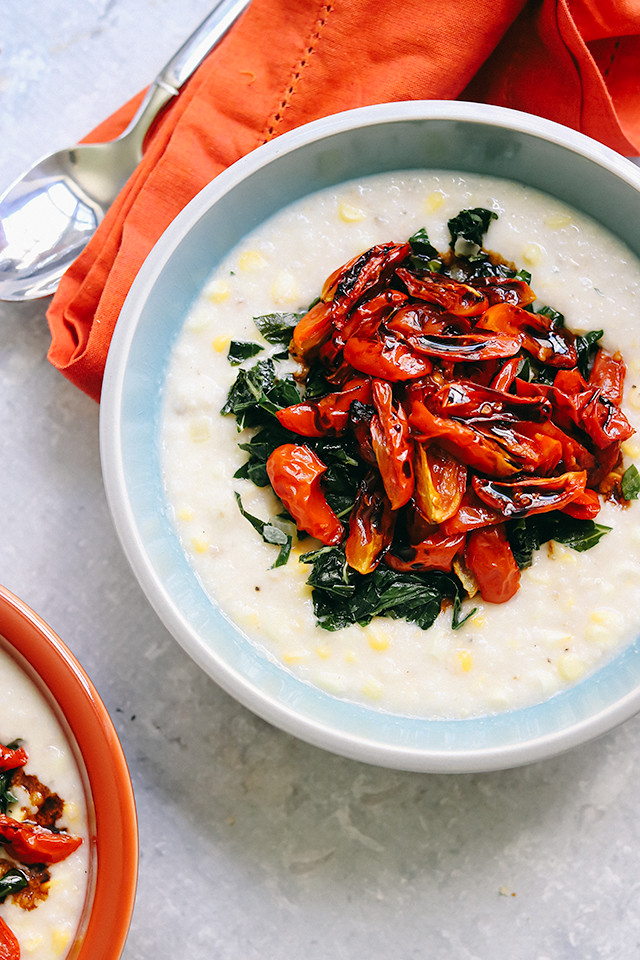 Making good on my promise to augment my cookbook collection with more black-authored cookbooks, here's the first in (hopefully!) a series of posts showcasing what I've discovered and loved.
This recipe is from the cookbook Afro-Vegan by newly minted James Beard award winner Bryant Terry. He just won the award for his second cookbook, Vegetable Kingdom, which I hope to dive into soon. But let's start at the beginning, shall we?
Afro-Vegan is, as titled, a collection of vegan recipes that are influenced by Southern, Caribbean, and African flavors. It is incredible vegetable-driven (which I love) and full of bright, bold flavors. Plus, Terry pairs each recipe with either a book or a soundtrack suggestion (sometimes both!) which makes the recipes even more fun.
The recipe that I'm sharing today is one that Terry believes would be perfect to serve for a Juneteenth celebration, and I have to say I agree. In all honestly, I was not familiar with Juneteenth until recently as it is not celebrated in New York but I'm all for a day dedicated to commemorating the ending of slavery in the US.
This recipe pairs fresh corn grits with hearty sauteed greens and deeply caramelized roasted cherry tomatoes. It's hearty, bright, and fresh with a hit of umami from the tomatoes. I added a drizzle of balsamic syrup just before serving and it was heavenly.
Fresh Corn Grits with Collard Greens and Roasted Cherry Tomatoes
Fresh corn grits topped with collard greens and roasted cherry tomatoes make for a hearty breakfast or brunch.
Ingredients
2 lb cherry tomatoes, quartered
1 tbsp + 2 tsp extra virgin olive oil, divided
1 tbsp + 1¾ tsp kosher salt
12 oz collard greens, stemmed and thinly sliced
kernels from 2 large ears sweet corn
1 small yellow onion, diced
1 large garlic clove, minced
4¼ cups water
¾ cup corn grits
½ cup creamed cashews (recipe below)
1 tsp balsamic vinegar
freshly ground black pepper
For the creamed cashews
1 cup raw cashews, soaked in water overnight
½ cup water
Instructions
Heat oven to 400F. Toss the tomatoes in a large bowl with 1 tbsp of the olive oil and ½ tsp salt. Spread on a parchment-lined baking sheet in an even layer. Roast for 30 minutes, or until starting to caramelize. Set aside.
Meanwhile, pour 12 cups of water and 1 tbsp salt in a large pot over high heat. Bring to a boil. Add in the collard greens and cook for 1 minute. Using a slotted spoon, remove the greens to a colander. Squeeze out as much liquid as possible, then finely chop. Set aside.
Return the water to a boil, then remove from the heat and pour in the corn kernels. Let sit for 1 minute, then drain the corn. Set aside.
Rinse and wipe out the pan you used to boil the greens and corn. Return to medium heat and add 2 tsp oil to the pan. Add the diced onion along with ¼ tsp salt. Saute until tender, about 5 minutes. Add in the garlic and saute until fragrant, about 1 minute. Stir in the collards along with ¼ cup of water. Cover and simmer for 3 minutes, or until the greens are tender. Set aside.
Again, clean out the pot and and pour into it 3 cups of water and the remaining 1 tsp salt. Bring to a boil. Slowly whisk the grits into the boiling water, whisking constantly until there are no more lumps. Return to a bowl and then decrease the heat to low. Simmer uncovered until the grits absorb most of the liquid, about 3-5 minutes. Stir in the remaining 1 cup water and simmer, whisking occasionally, until most of the liquid has been absorbed, about 10 minutes. Add in the cashew cream, cover, and simmer until fluffy, about 30 minutes. Fold in the corn. Season to taste with salt and black pepper.
Serve the grits topped with the greens, tomatoes, and a drizzle of balsamic vinegar or baslamic syrup.
For the creamed cashews
Combine the cashews and water in a blender. Blend until smooth. Use immediately or store in the fridge for up to 4 days.