A decadent dark chocolate and salted caramel tart made with a cocoa shortbread crust, homemade salted caramel, and dark chocolate ganache.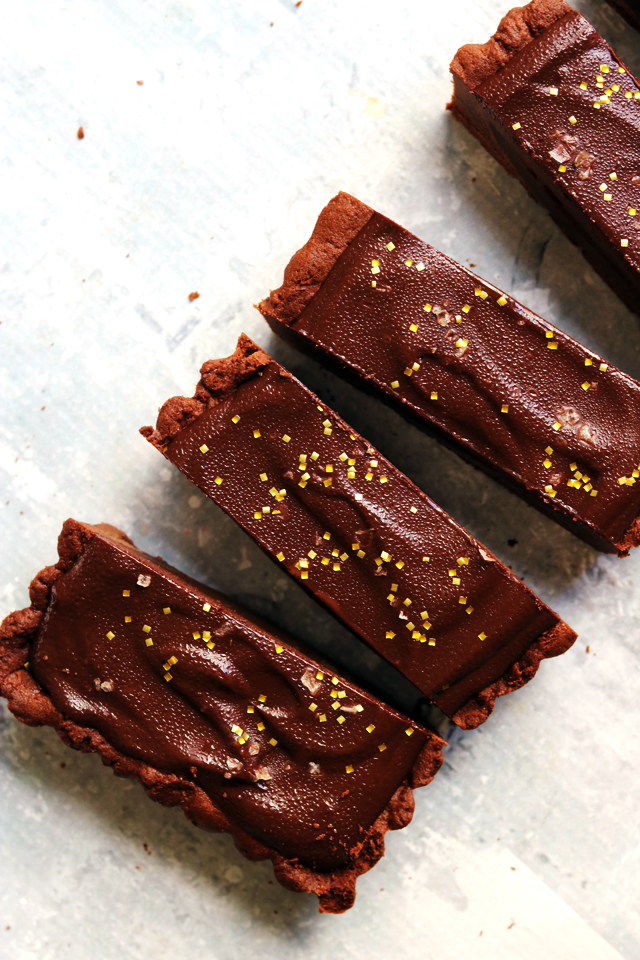 Some weeks just call for a big slab of chocolate.
Like, for instance, when it's UN week and your apartment building is encased by police gates, protesters are chanting outside your windows all day (and NIGHT), and you're met by a wall of people every time you leave your apartment.
Oh, the joys of living in midtown!!
JK, we actually love it. Just not every minute of this particular week.
I think today is the last day of the general assembly meeting, though, and if that is not a cause for celebration then I'm not sure what is.
Also, I will take ANY excuse to make this tart again.
With layers of cocoa shortbread, sticky salted caramel, and deep dark chocolate ganache, I think you can understand why.
This is one of those desserts that seems super fancy, but is actually really easy to prepare. The cocoa shortbread crust is a press-in crust meaning that there is no rolling required! All you need is your fingers and a little bit of muscle grease. After a brief stint in the fridge to chill it through, the crust gets baked on its own and then filled with the caramel and chocolate layers. After another chill period to allow all the layers to set, it is ready to eat.
If you've never made caramel before, this recipe is pretty foolproof. You basically just mix sugar and water in a pan and then keep a close eye on it as the sugar cooks and caramelizes. In fact, the recipe gives pretty strict instructions to NOT STIR or move the pan at all during cooking. Just let it do its thing!! It can go from perfect caramel to burnt in just a second, though, so you really do need to watch it carefully.
And then the ganache is also pretty simple. I tend to make it in the microwave out of laziness and not wanting to wash any more bowls than I truly have to…but technically you should make it on the stovetop over a double boiler. You do you! If you're making it in the microwave just be sure to stop and stir it every 30 seconds so that the melted chocolate on the sides of the bowl gets mixed in and doesn't burn from sitting there too long.
Serve this for a fancy dinner party with friends or just to assuage your anger at your child being woken up at midnight by a chorus of protesters cursing in any and every possible language. It really is good for all occasions.
Dark Chocolate and Salted Caramel Tart
A decadent dark chocolate and salted caramel tart made with a cocoa shortbread crust, homemade salted caramel, and dark chocolate ganache.
Ingredients
For the salted caramel
½ cup heavy cream
1¾ cups sugar
⅓ cup water
7 tbsp cold unsalted butter, cut into large pieces
¼ tsp fine sea salt
For the crust
9 tbsp unsalted butter, softened
1//2 cup powdered sugar
2 large egg yolks
1 tbsp heavy cream
¼ tsp fine sea salt
1½ cups all purpose flour
¼ cup Dutch-process cocoa powder
For the ganache
8.5 oz bittersweet (70% cacao) chocolate, finely chopped
1 cup heavy cream
For the garnish
Instructions
For the tart dough
Cream together the butter and sugar at low speed just until the sugar is fully incorporated. Increase the speed to medium-high and then beat for 2 minutes, or until creamy. Add in the yolks, cream, and salt. Beat again until blended, about 2 minutes. Scrape down the sides of the bowl. Add in the four and cocoa powder and then beat again at low speed until just incorporated.
Place the dough into the center of a tart pan and press it into and across the bottom of the pan until it covers the entire bottom and sides of the pan in an even layer. Freeze until firm, 30-40 minutes.
Meanwhile, heat the oven to 350F.
Line the chilled dough with parchment paper and fill the crust with pie weights or dried beans. Bake for 25 minutes. Remove from the oven and remove the pie weights and parchment. Return to the oven and continue baking for another 15-17 minutes or until it looks dry and the edges are firm to the touch. Allow to cool completely before filling.
For the salted caramel
Pour the heavy cream into a measuring cup. Set aside.
Place the sugar in the bottom of a heavy-bottomed medium saucepan. Shake the pan so that it settles in an even layer. Pour the water around the inside edges of the pan. Place the pan over medium-high heat. Cook without stirring until the caramel turns dark amber, about 15-20 minutes. Remove from the heat and pour in the cream. Whisk until completely blended together. Stir in the butter and salt, whisking until smooth.
Strain the caramel through a fine-mesh sieve into a medium bowl. Pour immediately into the tart crust. Transfer to a baking sheet and refrigerate, uncovered, for 20 minutes or until the caramel is firm.
For the ganache
Combine the chocolate and heavy cream in a microwave-safe bowl. Microwave in 1 minute increments until the chocolate is fully melted, stirring after each minute. Pour over the caramel layer. Spread into an even layer. Refrigerate uncovered until the chocolate is firm, about 30 minutes.
Top with fleur de sel. Serve cold or at room temperature.