These smoky kale potato cakes (that are basically oversized tater tots) and this raw kale salad tossed with quick-pickled apples are my new favorite ways to eat kale!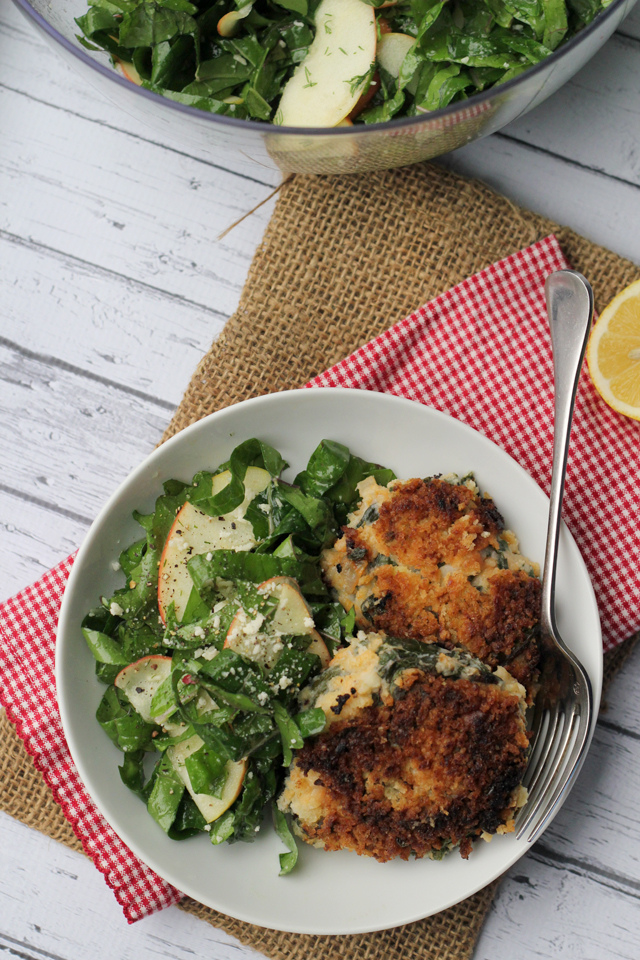 I just can't get enough of all the baby-making going on in this blogosphere.
We are almost as prolific as rabbits (or so it seems sometimes).
I mean, it kind of makes sense since food is the ultimate aphrodisiac.
Case in point: The.Boy gave me Jacques Torres truffles for Valentine's Day last year and we are lucky we didn't end up with twins. (TMI?) (Also a total exaggeration. For twins, he would have had to given me truffles and a 12 course meal at Per Se.)
Every time one of my blog friends announces that she's pregnant, I get crazy giddy.
Partly because she's bringing new life into this world and I'm so happy for her and all that yada yada yada.
But mostly because it means I might get to take part in a virtual baby shower.
And there is nothing cuter/more fun/more delicious than virtual baby showers. Well, other than actual baby showers. But we do what we can.
Anyways, today a few other ladies and I are coming together to celebrate Ruthy of Omeletta, who is having her first baby in just a few short weeks!! Ruthy and I first met when we were paired together for The Leftovers Club. Since we both live in NYC, we decided to meet up and exchange goodies rather than just mail them to each other. To say we hit it off instantly is an understatement. It was one of those things where, though we were meeting for the first time, the conversation flowed without awkward pauses and it felt like we'd known each other for much longer. I think it was then that she told me that she and her husband were going to start trying to have a baby and then, when I saw her a few months later at Eat.Write.Retreat – she was pregnant! And I could not be happier for her.
To celebrate, I made some smoky kale and potato cakes, which are similar to colcannon (in patty form) and are kind of a throwback to the time Ruthy spent living in Ireland! Crispy on the outside, creamy on the inside; these are almost like HUGE tater tots. With kale in them. And what could be better than that?
I paired them with my new favorite kale salad, which is filled with quick-pickled apples to add a little bit of pizzazz into the mix. Ideal baby shower food, virtual or otherwise.
Congratulations, Ruthy!!

All the Other Delicious Baby Shower Food:
Irish Lemon Pudding Tart – Sugar Dish Me
No-Bake Cookie Dough Bars – Food Babbles
Beef and Pepperoni Puffs – Food Ramblings
Mini Quiche Bites – Poet in the Pantry
Grapefruit Thyme Scones – Girl in the Little Red Kitchen
Smoky Kale and Potato Cakes with Red Kale Salad and Quick Pickled Apples – Eats Well With Others
Blood Orange Egg Tarts – Kelly Bakes
Irish Cheese and Bacon Popcorn – Chocolate Moosey
Smoky Kale and Potato Cakes
These smoky potato kale patties are basically large, cheesy (good-for-you) tater tots!
Ingredients
2 large russet potatoes (about a pound), peeled
8 oz yellow-fleshed potatoes, scrubbed
sea salt
1 large bunch of kale, stems removed and leaves chopped
freshly ground black pepper
2 tbsp olive oil
1 large clove garlic, grated
1 cup grated pepperjack cheese
½ onion, diced
a few pinches of red pepper flakes
1 tsp smoked paprika
dried breadcrumbs, for coating (about a cup)
Instructions
Cut the potatoes into 1-inch chunks. Put them in a saucepan and cover with cold water. Add in 1 tbsp salt. Bring to a boil and then lower to a simmer, cooking until the potatoes are just about tender (about 10 minutes). Add in the kale and cook until the potatoes are soft enough to mash.
Drain the potatoes, reserving ⅓ cup of cooking water. Put the potatoes in a large bowl along with the reserved water and olive oil. Mash until chunky. Season to taste with salt and pepper.
Stir the garlic, cheddar, onions, red pepper flakes, and smoked paprika into the warm potato-kale mash.
Form the potato mixture into cakes by pressing it into an ½ cup measuring cup and then plopping it out onto your hand. Coat on both sides with bread crumbs. Repeat until all the potato mixture is used.
To cook the cakes, pour olive oil into a large skillet (enough to coat). Warm over medium heat. Add the cakes and cook, turning once, until browned, about 2 minutes on each side. Serve warm.
Red Kale Salad with Quick-Pickled Apples
Kale salad gets more excited with quick-pickled apples and parmesan cheese tossed into it.
Ingredients
For the apples
½ cup rice vinegar
3 tbsp sugar
1 tsp kosher salt
1 tbsp fresh dill, chopped
1 Pink Lady apple
For the dressing
2 tbsp Meyer lemon juice
½ tsp honey
½ tsp kosher salt
¼ cup olive oil
For the salad
1 large bunch red kale, leaves torn from the stems and cut into thin strips
freshly ground black pepper
2 oz grated parmesan cheese
Instructions
To make the quick-pickled apple, in a medium bowl, whisk together the vinegar, sugar, salt, and dill. Have the apple and scoop out the core. Thinly slice into half moon-shaped rounds. Toss the apple slices with the vinegar mixture. Let sit while you make the rest of the salad.
To make the dressing, whisk together the lemon juice, honey, salt and olive oil until well combined.
For the salad, toss the kale with a splash of pickling liquid, and the dressing. Drain the apples and add them. Season to taste with salt and pepper.
Toss the salad with about half of the parmesan cheese. Let the salad sit for a few minutes and then serve, topped with more parmesan cheese and pepper.
Notes
Adapted from
Modern Mediterranean: Easy, Colorful, Full-Flavored Home Cooking
Nutrition Information
Serving size:
¼ of recipe