Creamy cauliflower soup gets all dressed up with chive oil and fried capers, with a warm loaf of spicy garlic bread to dunk in it!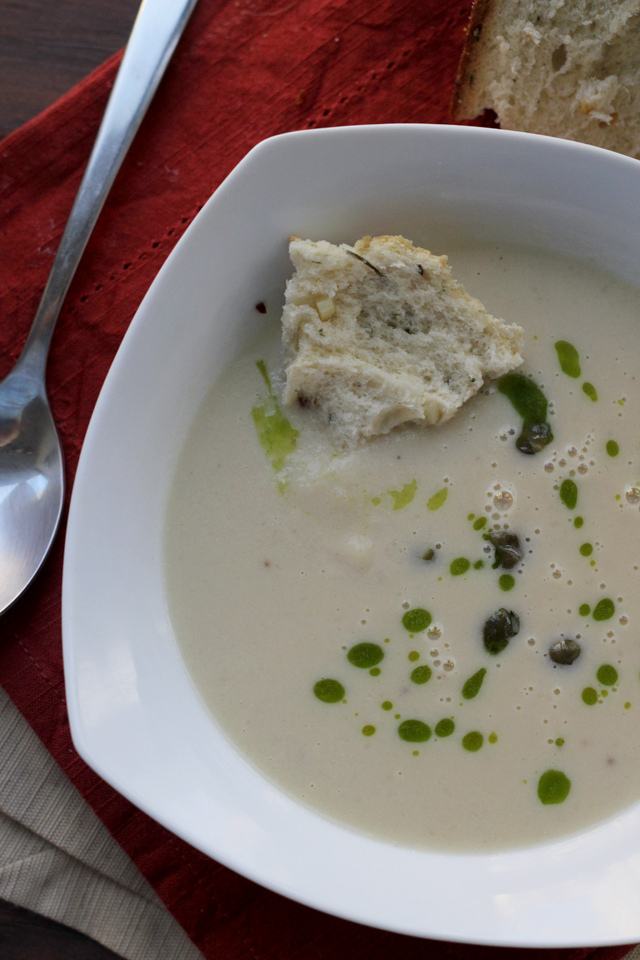 Oh Monday. The things you drive us to.
Like, some people drag themselves to the gym because they feel really crappy after their weekend of hangovers and sugar and butter and beer.
Or swear off all cupcakes ever again.
Or re-resolve all of their resolutions that they broke over the past two days.
Or inhale soup that is 75% vegetable, 15% butter, 10% fried capers and really just an excuse to shove bread into your face like it's your job.
Homemade spicy Italian garlic bread that you maybe made just a tad too spicy for your fiance's taste so that you can bite into it like it's an apple.
Hmmm, what? Oh no I  would never do that. I'm just saying. I could see how someone would.
And if you just so happened to make this whole loaf into a single serving bread bowl, I would support you in your endeavor.
This soup is pretty much all vegetable anyway (not that you would know it because it tastes like ALL THE CREAM jumped in there. But didn't).
Moderation. Just saying.
One year ago…Pink Champagne Cake
Two years ago…Thai Panang Vegetable Curry, Peppermint Brownies
Three years ago…Whole Wheat Pasta with Butternut Squash, Ground Lamb, and Halloumi
Four years ago…Crockpot Tofu, Tempeh, and Peanut Butter Squash Mole
Cauliflower Soup with Chive Oil
Cauliflower soup all dressed up with fried capers and a drizzle of chive oil!
Ingredients
1 sweet onion, finely diced
1 tbsp olive oil
3 tbsp unsalted butter, divided
1 large head of cauliflower, cut into florets
3 cups vegetable broth
1 cup water
½ cup milk
¼ cup capers, drained and patted dry
salt and pepper, to taste
For the chive oil
¼ cup chopped chives
4 tbsp olive oil
Instructions
In a large pot over medium heat, melt 1 tbsp butter with olive oil. Add in the onion, along with a pinch of salt, and cook until softened, about 5 minutes. Add in the cauliflower and vegetable broth. Bring to a boil, then lower the heat and let simmer for 20-25 minutes or until cauliflower is soft.
Puree with an immersion blender. Add in the milk and water, stirring until incorporated. Stir in remaining butter. Season to taste with salt and pepper.
To fry the capers, add a tsp of olive oil to a small skillet. Add the dry capers and cook for 1-2 minutes, stirring or shaking the pan frequently, until they start to brown. Set on a paper towel to dry and cool.
To make the chive oil, combine the chives and olive oil in a food processor and puree. Push through a strainer into a small bowl.
To serve, divide the soup among four bowls and top with capers and some chive oil.
Spicy Garlic Bread
Italian-spiced garlic bread that goes perfectly with a warm bowl of soup or just a smear of butter!
Ingredients
1 cup warm water
2¼ tsp active dry yeast
pinch of sugar
4 oz butter, melted
¾ tsp red pepper flakes
1 tsp tuscan or Italian seasoning blend
3 cloves garlic, peeled and sliced
4 cups bread flour
a few pinches coarsely ground black pepper
2 tsp salt
Instructions
In a small bowl, whisk together the water, yeast, and sugar. Allow to rest until mixture begins to become foamy. If yeast never foams, then it has gone bad - get new yeast.
Stir together the (hot) melted butter with the red pepper flakes, Italian seasoning, and garlic. Set aside.
Put the flour in the bowl of an electric stand mixer fitted with a bread hook. Stir in the salt and pepper. Pour in the yeast and butter mixtures. Stir on low speed (with the dough hook) for 10-12 minutes. The dough should not stick to the sides of the bowl, and it should be smooth and easy to work with.
Place the dough in a large greased bowl. Cover lightly with plastic wrap and allow to rest and rise in a warm place for 1 hour, or until doubled in size.
Heat oven to 450.
Knead the dough for about 2 minutes.
Grease a large Dutch oven. Form the dough into a ball and place in the Dutch oven. Cut two slits in the top of it with a scissor. Drizzle with a bit more olive oil. Sprinkle with coarse sea salt. Cover the pot with a tight-fitting lid and cook for 30 minutes. Reduce oven to 400. Remove the lid and cook for about 15-20 minutes more.
Remove from oven and allow to cool enough to remove it from the pan.