Pretty-in-pink strawberries and cream macarons filled with vanilla swiss meringue buttercream and strawberry preserves.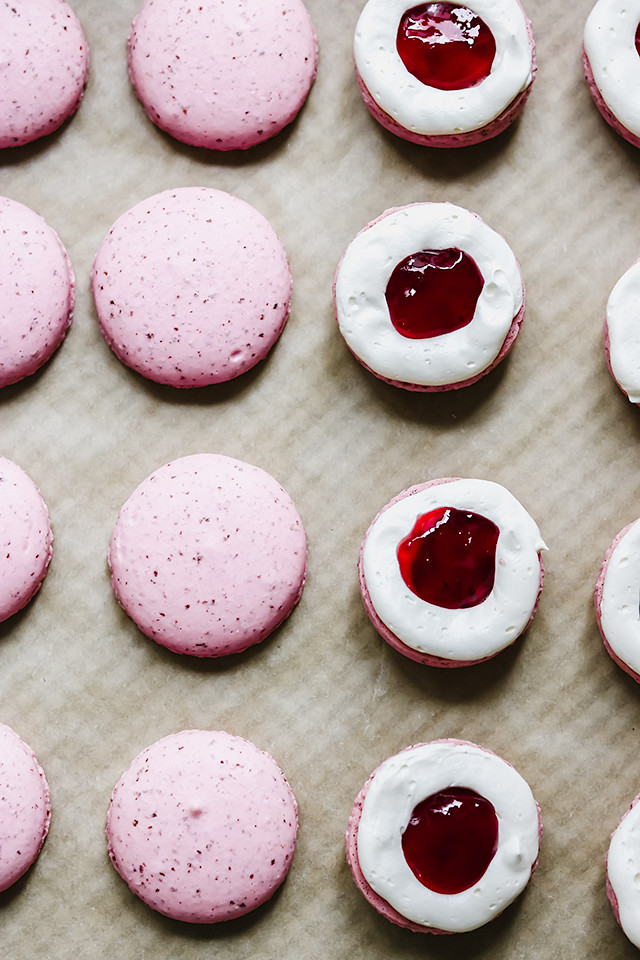 Nothing like a little extended time at home to work on your macaron technique!
Or you could study for your medicine boards.
Totally your call.
(I chose macarons, can you tell??)
JK, I've also TOTALLY been studying in all my spare time. That is, when I'm not momming/working/cooking/macaroning.
To be fair, the test isn't until August and with everything going on in the world who knows if it will even be happening.
What phase of reopening do standardized testing centers fall into? Hmmm.
Enough with the pleasantries, let's talk about macarons!!!
The last time I made them, I declared the recipe from The Artful Baker cookbook to be the be all and end all, and I stand by that.
LOOK AT HOW PERFECT THESE ARE.
I think they speak for themselves.
Prior to discovering this recipe, I had never made a macaron recipe where every single shell turns out perfectly every time. With all the other recipes I tried, I always ended up with lumpy foot-less shells in the back, cracked shells in the front, and maaayyybeeee a handful of good shells in the middle. Not this one!!
Yes, you have to weigh your ingredients carefully (so please no comments asking me for volume measurements – they're just not reliable enough for macaron making) and follow the instructions to a tee.
But it works!! Really and truly.
All jokes aside, my real reason for making these was that I had a glut of leftover egg whites in the fridge. At this point I can't even remember where the yolks went, but all I know is that over the course of a week or so I had collected a jar of approximately TWELVE egg whites.
Macs to the rescue! (And the swiss meringue buttercream filling didn't hurt either.)
(Sure, I could have made an XL egg white omelet, but this seems more fun.)
For these, I really wanted a spring-imbued flavor but also to NOT have to make an extra trip to the grocery store and since I always have a variety of jams, jellies, and preserves in the fridge a "fruit and cream" combo seemed perfect.
The filling is comprised of a simple vanilla swiss meringue buttercream moat that gets filled with a dollop of strawberry preserves. I used Bonne Maman because I love it so so much, but you use whatever jam/jelly/preserves that you love (or have on hand!).
You'll also notice that my shells are kind of speckled and that's because all I had on hand was unblanched almond flour. Initially I was kind of bummed about it, but in the end I actually thought it kind of enhanced their appearance. Use whatever you have, they'll be great either way.
Strawberries and Cream Macarons
Pretty-in-pink strawberries and cream macarons filled with vanilla swiss meringue buttercream and strawberry preserves.
Ingredients
For the macaron shells
150 g confectioner's sugar
150 g blanched almond flour
¼ tsp kosher salt
100 g egg whites, at room temperature
79 g sugar
pink gel food coloring, optional
For the filling
½ cup (120 mL) large egg whites
1 cup (200 g) sugar
1½ cups (340 g) unsalted butter, at room temperature, cubed
1½ tsp vanilla extract
½ cup strawberry jelly or preserves
Instructions
For the macarons
In the bowl of a food processor, combine the confectioner's sugar, almond flour, and salt. Pulse for 3 minutes or until very finely ground. Sift the mixture into a large bowl and discard any bits that are too large to pass through. If there is over a tbsp of lumps in the sifter, then put back in the food processor, pulse, and then sift again. Set aside.
In the bowl of a stand mixer fitted with the whisk attachment, beat the egg whites on medium-low speed for 2 minutes or until foamy. Increase the speed to medium and beat for another 2 minutes. Slowly pour in the sugar and beat for an additional minute. Increase the speed to medium-high and beat until medium-stiff peaks for, about 2 minutes. Dip two toothpicks or chopsticks into the food coloring gel and then swirl into the meringue. Beat on medium-high speed until well blended, about 10 seconds.
Remove the bowl from the mixer and add half of the dry ingredient mixture into the meringue, folding them together by scraping the bottom and sides of the bowl and then lifting the batter up and over onto itself. Rotate the bowl a quarter turn with each fold. It should take about 15 folds for the batter to mix together. Add the remaining ingredients and fold them together in this same way, aiming to knock out some of the air as you fold.
Once the dry ingredients are well combined, continue folding and testing the consistency of the batter. To do this, lift a scoop of the batter up with your spatula and let it fall back into the bowl. It is ready when it falls from the spatula in a solid ribbon and disappears back into the batter within 10-15 seconds. This can take anywhere between 40-50 folds.
Scrape the macaron batter into a pastry bag fitted with a half-inch round tip. Line two or three baking sheets with parchment paper. Hold the pastry bag at a 90-degree angle to the parchment-lined baking sheet and pipe it into 1.5-inch round circles, leaving about an inch between cookies. If you have a good consistency then any peaks that form when you lift away the pastry bag should flatten out on their own by the time your'e done piping everything.
Tap the baking sheets against a flat surface to release any air bubbles.
Allow the macaron sheets to rest until they form a skin, about 45-75 minutes. While they rest, heat oven to 275F and place an empty baking sheet in the oven. When ready, place a baking sheet with the macarons on top of the preheated baking sheet in the oven. Bake for 24 minutes. Remove to a wire rack and cool completely. Repeat and bake the remaining shells. Allow to cool completely before filling.
For the filling
Combine the egg whites and sugar in the bowl of a stand mixer and whisk together by hand. Fill a small saucepan with a few inches of water and place over medium-high heat. Place the mixer bowl on top of the simmering water to create a double boiler.
Whisking constantly, heat the eggs until they reach 160F or are hot to the touch and all of the sugar has dissolved. Remove the bowl from the hot water and place back onto the stand mixer.
Using the whisk attachment, whip the egg whites on high speed for 8-10 minutes, or until it has returned to room temperature and can hold medium-stiff peaks.
Switch to the paddle attachment and, with the mixer running on low, add the butter a few tbsp at a time. Once all the butter has been added, then add in the vanilla. Increase the mixer speed to medium-high and beat for 3-5 minutes, or until smooth. If too liquidy, place in the refrigerator for 15 minutes and then whip again.
To assemble
Flip over half of the cooked macaron shells. Gather the frosting into a piping bag fitted with a ½-inch round tip and pipe circles of frosting around the edges of the macarons that have been flipped over, leaving the centers empty so they are free to hold the jelly. Spoon teaspoonfuls of the jelly into the center. Top each with a second macaron shell. Place in an airtight container and allow to rest overnight in the fridge. Bring to room temperature before serving.