Spicy chipotle enchilada sauce brings bold flavor to this butternut squash and swiss chard enchilada casserole.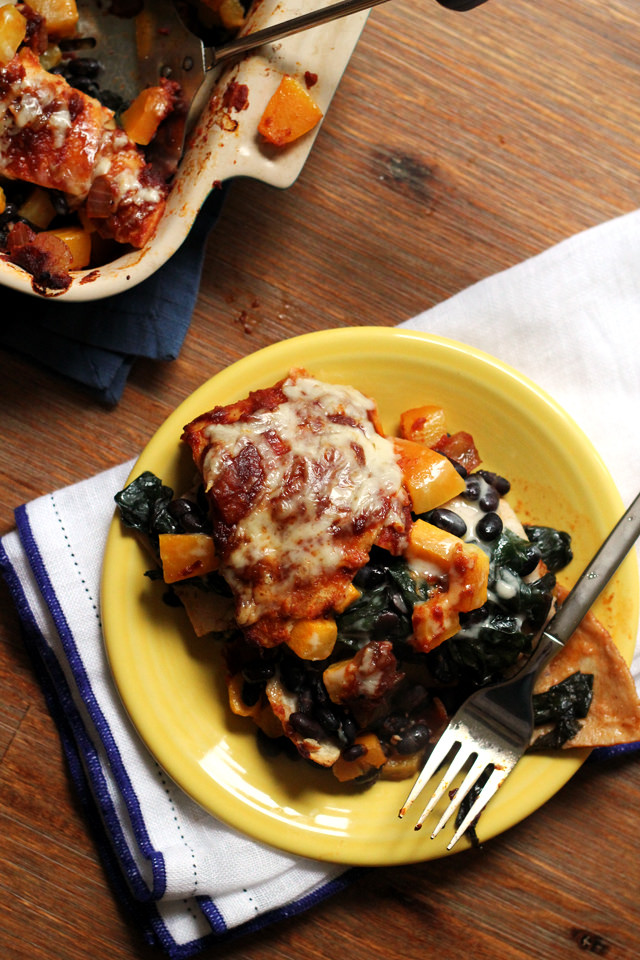 This weekend I learned that the.boy and I could never share a Pandora station.
Like, ever.
We're fine tuning our wedding playlist (/I'm nodding and smiling and pretending to add the songs that he suggests to the list) and while he's all about the random esoteric but "so perfect" Elton John song.
I'm like, how many OneDirection songs can we play before it gets awkward?
18 to infinite would be the correct answer. FYI.
Also, I apparently remember 90% of the words to all of the Top 100 songs of the past decade and a half.
Why my brain cells decide to retain this information but not a single fact about, you know, MEDICINE, I will never understand.
But if there's ever a life or death situation that depends on me knowing ALL THE SAVAGE GARDEN LYRICS EVER, we're in luck. Thank goodness.
Just like I refuse to cater to the.boy's musical tastes at our my wedding, I very often refuse to take his taste buds into consideration while making dinner.
Some may call this mean, but I like to think of it as life conditioning.
Like, if I feed him spice over and over (and over) again, maybe he'll learn to like it.
And if I blast That's What Makes You Beautiful in his ears every night until the wedding while he sleeps, maybe he'll let it be the soundtrack to our life wedding video.
Here's to trying. (Very, VERY pesistent trying.)
My latest spice endeavor? This enchilada casserole.
The enchilada sauce is wholly homemade and SO easy. Like, it comes together in less than ten minutes easy. And with three tablespoons of chili powder, it is SPICY.
Even I had to reach for a glass of cold water a few times while eating it. The.Boy had to relocate so that he was sitting next to the air conditioner, but he survived.
I call that progress.
This casserole is not all about the spice, though. It's also about the swiss chard, butternut, black bean filling, which helps to tame the spice so that it's not all sweat and tears, but also majorly good for you and just plain delicious. And the cheese.
Don't even think about forgetting the cheese.
By layering the tortillas in casserole form you save yourself the time of having to stuff and fold each one, making this totally doable on a weeknight. It does take an hour total, but a lot of that is sit around and wait time.
AKA prime sit around and brainwash your fiance by screaming top 40 lyrics in his face time.
Annoying? Me? NEVER.
Chipotle Butternut Squash and Swiss Chard Enchilada Casserole
Spicy chipotle enchilada sauce brings bold flavor to this butternut squash and swiss chard enchilada casserole.
Ingredients
For the enchilada sauce
1 tbsp olive oil
1 medium onion, diced
3 cloves garlic, minced
1 tbsp chipotle chile powder
2 tbsp ancho chile powder
2 tsp cumin
2 tsp sugar
2 (8 oz) cans tomato sauce
¼ cup water
salt and black pepper, to taste
For the enchiladas
1 medium butternut squash, peeled, seeded and cut into ½-inch dice
2 tbsp olive oil
salt and black pepper, to taste
1 bunch swiss chard, thinly sliced
2 cups cooked black beans
8 corn tortillas, halved
8 oz cheddar cheese, grated
Instructions
For the enchilada sauce, in a medium saucepan heat the olive oil over medium heat. Add the onion to the pan and saute until translucent, 4-5 minutes. Stir in the garlic,chile powders, cumin, and sugar, and cook for 30 seconds, stirring constantly, or until fragrant. Stir in the tomato sauce and water. Simmer for 2-3 minutes, or until starting to thicken. Season to taste with salt and black pepper.
Heat oven to 425F.
In a large bowl, toss the butternut squash with the olive oil and salt, to taste. Spread in an even layer on a parchment-lined baking sheet. Bake for 30-35 minutes, or until tender.
In a large bowl, toss together the butternut squash, swiss chard, and black beans. Season to taste with salt and black pepper.
Spread a thin layer of enchilada sauce on the bottom of an 8x8-inch square pan. Top with a layer of tortillas. Spread half of the filling over the tortillas. Top with a third of the cheese and more enchilada sauce. Top with a layer of tortillas. Spread the remaining filling over the tortillas, along with half of the remaining cheese. Top with a final layer of tortillas, a layer of enchilada sauce, and the remaining cheese. Cover with aluminum foil and bake for 20 minutes. Remove the foil and bake for another 10 minutes. Let cool for 5 minutes before cutting and serving.
Notes
An Eats Well With Others Original
Nutrition Information
Serving size:
¼ of recipe
Got veggie enchiladas on the brain? Check out these: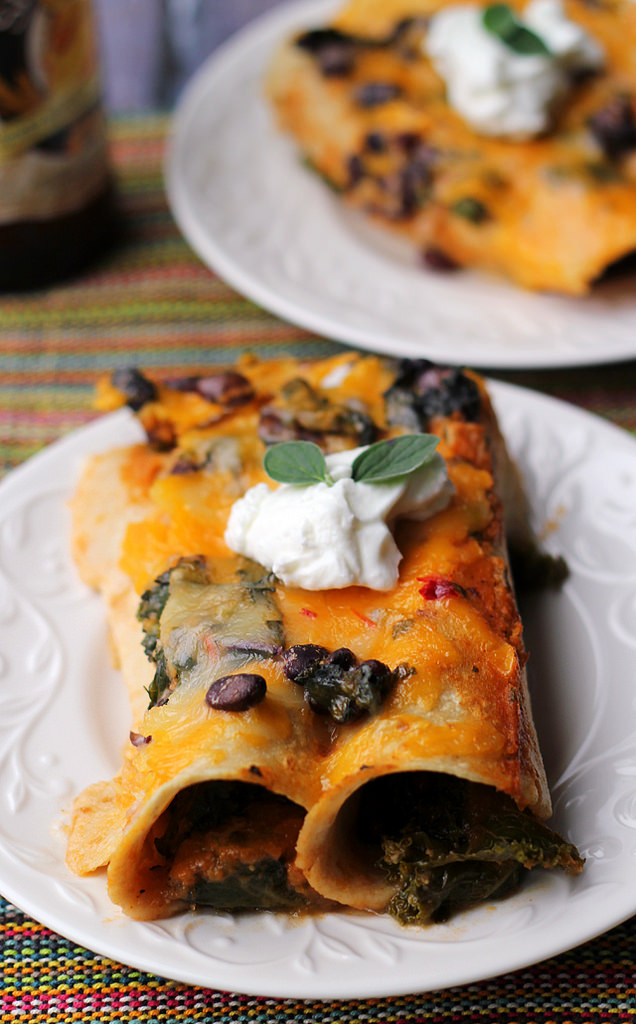 Black Bean and Kale Enchiladas with Ranchero Sauce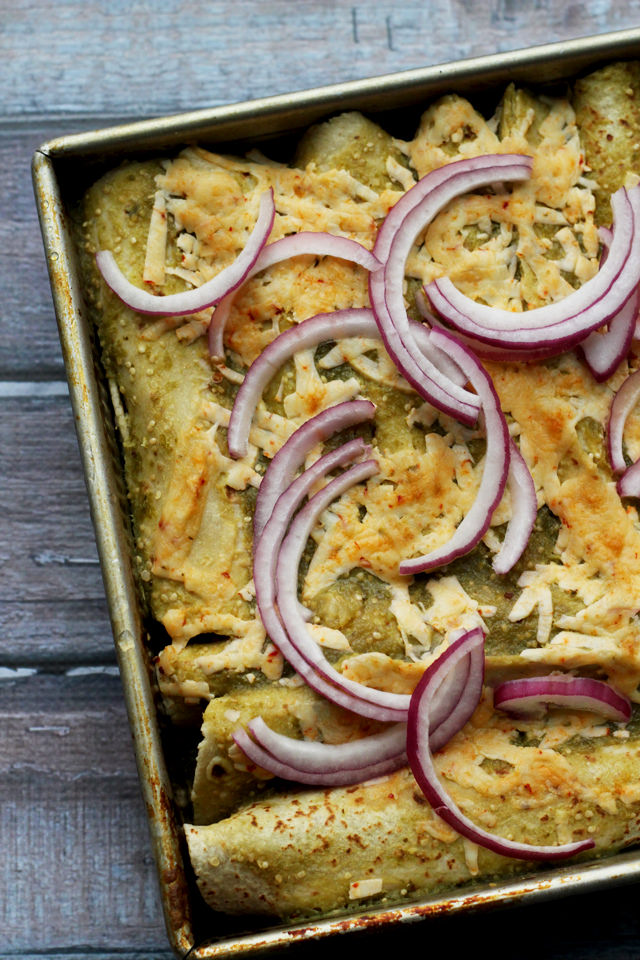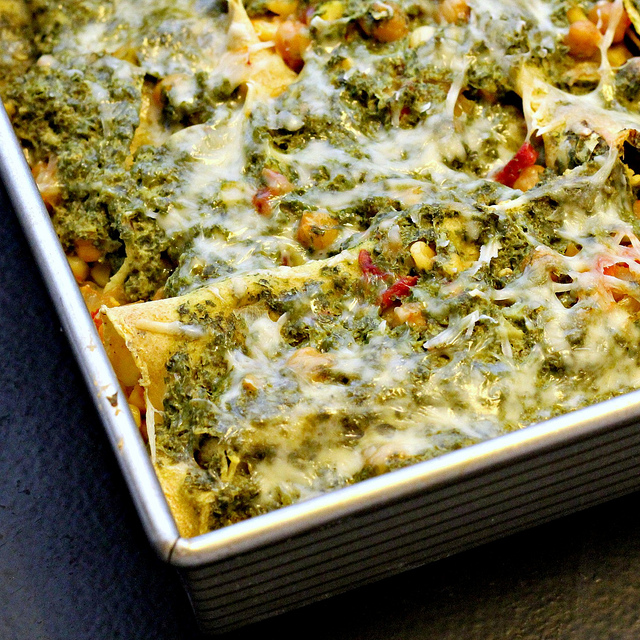 From Around the Web:
Millet and Collard Green Enchiladas by Fork Spoon Knife
Creamy Spinach and Cheese Green Chile Enchiladas from Two Peas and Their Pod
Vegetable Enchiladas with Chile Gravy from Cinnamon Spice and Everything Nice
Vegetarian Enchiladas Verde from The Flourishing Foodie
Sweet Potato Enchiladas from Healthy Delicious