Mexican food doesn't have to be bad for you! These artichoke enchiladas are stuffed with a healthy artichoke-quinoa mix and topped with a fresh and tangy homemade salsa verde.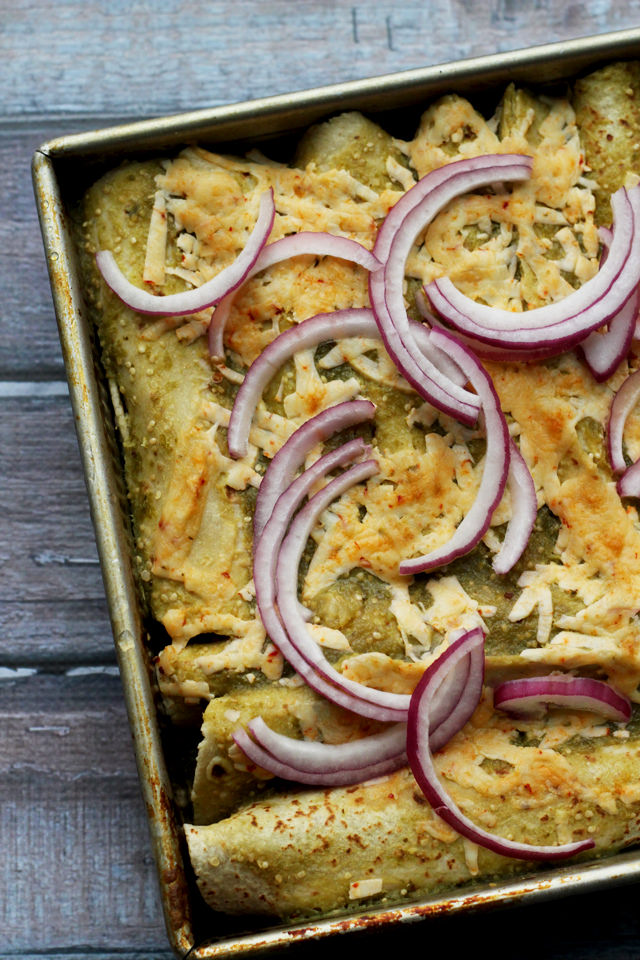 It's all fun and games to be engaged until both Roman Catholic and Greek Easter fall on the same day of the year and then the ONE HOLIDAY you thought could be divided peacefully turns into trench warfare.
"Your family got Christmas!"
"Well we went to YOUR aunt's for Thanksgiving"
"Well then MY mother gets Mother's Day"
Threats, bribes, bargaining – we're flinging ALL the artillery across enemy lines.
Even the artichokes.
Fine, I'm flinging the artichokes.
And by flinging I mean hiding them in a certain someone's food, because the best payback one can bestow upon their significant other is to force them to eat things they "don't like" without them knowing it. And then giggling emphatically when they do.
Don't ever say I don't fight fair.
As any of you with common sense (and, consequently, a love of artichoke hearts) would imagine, the.boy loved these. And what is there not to love?!
A cheesy quinoa artichoke filling topped with toasty corn tortillas, a sweet and tangy roasted tomatillo sauce and ALL THE SPICY CHIPOTLE CHEDDAR CHEESE. All brutally lovable things.
I'm not quite sure that these won me Easter day privileges…but they certainly gave me a helluva lot of satisfaction. And that totally counts.
And since no enchilada night is complete without some chips and salsa, I want to share with you this fun Chip 'n' Dip Set from the new line of Bobby Flay Items sold at Kohl's that I was sent to review! I love the bright bold colors and Southwestern-influenced designs in Bobby Flay's line, so I was super excited when I was sent one of his items to try out. The.Boy and I have very meager amounts of entertaining equipment so this Chip 'n' Dip Set that we received was just perfect for us,  as it would be ideal for a party. It has two tiers of bowls – one for the chips and one for the dip – which makes it a pretty eye-catching centerpiece on its own. Add in some chips and dip and it's basically the life of the fiesta! As for the rest of Bobby's items, I could definitely see myself registering for a few of these – the bright colored mixing bowls, striped dinnerware set, and colorful ramekins have all caught my eye. This line of items is certainly worth checking out if you have a Kohl's near you!
Artichoke Enchiladas
Mexican food doesn't have to be bad for you! These artichoke enchiladas are stuffed with a healthy artichoke-quinoa mix and topped with a fresh and tangy homemade salsa verde.
Ingredients
1¼ cups water
¾ cup quinoa, rinsed
¼ tsp kosher salt
1 red onion
1½ lb tomatillos, husked
2 jalapenos, seeded
½ cup vegetable broth
salt, to taste
1 tsp sugar
2 tbsp olive oil
8 oz chipotle cheddar cheese, shredded, divided
1 (14 oz) can artichoke hearts, drained and chopped
16 small corn tortillas
Instructions
In a small pan, bring the water, quinoa, and salt to a boil. Lower heat and simmer, covered, for 15-20 minutes, or until water has evaporated and quinoa is cooked. Let sit with the heat off and cover on for about 5 minutes.
Meanwhile, preheat the broiler to high.
Halve the onion. Cut one half into wedges and thinly slice the other half. Set the thin slices aside.
On a parchment-lined baking sheet, arrange the onions, tomatillos, and jalapenos so that they are even scattered around the pan. Broil for 20 minutes, turning the veggies over about half way through. Transfer the roasted onion, tomatillos, and jalapenos to the bowl of a food processor. Add the broth and puree until smooth. Add ½ tsp salt and the sugar. Puree again to combine.
In a large bowl, toss the artichokes with the olive oil, quinoa, and ⅔ of the grated cheese. Season to taste with salt.
Grease a 9x13-inch baking pan. Warm the tortillas according to package directions. Spoon a few tbsp of the artichoke filling into the center of each warm tortilla. Roll up the tortilla and place it in the prepared pan, seam-side down. Repeat with the remaining tortillas and artichoke filling.
Pour the tomatillo sauce over and around the tortillas in the pan. Sprinkle with the remaining cheddar cheese. Broil for about 5-7 minutes, or until the sauce starts to thicken and the cheese is melted, keeping an eye on it to make sure the cheese doesn't burn. Serve topped with the sliced onions.
Notes
Very slightly adapted from
Feast: Generous Vegetarian Meals for Any Eater and Every Appetite
Nutrition Information
Serving size:
3-4 enchiladas