Get your taste buds pumping with these smoky and spicy black bean and kale enchiladas with ranchero sauce, topped with a spicy gooey cheese!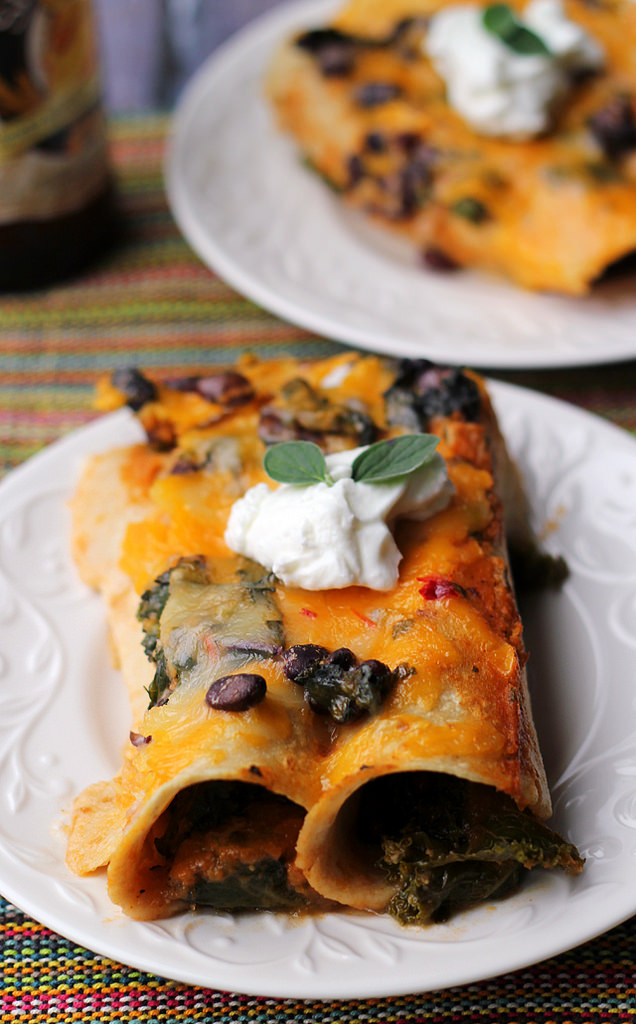 This is basically an encore.
Because whoever thought Cinco de Mayo only lasting one day (and being allowed to fall on a MONDAY no less) was a good idea  was obviously the same person who thought that ice cream should have calories.
Wrong on so many levels.
So I'm just going to call this Fiesta de Mayo (because that is so what it is) and we'll just keep this party started.
Dealio?
Parties and kale aren't often found in the same sentence, unless you're partying at my place!
Where kale is the life of the party.
Tossed with black beans and cheese, rolled up in soft corn tortillas and then smothered in a spicy sauce, it helps to ground these enchiladas while simultaneously keeping things racy and unexpected.
It's just so crazy, but also so right.
Black Bean and Kale Enchiladas with Ranchero Sauce
Black bean and kale enchiladas are topped with a mix of three fun cheeses along with a smoky, spicy ranchero sauce.
Ingredients
2 dried ancho chiles, stemmed and seeded
2 cups water, plus more for steaming the kale
½ lb kale
1 tbsp olive oil
1 medium onion, chopped
4 garlic cloves, sliced
¼ tsp kosher salt
2 cups vegetable broth
2 tbsp chopped fresh oregano
2 tbsp tomato paste
½ tsp ground cumin
1 tbsp fresh lime juice
⅛ tsp cayenne pepper, or to taste
2 cups cooked black beans
2 cups pepperjack cheese, grated
16 (6-inch) tortillas
6 tbsp Greek yogurt
Instructions
Heat oven to 400F.
Combine the chiles and 2 cups water in a medium saucepan. Bring to a boil and then lower the heat, simmering for 5 minutes. Remove from the heat and let stand for 5 minutes. Drain the chiles, reserving 1 cup of the cooking liquid. Set aside.
Add ½ cup water to a large saucepan. Add the kale to the pan, along with a pinch of salt, cooking over medium heat until wilted. Drain and set aside.
Heat the oil in a medium saucepan over high heat. Add the onion and saute for 1 minute. Reduce the heat to medium, and add the garlic and salt. Cook for 5 minutes or until golden, stirring occasionally. Add the broth, oregano, tomato paste, and cumin. Cook for 8 minutes or until thickened, stirring occasionally.
Pour the onion mixture into a food processor or blender. Add the chiles, reserved cooking liquid, lime juice, and cayenne pepper. Process until smooth. Season to taste with salt and cayenne pepper.
In a large bowl, combine the beans, kale, and 1 cup of cheese.
Spread ½ cup sauce on the bottom of a 9x13-inch baking pan. Working in batches, warm the tortillas according to the package directions so that they stay warm and pliable while you're working with them. If they get too cool, they will crack when you fold them. I usually work with 2-3 at a time.
Spoon 3 tbsp filling down the center of each tortilla. Roll it up and place it seam side-down in the prepared dish. Repeat until all tortillas are used up. If you have any remaining filling, toss it on top of and around the tortillas in the pan. Pour the remaining sauce over the filled tortillas. Top with the remaining cheese. Bake at 400F for 15 minutes or until lightly browned. Serve with Greek yogurt.
Nutrition Information
Serving size:
3 enchiladas
Fore more enchilada inspiration, check out these:
Sweet Potato Enchiladas from Damn Delicious
Black Bean Enchiladas with Roasted Red Pepper Cashew Cream from Oh My Veggies!
Roasted Vegetable Enchiladas from Gimme Some Oven
Roasted Corn and Ricotta Enchiladas with Chipotle-Tomato Sauce from Naturally Ella