Spiced maple cookies that are made with maple sugar, cinnamon, and cardamom for a warm fall flavor.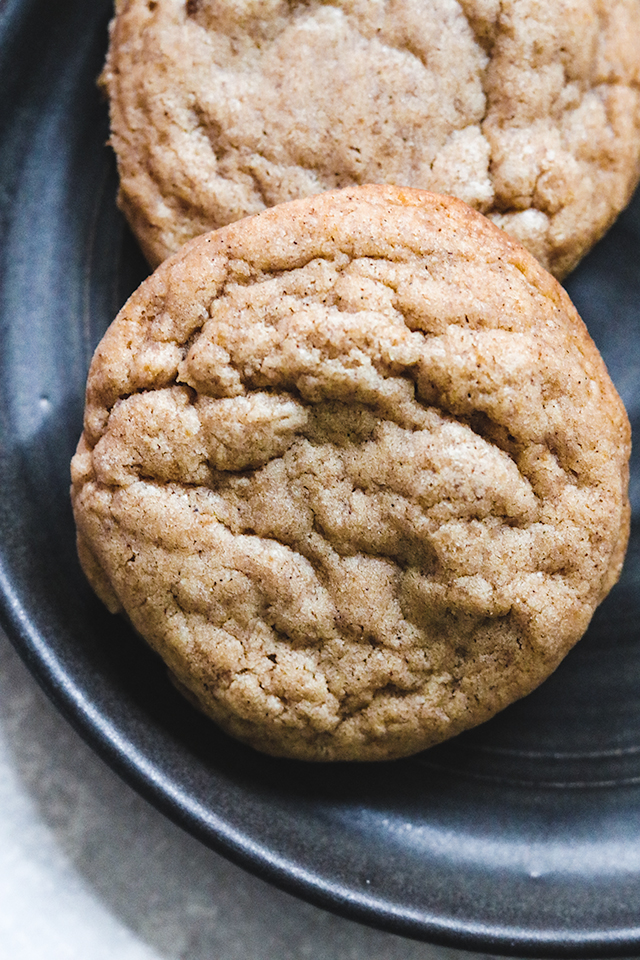 A few weeks ago we went to our first (hopefully of MANY) cookie swap of the year. Perhaps a little premature being that it was only September, but start 'em early I say!
After all, you can't ever have too many cookies (unless, of course, said cookie swap is at lunch time and you thought there would be real food but there definitely is NOT and so your child eats boatloads of sugar in lieu of a real meal – not that I would know anything about that).
I figured there would be lots of variations on the chocolate chip cookie, so I went a little outside the box and instead brought spiced maple cookies – a new fall favorite!!
These were a HUGE hit. So much so that multiple people told me that they were their favorite cookie of the swap (even without knowing that I had made them, so I know they were being honest). 
They are rich with maple flavor and a perfect balance of fall spices, while also achieving the idea soft but chewy texture. Cookie overachievers if there ever was one!
Thankfully they are also super easy to make. They come together in one bowl (well, maybe two if you want to whisk together the dry ingredients to ensure even spice and leavening agent distribution), are made by hand, and don't require any pre-baking chill step.
The only caveat to these cookies is that they do require one sort of specialty ingredient – maple sugar. This is what gives them their signature maple flavor without the addition of any extracts or artificial flavors. 
If you've never had it, maple sugar is a sweetener that is made from the sap of the maple tree. It's basically what remains after maple syrup is boiled to the point that all of the water has evaporated, leaving only a solid sugar block behind. That is then ground up to be used in baked goods and other confections. It is perfect for adding real, concentrated maple flavor in recipes where you don't want the excess liquid from maple syrup. 
The original recipe for these cookies comes from Jesse Szewczyk's Cookies: The New Classics. This cookbook is filled with so much innovative cookie inspiration and I can't wait to do a deeper dive into it this holiday season. 
I strayed from the original recipe a little bit by mixing up the spice blend in the cookies after realizing that I had somehow run out of dried ginger. I replaced it with a lesser amount of ground cardamom, which made for an excellent substitution. 
The cinnamon, cardamom, and maple flavors all blend together beautifully to make one fabulous cookie. A must-have for your holiday cookie tins this year!
Spiced Maple Cookies
Spiced maple cookies that are made with maple sugar, cinnamon, and cardamom for a warm fall flavor.
Ingredients
2¾ cups (352 g) all purpose flour
2 tsp ground cinnamon
½ tsp ground cardamom
½ tsp baking powder
½ tsp baking soda
1 tsp kosher salt
2 sticks (226 g) unsalted butter, melted and cooled slightly
1 cup (200 g) dark brown sugar
¾ cup (150 g) maple sugar
1 tbsp vanilla extract
1 large egg
1 large egg yolk
Instructions
Heat oven to 375F. Set two oven racks in the upper-middle and lower-middle positions, respectively. Line 2 baking sheets with parchment paper and set aside.
In a medium bowl, whisk together the flour, cinnamon, cardamom, baking powder, baking soda, and salt. Set aside.
In a large bowl, whisk together the melted butter, brown sugar, and maple sugar until smooth. Add in the vanilla, egg, and egg yolk. Whisk until smooth.
Add the flour mixture to the bowl and fold in with a rubber spatula until there are no more pockets of dry flour.
Using a medium cookie scoop (~ 2 tbsp), portion out the dough into 24 portions and divide among the prepared baking sheets. Roll into balls and place them at least 3 inches apart from each other on the baking sheets so that there are twelve per sheet.
Place the pans in the oven and bake simultaneously, switching the top and bottom sheets midway through the baking time, about 9-12 minutes or until puffy and starting to crack. Allow to cool completely on the baking sheets before serving.