This cheesy baked broccoli and cheddar risotto is basically like risotto mac and cheese! It is total comfort food and a family favorite.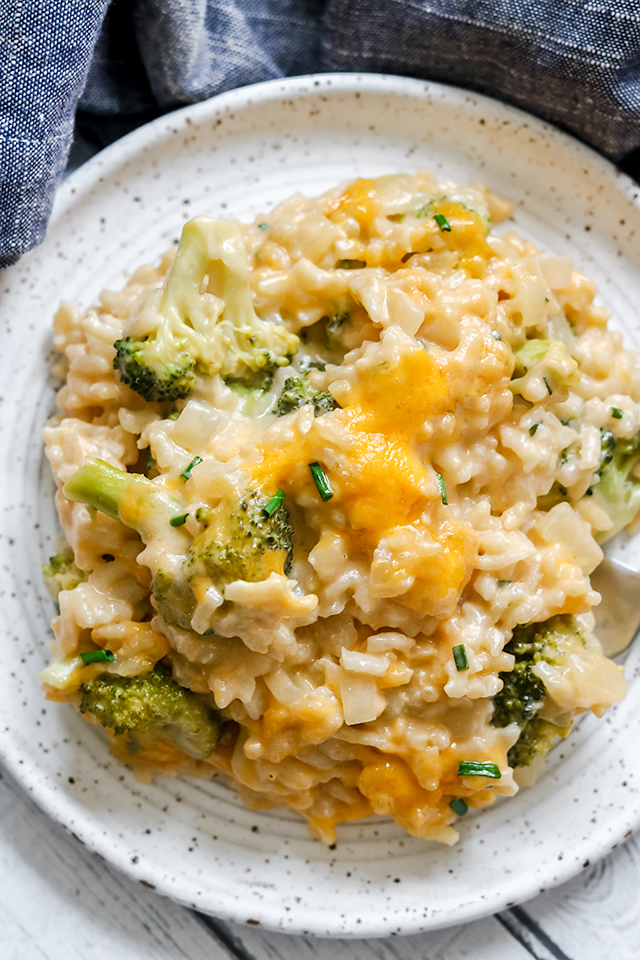 Choo chooooooooooooooooo!!!!!!
Baked risotto PARTY TRAIN comin' through.
You're gonna wanna hop on up, because this? This is dinner magic.
There is no other way to describe it!!
It's a no-stir, mostly hands-free, perfectly creamy risotto that will get your child to eat their veggies. I mean…if that doesn't speak to some kind of underlying black magic sorcery (but, the good kind) then you must be living a very different life than I am.
If we're being honest, it is basically risotto mac and cheese. AND I AM HERE FOR IT.
Now, a quick glance through the Eats Well With Others archives will tell you that I have never shied away from a little risotto challenge. I wouldn't go so far as to cook it on Top Chef, but it's really not as onerous or finicky as it sounds. Yes you need to stir it, but not really constantly, just every few minutes or so and it will be fine. Maybe not cooking competition-quality, but FINE. 
Still, this pandemic and having to cook every meal every day forever has made me grateful for any meal that allows me to stick something in the oven and then idle on the couch for 20 minutes while it takes care of itself. 
To make this risotto, you do have to put it in a little bit of leg work (well, arm work) in the beginning to saute the broccoli and aromatics, and get the whole thing going but then it completely takes charge of its own destiny and cooks unattended in the oven for about twenty minutes. Pop it out for a hot minute to stir in the cheese, and then back into the oven it goes to get all melty and perfect. 
The broccoli/cheese pairing is as old as time (well, probably just as old as America because we're the only ones who would trash up broccoli this much) and it is SO GOOD. My mom used to make it from those frozen Green Giant packages where you just had to pour it into a bowl and heat it up in the microwave. Do they still make those? Don't tell me.
I'm pretty sure those use American cheese, but we're getting really classy here and using cheddar. It has less of a processed/chemical flavor than American cheese and I like how it has some sharpness and edge to it. I used a yellow cheddar, mostly for color, but you can use a white cheddar or even other melty cheeses like gruyere or fontina. They'll change the flavor profile a bit, but it will still be good.
In addition to the cheddar, we're using cream cheese to make this ultra luscious and give it that thick, velvety, mouth-feel. It's kind of the glue that holds it all together.  Other options if you're not feeling the cream cheese are mascarpone or creme fraiche, but again these will change the flavors a bit. Not in a bad way, just a different way.
Diving in.

Cheesy Baked Broccoli and Cheddar Risotto
This cheesy baked broccoli and cheddar risotto is basically like risotto mac and cheese! It is total comfort and a family favorite.
Ingredients
4 tbsp olive oil, divided
1 lb broccoli florets, cut into bite-sized pieces
salt and black pepper, to taste
1 onion diced
5 cloves garlic, minced
1.5 cups arborio rice
1 cup white wine
6 cups vegetable broth
6 oz cheddar cheese, grated
6 oz cream cheese, room temperature
chives, to garnish
Instructions
Heat oven to 450F.
Heat 2 tbsp of the olive oil in a large ovenproof skillet or Dutch oven over medium heat. Add the broccoli to the pan and season with salt and black pepper. Saute for 2-3 minutes, or until crisp-tender. Pour into a bowl and set aside.
Heat the remaining olive oil in the same skillet you just used to cook the broccoli. Add the onion and saute for 4 minutes, or until translucent. Add in the garlic cloves and saute for 1 minute or until fragrant. Stir in the arborio rice. Saute for 2-3 minutes, stirring constantly, or until the rice kernels are translucent. Pour in the white wine and cook until it is almost completely evaporated, about 2-3 minutes. Add the broccoli to the pan and stir to combine, then pour in the vegetable broth. Increase the heat to high and bring to a boil.
Once the broth is bubbling, carefully remove the pan from the heat and place it in the oven. Bake for 20 minutes, or until the rice is almost tender.
Remove from the oven. Stir in the cream cheese and two thirds of the cheddar cheese until completely melted and combined. Sprinkle the remaining cheddar cheese over the top. Place bake in the oven and bake for another 10 minutes, or until the cheese has melted.
Allow to rest for 5 minutes, then sprinkle chives over the top to garnish, and serve warm.
Notes
An Eats Well With Others Original