Lightly spiced one-pot curried lentils topped with a garlicky yogurt sauce and served with coconut rice – a hearty and healthy meal.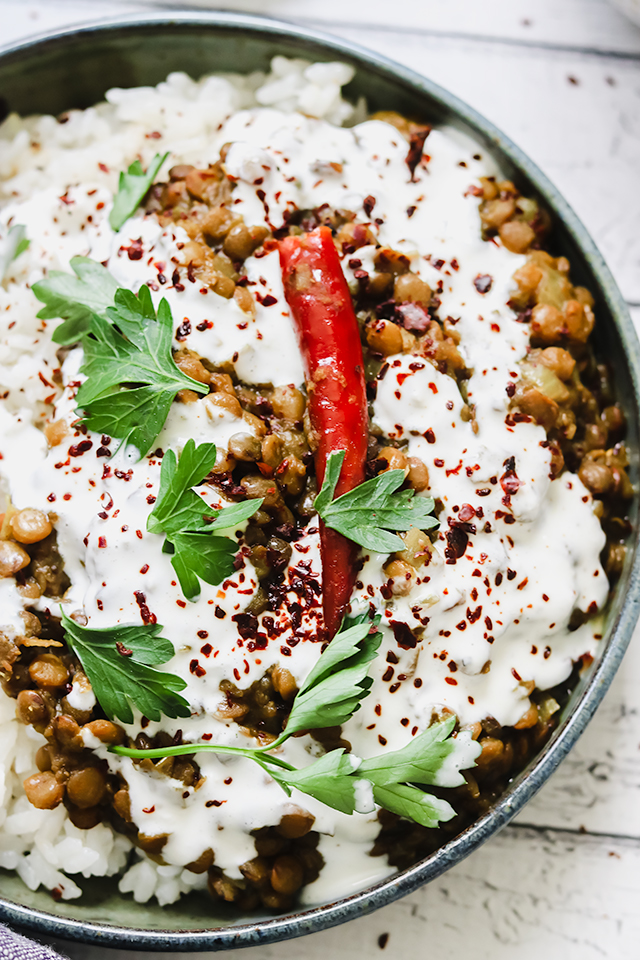 The Humble Lentil strikes again!!
I don't know about you guys, but for me eating a bowl of lentils is a straight shot on the road to feeling like a million bucks. They're such simple little nutritional powerhouses that whenever I eat them, this feeling of self-love washes over me because I know I'm doing something so good for myself.
It's the best. I highly recommend it, especially if you've recently (with the help of your husband) finished an entire pie yourself over three days (<– ahem. No comment.)
In addition to helping us atone for our pie sins, the lentil is the true jack-of-all-trades in the food world. It can adapt to any flavor situation and is eaten in cultures around the world. In fact, you'd be hard put to find a region of the globe that doesn't have a lentil dish in its repertoire.
Bonus that lentils are crazy affordable and some of the quickest cooking legumes of the bean world. They don't require any pre-soaking and can be cooked on the stovetop in around 30 minutes (less if we're talking about red lentils).
Here we're pairing these little superstars with some simple curry spices to make a pantry meal that will knock your socks off!
This is not authentic by any means, but it IS tasty, and that's what counts.
It starts with a simple saute of some aromatics, then you pile on the spices, add the lentils and simmer away! In the meantime you'll make a simple two-ingredient garlicky yogurt sauce that you'll dollop over your curry bowl for a cooling touch.
You can serve this over a bed of basic rice, but my motto is "why make regular rice, when you could make coconut rice".
Especially when making coconut rice really just means replacing a portion of the cooking water with coconut milk – no extra steps required. If you have a can of coconut milk in your pantry, then this is a must-do. If you don't, then regular rice will be just fine. This is a no-stress dinner situation, so feel free to do with it what you will or what life necessitates. It will be tasty no matter what.
Curried Lentils with Garlicky Yogurt and Coconut Rice
Lightly spiced one-pot curried lentils topped with a garlicky yogurt sauce and served with coconut rice - a hearty and healthy meal.
Ingredients
For the lentils
2 tbsp olive oil
2 diced shallots
salt and black pepper, to taste
5 garlic cloves, divided
2 tbsp grated peeled fresh ginger
1 tbsp garam masala
1.5 tsp turmeric
1.5 tsp cumin
12 oz brown lentils
1 dried chile de arbol
⅓ cup plain yogurt
aleppo pepper flakes, to garnish
For the coconut rice
1 (13.5 oz) can coconut milk
1 cup short-grain white rice, rinsed well
pinch of salt
Instructions
Heat the olive oil in a medium pot or Dutch oven over medium heat. Add in the shallots, season with salt, and saute for 5 minutes or until softened.
Meanwhile, minced 4 cloves of the garlic. Add the chopped garlic, ginger, garam masala, turmeric, and cumin to the pan. Cook for 1 minute, or until fragrant. Stir in the lentils, 4.5 cups water, the dried chile, and 1 tsp salt. Bring to a boil then lower to a simmer. Cover and cook until tender, about 30 minutes.
To make the yogurt sauce, pour the yogurt into a small bowl. Grate the remaining garlic clove into the yogurt and stir to combine. Season to taste with salt and black pepper.
To serve, spoon the lentils over the rice (recipe below). Top with a spoonful of yogurt sauce and a sprinkle of chile flakes.
For the coconut rice
Pour the coconut milk into a 2-cup measuring cup and add enough water to make 2 cups. Pour into a medium pot. Add rice and salt. Bring to a boil, then cover and lower the heat to a simmer. Cover the pot and cook for 17 minutes.
Remove from the heat and place a dish towel in-between the lid of the pot and top of the pot. Allow to sit like this for 10 minutes. Fluff and serve.