Salted honey buttermilk panna cotta is topped with a raspberry coulis to achieve a perfect balance of sweet, creamy, tart, and fruity.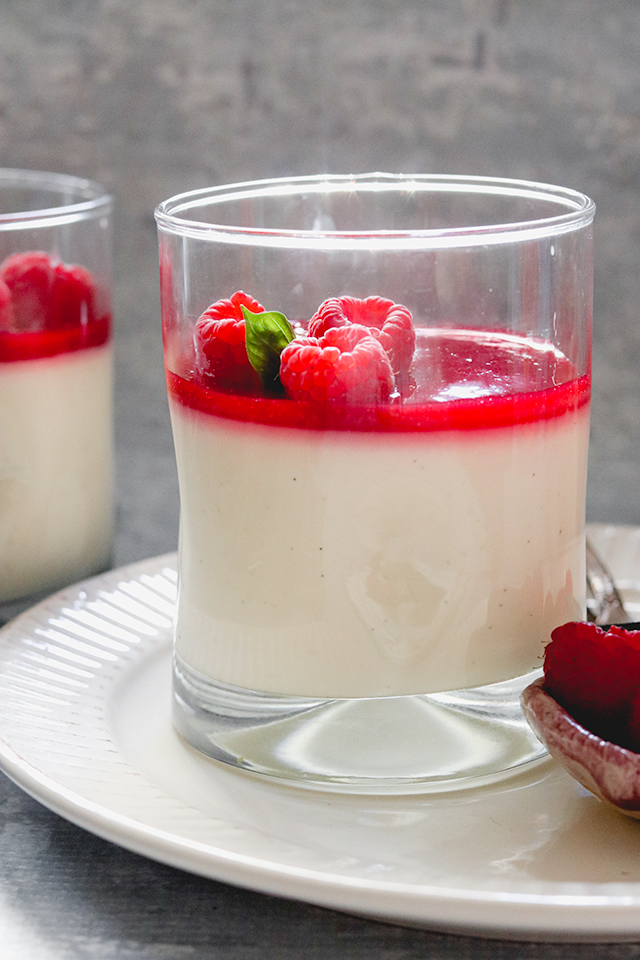 The question of when or how often we will we start having dinner parties again feels kind of like that age-old joke about the guy who asks his doctor whether he can run a marathon after having a heart attack.
Well, what were you doing before?
Uhhhhh unless you count my brother coming over every weekend and being buried under a sea of Magnatiles while Remy jumps all over him a "dinner party"….
(Yes, that is what you can expect when you come over my house. This is why we can't have nice things.)
That being said, this pandemic has instilled in me a serious appreciation for the TREAT YO' SELF movement.
I won't be waiting for guests or special occasions or holidays to make myself something a little bit on the fancier side. It's a random Friday in May and no one is coming to my house – let's make panna cotta!
Panna cotta or "cooked cream" as it translates to in English is one of those deceptively simple desserts that feels (and tastes) like it took hours to make when actually you're just gently heating some ingredients on the stove, then stirring them together with a few more ingredients, and letting the whole thing set in the fridge overnight.
There's something about it (maybe it's the fancy Italian name) that gives the impression that it could only be made in a high-end restaurant but let me be the one to dispel that myth for you. 
I did it in my own home in under thirty minutes, probably while being buried under a sea of Magnatiles. If I can do it, SO CAN YOU.
This panna cotta base starts with a mix of heavy cream, buttermilk, sour cream, and honey. The buttermilk and sour cream add some tang to offset the honey's sweetness, and the whole thing eats like a bowl of the most decadent, luxurious yogurt you can imagine having – it feels somehow really light but also really rich at the same time.
Gelatin, though not strictly vegetarian, is used in this recipe to add structure to the custard and allow it to hold it's shape. The only tricky part of this recipe has to do with the gelatin, namely that you need to bloom it in water first to activate it and then heat it gently over the stovetop with some cream and honey. Overheating can cause it to denature, which will completely inactivate it, so keep a close eye on it while it's cooking. Agar agar can be used in place of the gelatin if you're looking to keep things completely vegetarian, but I would do some googling on how to best substitute it if that's the route you decide to go. 
After your panna cotta sets, you'll top it with an intensely fruity homemade raspberry coulis that is rife with sweet berry flavor. It's tartness is the perfect foil to the creaminess of the panna cotta custard and it's really what keeps you coming back for spoonful after spoonful. The coulis recipe will make more than you'll need, but it is perfect spooned over ice cream or Greek yogurt, so I have no doubt you'll find a delicious way to use it up.
Salted Honey Buttermilk Panna Cotta with Raspberry Coulis
Salted honey buttermilk panna cotta is topped with a raspberry coulis to achieve a perfect balance of sweet, creamy, tart, and fruity.
Ingredients
1 (1/4-oz) packet unflavored gelatin powder
¼ cup water
3 cups heavy cream, divided
½ cup + 2 tbsp honey
1 cup buttermilk
1 cup sour cream
1 tsp vanilla bean paste
pinch of kosher salt
For the raspberry coulis
3 cups frozen raspberries, thawed
2 tbsp fresh lemon juice
½ cup sugar, divided
2 tbsp cornstarch
Instructions
Sprinkle the gelatin over the water in a small bowl. Allow to sit for 2-3 minutes to soften and become fully hydrated.
Pluck the gelatin out of the water (it should be squishy and stuck together in one layer) and add it to a small pot with ½ cup heavy cream and ½ cup honey. Heat over low just until the gelatin is completely dissolved, making sure not to simmer the mixture.
In a large bowl, whisk together the buttermilk, sour cream, vanilla bean paste, remaining 2.5 cups heavy cream, and the salt. Slowly whisk the gelatin-honey mixture into the buttermilk mixture, mixing gently so as not to incorporate too many air bubbles into it.
Pour into 6-10 glasses and place in the refrigerator to chill and set. Allow to rest overnight.
For the raspberry coulis
Combine the raspberries, lemon juice, and ¼ cup of the sugar in a small pot. Mix to combine. Cook over medium heat until the fruit completely breaks down, about 5-10 minutes, stirring occasionally.
Use a potato masher to mash the fruit, if needed. Strain the fruit juice through a fine mesh sieve into a bowl and discard the remaining solids. Pour the strained juice back into the pot.
In a small bowl, whisk together the remaining ¼ cup sugar and the cornstarch. Add to the pot with the fruit juice and cook over low heat, whisking constantly, until the mixture begins to thicken. Decrease heat to low and cook for another minute. Transfer to a container and allow to cool completely.
Once completely cool, spoon the raspberry coulis over the chilled panna cotta (you will not use all of the raspberry coulis). Refrigerate until ready to serve. Reserve the remaining raspberry coulis and use for other things.