Delicious and festive pistachio macarons with rose buttercream – a perfect cookie for the holidays or just about any special occasion.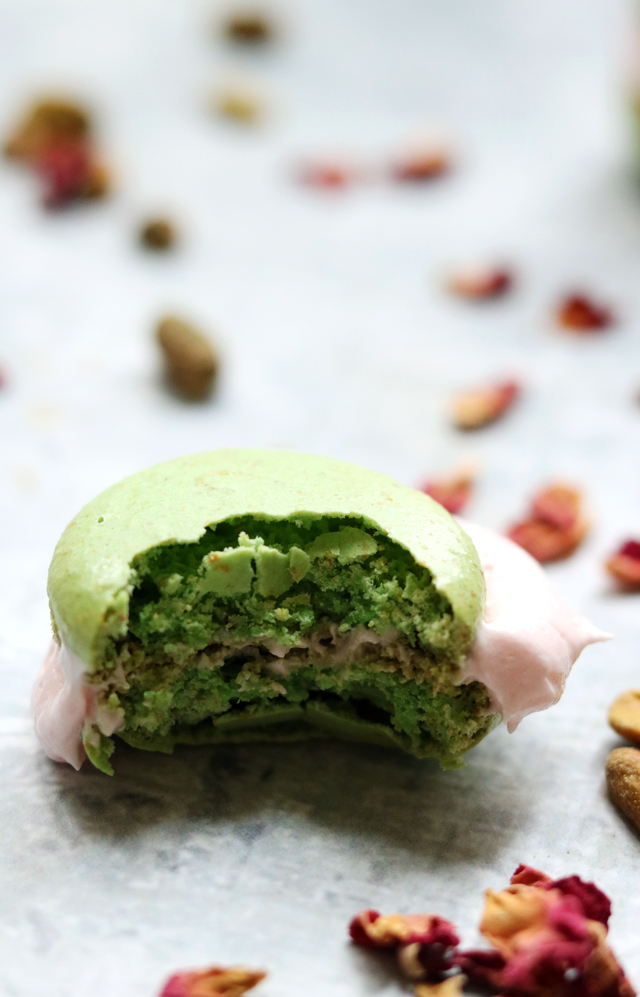 Oh macarons.
Reunited, and it feels so good!!!
I don't know if you've ever made them before, but macarons (much like toddlers, hmmm) are simultaneously the most infuriating, loveable, squishy, delicious, amazing, finicky, volatile cookies out there. One minute you're jumping with joy in your kitchen because FEET FEEET FEEEEEEETTTT and the next you're throwing a baking pan across the room because they have turned into a cracked, wholly unattractive mess on your baking sheet.
Sometimes all within the same trial of cookie-making. Maybe because you looked at them the wrong way or the moon wasn't in quite the right phase? WHO KNOWS.
My macaron saga begins way back in 2014 when I was childless and carefree and had loads of time to make batch on batch on batch of macarons in my quest to find The Recipe.
So I did.
I experimented with ingredient ratios, rest times, baking temperatures until I found what I thought was the perfect recipe.
Except when it wasn't. Yes, some of the time it worked but at best there were always a few cookies in each batch that ended up being a total mess and at worst there would be whole batches that just didn't turn out and I could never pinpoint why.
I always attributed it to user error, my crappy ovens that somehow manage to come to any and all temperatures (just not ever the one you want) or just plain old bad luck.
And then in a fit of gravitas I decided to try the macaron recipe from The Artful Baker by Cenk Sonmezsoy. In his recipe, Cenk gives incredibly detailed instructions and provides a step-by-step photo guide of the entire macaron making process so you can really see what the batter is supposed to look like at every step of the way.
This is key!! Pretty much every macaron recipe tells you to macaronage the batter until it "falls from the spatula like a ribbon" and "disappears back into the batter within 10-15 seconds when it's folded onto itself". Literally. Every one.
BUT, because this time I knew what I was looking for after being able to see the photo in the book, I think it was the first time I actually got the batter to where it's supposed to be instead of second-guessing myself six hundred times and piping out my cookies before it was really ready.
Also what I noticed compared to my old recipe is that I was probably over-whipping the egg whites. By a lot. So there's that.
Once I decided on making the pistachio macarons from the book (I had some leftover pistachio flour from another recipe), I knew immediately that I wanted to fill it with a rose buttercream.
Pistachio and rose are a classic Indian and Middle Eastern flavor combination, and for good reason!! Something about the rich, buttery pistachios goes perfectly with the floral rose flavor. It tastes exotic but in a way that's appealing to even the most skeptic of taste buds.
Even Remy, who is my most critical critic, still asks for these and it has been months since I made them. If that's not a ringing endorsement, then I don't know what is.
You'll notice that the recipe for the macarons is given in metric weights instead of volumes and that is a HUNDRED PERCENT INTENTIONAL. Macarons are very finicky and volume measurements are just not precise enough to get reliable baking results. Because I want you to have baking success with making these every time, I think it's really important to weigh your ingredients rather than measure them by volume. It might seem like a pain at the beginning, but honestly it makes the whole baking process (for any baking recipe) much easier and way less messy.

Pistachio Macarons with Rose Buttercream
Delicious and festive pistachio macarons with rose buttercream - a perfect cookie for the holidays or just about any special occasion.
Ingredients
For the pistachio macaron shells
150 g confectioner's sugar
75 g blanched pistachio flour
75 g blanched almond flour
¼ tsp kosher salt
100 g egg whites, at room temperature
79 g sugar
green gel food coloring, optional
For the rose buttercream
1½ cups (3 sticks) unsalted butter, softened
4 cups confectioners' sugar, sifted
2-3 tablespoons milk
1 teaspoon pure vanilla extract
½ teaspoon rosewater
pinch of salt
pink food coloring gel, optional
Instructions
For the pistachio macarons
In the bowl of a food processor, combine the confectioner's sugar, pistachio flour, almond flour, and salt. Pulse for 3 minutes or until very finely ground. Sift the mixture into a large bowl and discard any bits that are too large to pass through. If there is over a tbsp of lumps in the sifter, then put back in the food processor, pulse, and then sift again. Set aside.
In the bowl of a stand mixer fitted with the whisk attachment, beat the egg whites on medium-low speed for 2 minutes or until foamy. Increase the speed to medium and beat for another 2 minutes. Slowly pour in the sugar and beat for an additional minute. Increase the speed to medium-high and beat until medium-stiff peaks for, about 2 minutes. Dip two toothpicks or chopsticks into the food coloring gel and then swirl into the meringue. Beat on medium-high speed until well blended, about 10 seconds.
Remove the bowl from the mixer and add half of the dry ingredient mixture into the meringue, folding them together by scraping the bottom and sides of the bowl and then lifting the batter up and over onto itself. Rotate the bowl a quarter turn with each fold. It should take about 15 folds for the batter to mix together. Add the remaining ingredients and fold them together in this same way, aiming to knock out some of the air as you fold.
Once the dry ingredients are well combined, continue folding and testing the consistency of the batter. To do this, lift a scoop of the batter up with your spatula and let it fall back into the bowl. It is ready when it falls from the spatula in a solid ribbon and disappears back into the batter within 10-15 seconds. This can take anywhere between 40-50 folds.
Scrape the macaron batter into a pastry bag fitted with a half-inch round tip. Line two or three baking sheets with parchment paper. Hold the pastry bag at a 90-degree angle to the parchment-lined baking sheet and pipe it into 1.5-inch round circles, leaving about an inch between cookies. If you have a good consistency then any peaks that form when you lift away the pastry bag should flatten out on their own by the time your'e done piping everything.
Tap the baking sheets against a flat surface to release any air bubbles.
Allow the macaron sheets to rest until they form a skin, about 45-75 minutes. While they rest, heat oven to 275F and place an empty baking sheet in the oven. When ready, place a baking sheet with the macarons on top of the preheated baking sheet in the oven. Bake for 24 minutes. Remove to a wire rack and cool completely. Repeat and bake the remaining shells. Allow to cool completely before filling.
For the rose buttercream
Whip the butter in the bowl of a stand mixer fitted with the paddle attachment on medium speed for 8 minutes or until pale and creamy.
Add in the remaining ingredients and mix on low for 1 minute to combine. Increase the speed to medium and mix for 6 minutes or until light and fluffy.
Place into a pastry bag fitted with a ½-inch round tip and pipe onto the bottoms of half of the macaron shells. Top each with a second macaron shell. Place an in airtight container and allow to rest overnight in the fridge. Bring to room temperature before serving.