Buttery pound cake made extra rich with high fat European butter is topped with a salted caramel glaze that you'll find yourself licking off your plate.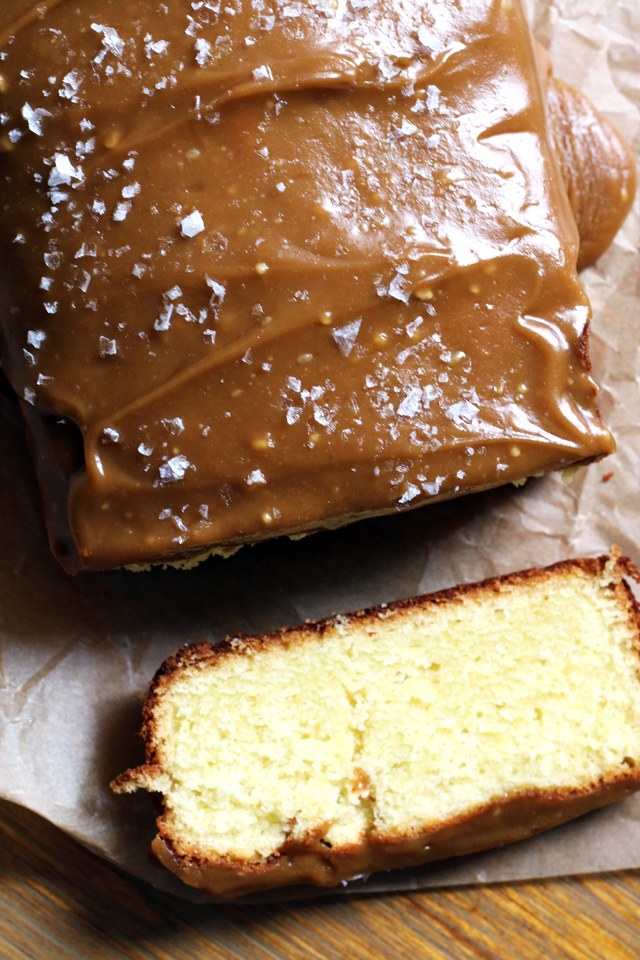 The extreme sport that is caramel-making, and on a Sunday no less!
Hey, it's my first work-free weekend in a month and I am hellbent on getting wild with it.
Now, now.
Take a breath!
I realize that standing over a pot of finicky near-burned-to-the-exact-perfect-shade-of-amber sugar is not everyone's idea of a fun Sunday. Heck, it's not even really mine.
Caramel is terrifying!! I've had enough caramel gone very very wrong experiences (I think I even had to throw out a pan once) to know that you should (a) never make it when you're stressed because it will sense it and it will, without fail, BURN, and (b) always keep an extra set of caramel ingredients on hand (or three) because running to the store in the middle of a failed batch is the definition of a buzzkill that it is impossible to recover from.
Uhhh. Fail. On both counts.
Except!!
This isn't really caramel. And that there is no standing in front of the stove pulling your hair out waiting for it to turn an exact shade of amber.
It is more of a mix up a bunch of stuff in a pan, boil for 5 minutes, then mix again situation. Annnnnddddd I don't know why I would ever made real caramel again.
Mayyybeee if I wanted to stress my adrenal/cortisol system for some reason? But otherwise, it's a hard no. This salty caramel glaze and I are in it together for the long haul.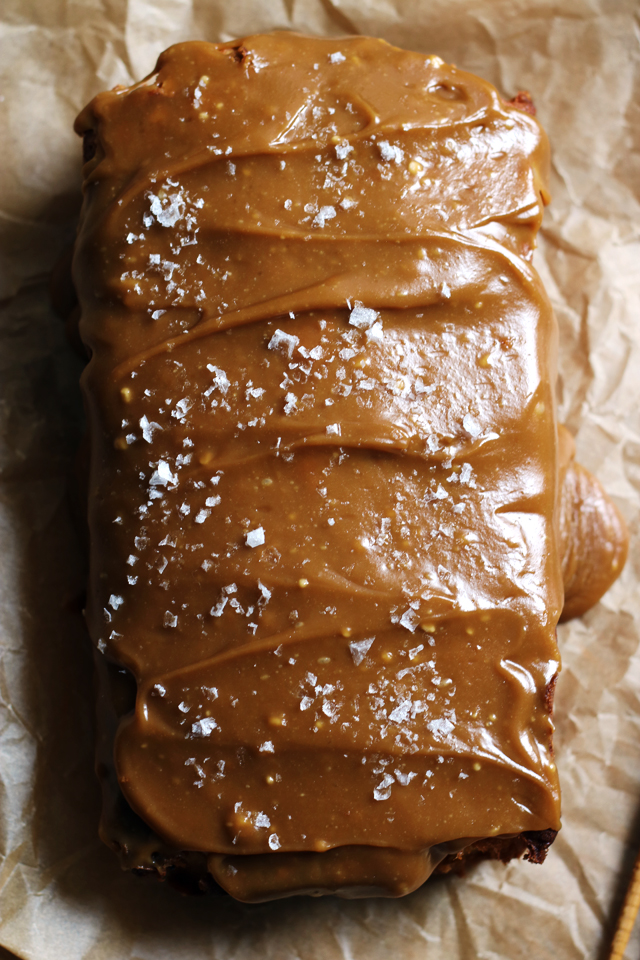 Pound cake is something I don't make a whole lot for some reason, but whenever I do I'm reminded of just how profoundly good it is. Like, why would I ever make fancy schmancy twenty-step cakes again? Especially when made with high fat European butter, as it is here, it is incredibly rich with a strong buttery flavor, but also kind of light and a pretty perfect end-of-summer dessert when all is said and done.
The salty caramel glaze is super addictive as well and you will probably find yourself wanting to bathe in it.
Combined they are a vision, and a slice would be absolutely lovely on its own, but also if enjoyed against a backdrop of fresh summer berries or with a scoop of vanilla ice cream on top.
Buttery Pound Cake with Salted Caramel Glaze
Buttery pound cake made extra rich with high fat European butter is topped with a salted caramel glaze that you'll find yourself licking off your plate.
Ingredients
For the cake
1 cup all purpose flour
¾ cup cake flour
½ tsp baking powder
½ tsp kosher salt
6 oz European style unsalted butter, softened
1¼ cups sugar
2 tsp vanilla extract
2 large eggs
2 large egg yolks
¾ cup heavy cream
For the salty caramel glaze
½ cup dark brown sugar
½ cup heavy cream
2½ oz European unsalted butter
1¾ tsp fleur de sel
¼ to ½ cup powdered sugar, sifted
Instructions
To make the cake, heat oven to 350F. Grease the bottom and sides of a 9x5-inch loaf pan. Line with parchment paper and grease the parchment.
In a medium bowl, whisk together the flour, cake flour, baking powder, and salt.
Beat together the butter and sugar in the bowl of a stand mixer fitted with the paddle attachment until fluffy, 4-5 minutes on high speed. Add the vanilla and beat until combined, about 30 seconds. Scrape down the sides of the bowl, turn the mixer speed to medium-low, and add the eggs and egg yolks, one at a time, beating for 1 minute after each addition. Scrape down the bowl and beat again for 10 seconds.
Turn the mixer to low and add the flour mixture in three parts, alternating with the cream.
Pour the batter into the prepared pan and smooth the top with an offset spatula. Place in the oven and bake for 55-65 minutes or until a toothpick inserted in the center comes out with just a few crumbs.
Place on a cooling rack for 15 minutes. Remove the cake from the pan and place it on the cooling rack directly. Allow to cool completely.
Meanwhile, make the glaze. To do this, combine the brown sugar, cream, and butter in a medium saucepan over low heat. When the butter is almost melted, raise the heat to medium-high and bring to a boil. Whisking constantly, boil for 1½ minutes. Remove from the heat and whisk for 1 minute. Stir in ¾ fleur de sel and let cool for 5 minutes.
Whisk in ¼ cup of the powdered sugar, mixing until combined. Continue to add the powdered sugar one tablespoon at a time until the mixture is pourable and slightly thick.
Use a bamboo skewer to poke holes in the cake. Pour the warm caramel glaze over the top to cover the cake completely. It is okay if it drips down the side. Sprinkle with the remaining tsp of fleur de sel. Slice and serve.
More salted caramel (because there can never be enough):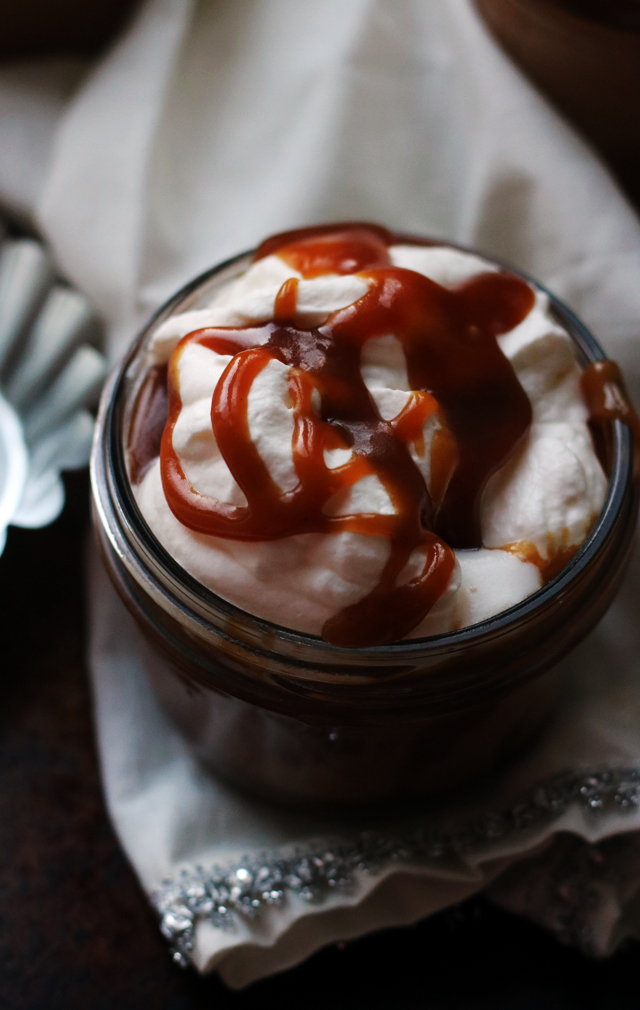 Salted Caramel Pudding Parfaits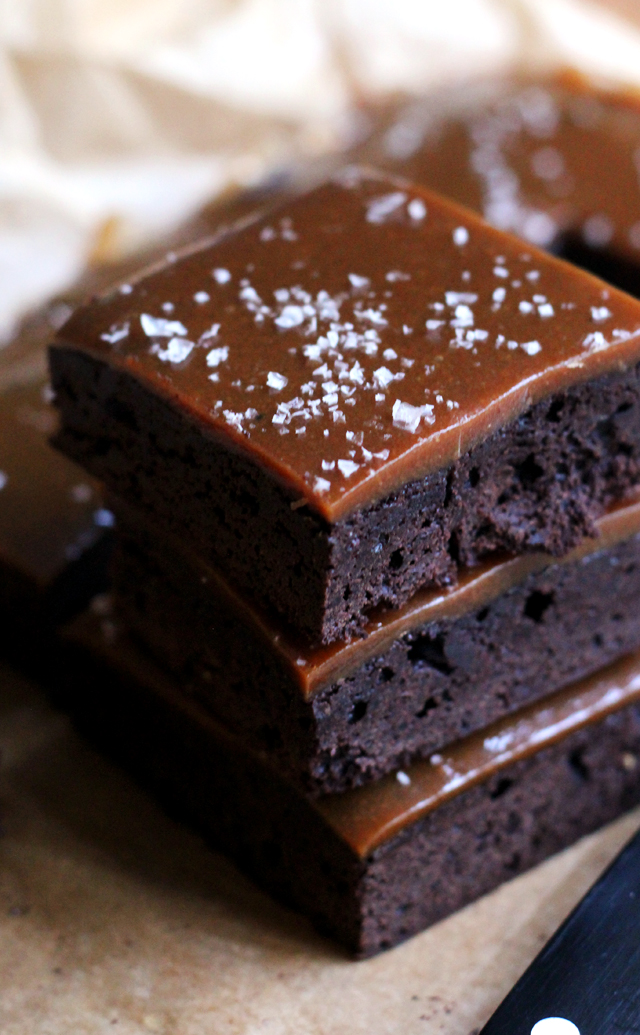 Salt and Pepper Caramel Brownies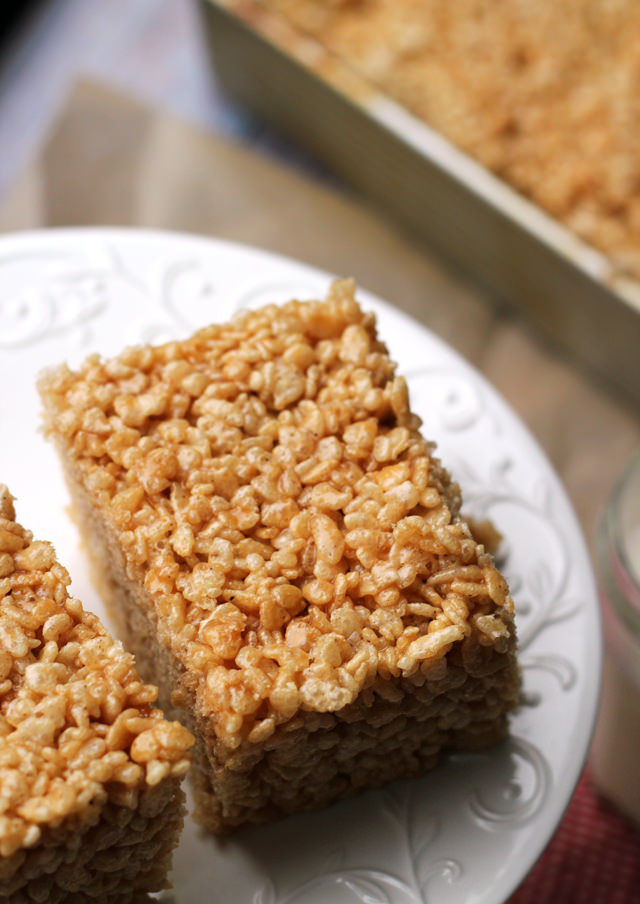 Salted Caramel Brown Butter Rice Krispies Treats