A cozy braised black bean stew served over cheesy spinach polenta and topped with crispy fried shallots.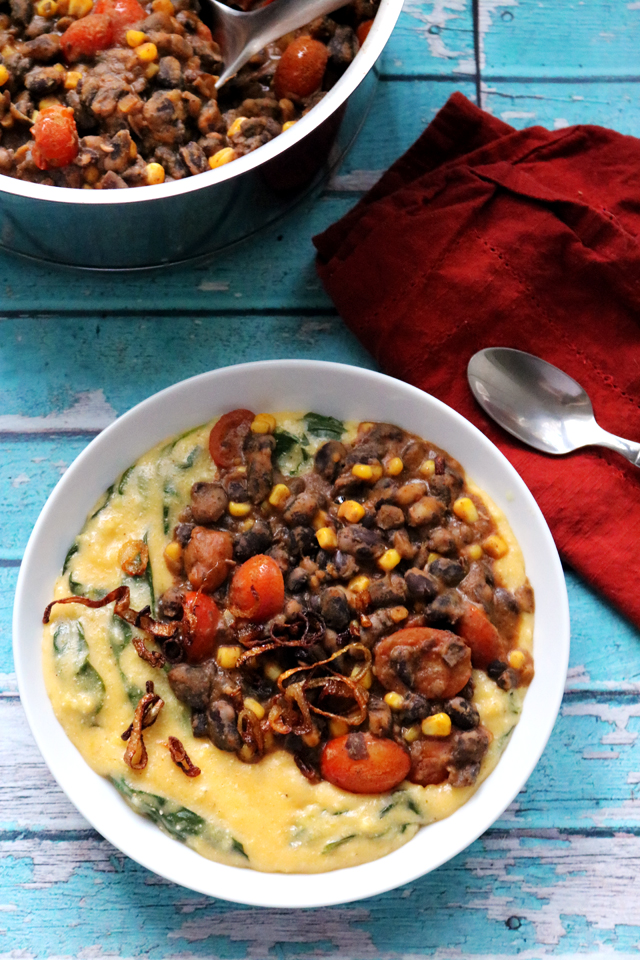 Remember that time I took my 15 month old to a wedding and SHE REFUSED TO NAP THE ENTIRE DAY.
::cue pulling out all my hair::
Yep. That happened.
In full disclosure there was a 20 minute nap at around 1PM.
(And then she stayed up until eleven.  HOW?!?!)
If you've ever wondered what real live zombies look like, yeah, that was my kid. She looked so tired, like she was going to collapse at any second, but she just wouldn't sleep! I literally laid in bed nursing her from four to five thirty in the hopes that she would nap even a little bit before the wedding, which started at six. Big fat NOPE. I swear she could sense my intense wish for her to doze off and just squelched any inner urge she might have had to sleep.
Typical, Remy, you guys. Always has to have it her way.
On the bright side…we survived?
And then after having to hold my twenty pound child for about 5 hours straight (because cranky sleep-deprived babies are also babies who refuse to be put down), I decided to really wake my arm muscles up by forcing them to stir polenta when we got home. I'm so considerate to myself!!
BUT the polenta is cheesy, the bean stew is spicy, and the shallots are lightly fried with the perfect crisp bite.
Not my most thought out plan ever, but so tasty that I forgive myself.
Good times.

Braised Black Bean Stew with Cheesy Spinach Polenta and Fried Shallots
A cozy braised black bean stew served over cheesy spinach polenta and topped with crispy fried shallots.
Ingredients
For the stew
1 shallot, minced
Salt, to taste
1 pint cherry tomatoes, halved
1 tbsp chili powder
1 tsp cumin
1 tsp smoked paprika
½ tsp coriander
3 cups cooked black beans
1 cup vegetable broth
1 cup frozen corn
For the polenta
4 ½ cups water
1 tsp salt
1 cup finely ground polenta
5 oz baby spinach
8 oz grated cheddar cheese
For the crispy shallots
3 tbsp olive oil
2 shallots, thinly sliced
Instructions
Heat the olive oil in a medium saucepan over medium high heat. Once shimmering, add the minced shallot along with a pinch of salt. Saute until tender, about 3 minutes. Add in the cherry tomatoes, chili powder, cumin, smoked paprika, and coriander. Saute until tomatoes start to burst and release some of their juice, about 3 minutes.
Stir in the beans and vegetable broth. Mash about a half cup of the beans against the side of the pot to help thicken the stew. Bring to a boil and then lower heat to medium low. Simmer for 15 minutes, or until thick. Add the frozen corn to the pan and cook for another 2-3 minutes, or until corn is warmed through.
To make the polenta, in a separate pot bring the water and salt to a boil. Once boiling, stir in the polenta in an even stream, whisking constantly as you do so. Return to a boil. Once boiling, reduce heat to low and simmer until thick and polenta is no longer gritty, about 5-10 minutes depending on how coarsely ground your polenta is. Stir in the baby spinach and cook until wilted, about 2-3 minutes. Add the grated cheese and stir until melted and fully combined. Season to taste with salt and black pepper.
To make the crispy shallots, heat the olive oil in a small saucepan over high heat. Add the sliced shallots to the pan and saute until browned and crispy, about 3 minutes. Remove from the oil to a paper towel-lined plate with a slotted spoon.
Divide the polenta evenly among four bowls. Top with the black bean stew and the crispy shallots. Serve warm.
Notes
An Eats Well With Others Original
More hearty vegetable stews: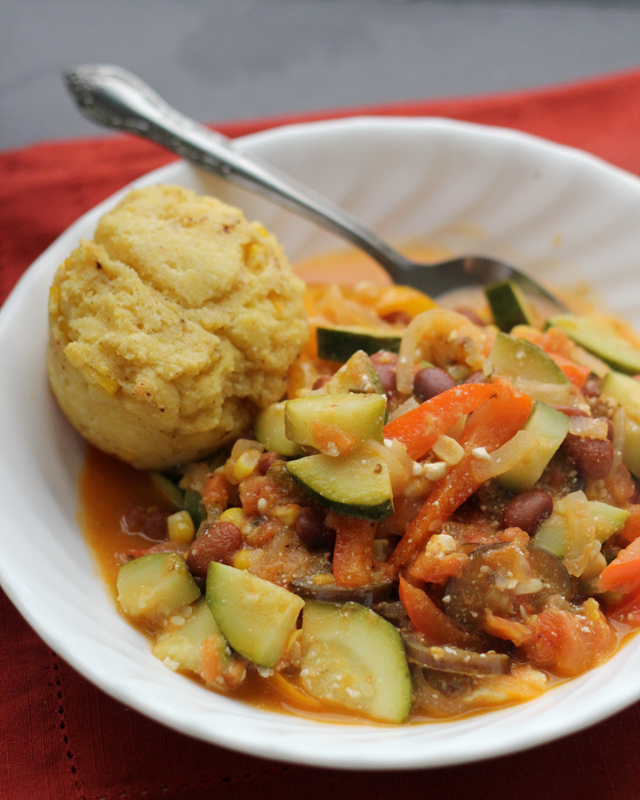 Late Summer Vegetable Stew with Brown Butter Cornbread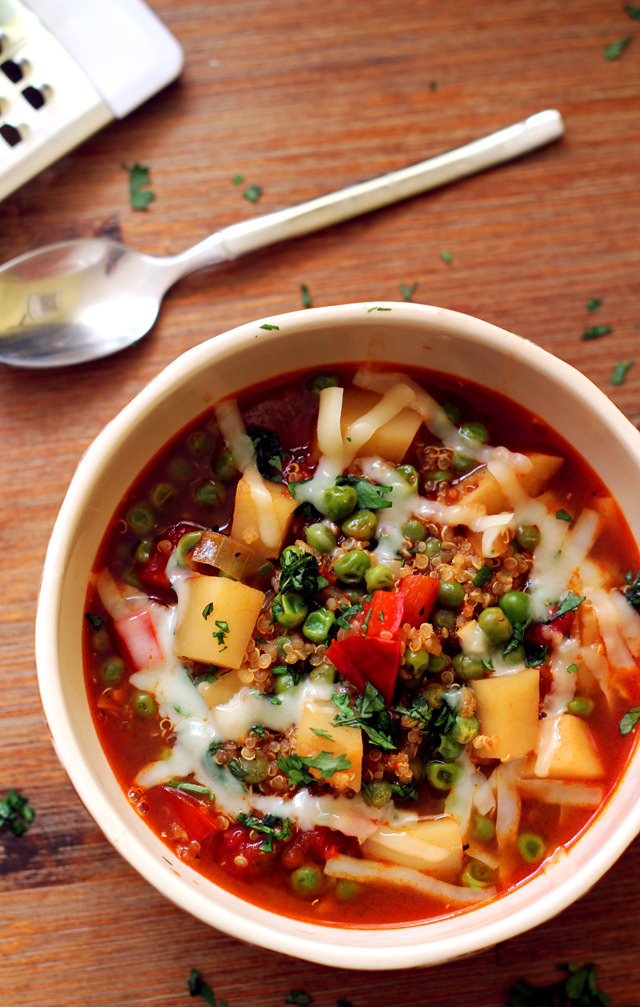 Healthy Quinoa and Vegetable Stew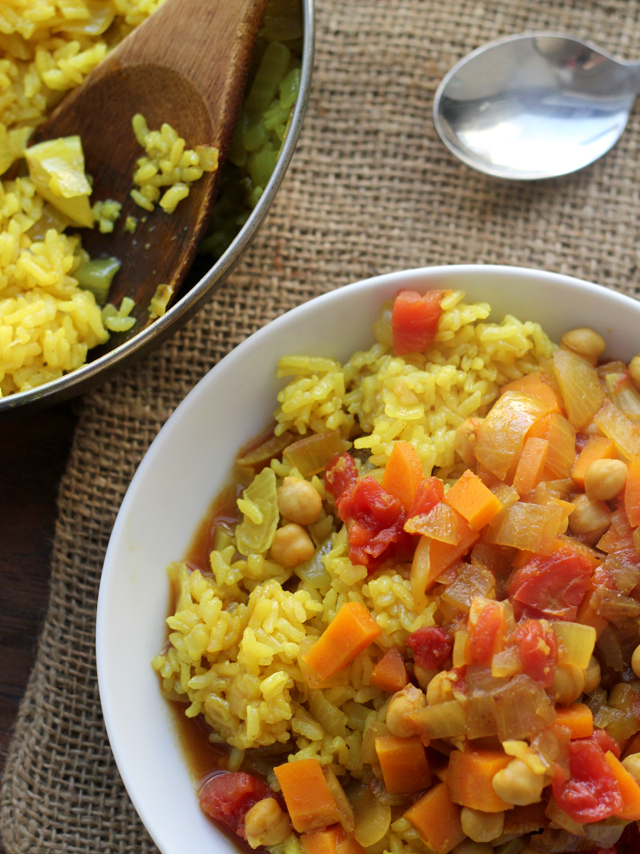 Curried Chickpea Stew with Rice Pilaf