A brown butter caramel pumpkin pie that is perfect to get you in the fall spirit. A sultry, sweet, and lightly spiced pumpkin filling is baked into a flaky all-butter crust – it's a pie to remember!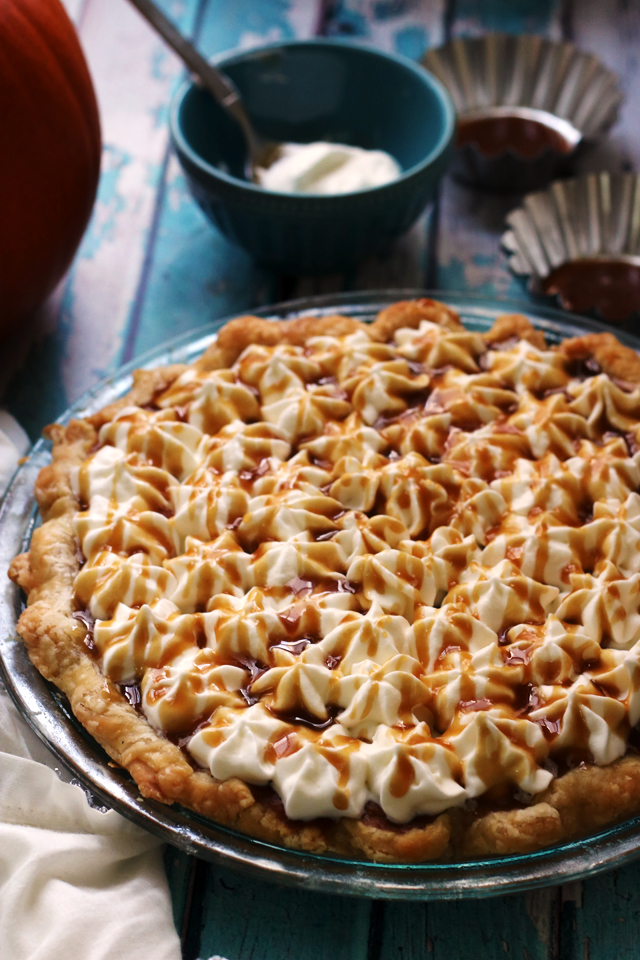 It's only the first week of October and ALREADY The Thanksgiving Negotiations have begun.
If you're married or in a committed relationship, then you know what that means:
A lot of bickering.
A lot of bargaining.
A lot of "I guess we can go to your mother's on Thanksgiving but only if we see my mother on Christmas".
Some may call it "compromise" but when your ultimate goal in life is to host both/all holidays and no one will let you because they actually want to eat Turkey on Turkey Day (like, seriously…WTF. I thought we all mutually agreed the sides were the best part of Thanksgiving?!?!?)….well. That means war.
Okay, maybe war is a little too extreme.
Mostly it means that you  bake your best brown butter caramel pumpkin pie and give some serious side-eye to anyone who tries to bring a storebought pie within twenty feet of your person. Look, I don't care where you bought that pie from….it probably wasn't made from love, sweat, tears, brown butter, or homemade salted caramel.
Just saying.
It also probably doesn't have an all butter flaky AF crust.
And did I mention the BROWN BUTTER and SALTED CARAMEL and PUMPKIN.
It may not be a pie war.
(But if it were, we would totally win.)

Brown Butter Caramel Pumpkin Pie
A brown butter caramel pumpkin pie that is perfect to get you in the fall spirit. A sultry, sweet, and lightly spiced pumpkin filling is baked into a flaky all-butter crust - it's a pie to remember!
Ingredients
For the crust
1¼ cups all purpose flour
½ tsp kosher salt
1½ tsp sugar
¼ lb (1 sticks) cold unsalted butter, cut into ½-inch pieces
½ cup cold water
2 tbsp cider vinegar
½ cup ice
For the pie
6 tbsp unsalted butter
1 cup dark brown sugar
2 tbsp water
½ cup heavy cream
½ tsp vanilla extract
2 large eggs
2 large egg yolks
½ tsp kosher salt
1⅔ cup pumpkin puree
½ tsp ground allspice
½ tsp ground cinnamon
¼ tsp ground ginger
pinch of ground cloves
1 tsp molasses
2 tsp fresh lemon juice
1 cup evaporated milk
Instructions
For the crust
Whisk together the flour, salt, and sugar in a large bowl. Add the butter to the flour mixture and toss to coat. Using a pastry blender, cut the butter into the flour until only pea-sized pieces of butter (or smaller) remain.
In a separate small bowl, combine the water, cider vinegar, and ice. Sprinkle 2 tbsp of the ice water mixture over the flour-butter mixture. Toss with your hands until fully incorporated. Add more of the ice water, 1-2 tbsp at a time, using your hands to mix. Add just enough of the water mixture so that the dough comes together into a ball. Wrap in plastic wrap and refrigerate for at least 1 hour.
Roll out the pie disc into an 11-inch round. Use this to line the pie plate and crimp the edges as desired. Freeze for at least 30 minutes.
Heat oven to 425F and place a baking sheet in the oven to preheat..
Remove the frozen pie from the freezer and use a fork to prick it all over the bottom and sides, about 15-20 times. Line the pie tightly with aluminum foil, making sure the edges are completely covered. Fill with pie weights or a pound of beans and place on the preheated baking sheet. Bake for 20 minutes. Remove from the oven, lift out the foil and pie weights, and allow to cool for a minute. Return to the oven and bake for an additional 3 more minutes. Remove and allow to cool completely while you prepare the filling.
For the pie
Melt the butter on the stovetop in a heavy-bottomed skillet over medium-low heat. Allow to cook until the butter starts to brown, whisking occasionally. Once it is nut brown, immediately stir in the brown sugar and whisk to combine. Stir in the water to loosen it up. Bring to a boil and allow to simmer until a candy thermometer reads 225F. Remove from the heat and slowly whisk in the heavy cream until smooth. Allow to cool for 10 minutes off the heat. Stir in the vanilla.
Meanwhile, heat oven to 350F. Place the prebaked pie crust on a baking sheet.
In a separate bowl, whisk the eggs and egg yolks together with the salt. Set aside.
Combine the pumpkin puree, allspice, cinnamon, ginger, cloves, molasses, and lemon juice in the bowl of a food processor. Puree until smooth. Turn the machine to low and pour in the brown butter caramel. Process until well combined. Pour in the egg mixture and the evaporated milk, blending until smooth. Scrape down the sides with a rubber spatula and blend again to combine.
Strain the filling through a fine-mesh sieve into a separate bowl and then pour into the prebaked pie crust.
Bake for 45-55 minutes, turning 180 degrees about 30 minutes in. The pie is done with the edges are set and puffed and the center is no longer liquid (but may still be wiggly). Allow to cool completely on a wire rack, 2-3 hours. Serve at room temperature or cool.