These sprinkle cookies are a childhood favorite that will not fail to put a smile on your face!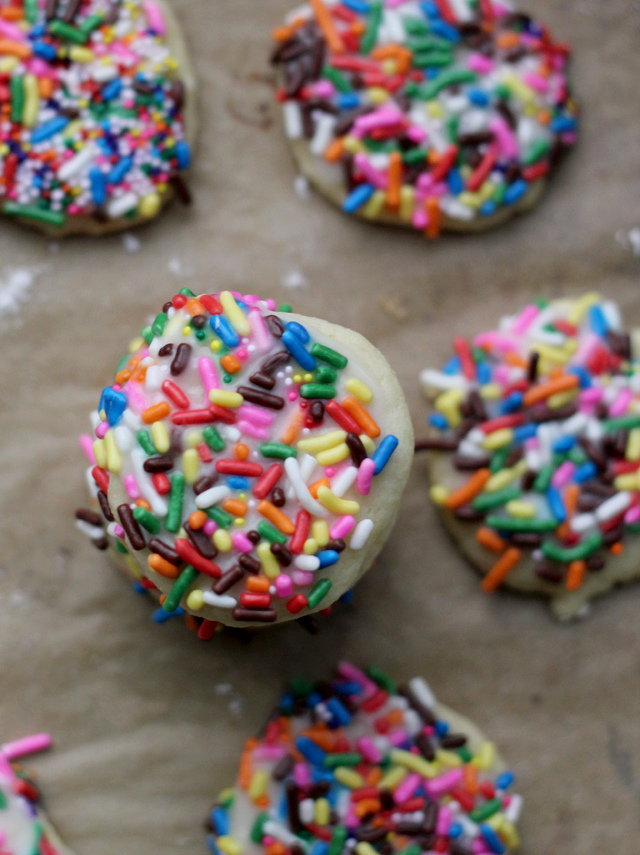 I've gone on a biiiitttt of a cookie bender.
Hey, the first step is admitting you have a problem.
And mine is apparently being incapable of saying no to any and every occasion that necessitates breaking out my baking sheets and heating my oven to 350. Or, uh, 400. In this case.
But I especially can't say no when the cookie baking in question is actually for a good cause. Errr, two good causes.
The first being Cookies For Kids' Cancer, which is a national nonprofit committed to funding the development of new therapies to fight pediatric cancers.
The second being making my Great Food Blogger Cookie Swap matches fat. I mean, happy.
#sorrynotsorry
And what cookies could possibly make you happier than ones that are smothered in sprinkles?!?
I mean, really, when I saw the recipe for these on Kristan's blog, instant smiles ensued. I knew I had to have them. And then pack them off to send to Madison, Allie, and Lisa. Hope they made you smile, too, ladies!!
But really. Soft sugar cookies covered in an almond glaze and rainbow sprinkle mix. How could they not??
I was lucky enough to receive Momofuku-inspired shortbread from Erika of The Pancake Princess, Fig Cookies from Devangi of PistachioDoughnut, and Salted Almond Toffee Cookies from Kinsey of Kinsey Cooks! We'll be on a sugar high until March, at least.
Send help. (And more cookies.)
If you want to find out more about the Great Food Blogger Cookie Swap, as well as sign up to receive notifications about next year's swap, then click here!
One year ago…Indian-Spiced Roasted Squash Soup with Chili-Cilantro Naan, Pumpkin Whoopie Pies with Maple-Marshmallow Cream Filling
Four years ago…Macadamia Nut Pie
Sprinkle Cookies #fbcookieswap
These sprinkle cookies are a childhood favorite that will not fail to put a smile on your face!
Ingredients
1½ sticks unsalted butter, softened
1 cup sugar
2 large eggs
1 tsp vanilla
2½ cups flour
1 tsp baking powder
½ tsp salt
2½ cups powdered sugar
¼ cup water
½ tsp almond extract
3 oz rainbow sprinkles
Instructions
Preheat the oven to 400F. Line a baking sheet with parchment paper.
In a stand mixer fitted with the paddle attachment, cream together the butter and sugar on medium speed until fluffy, about 3 minutes. Add in the eggs and vanilla, and mix until combined.
In a separate bowl, whisk together the flour, baking powder and salt. Mix into the batter, until just incorporated.
Cover and refrigerate for at least an hour.
On a lightly floured workspace, roll out the dough to about ¼-inch. Cut out cookies using a 1½ to 2-inch round cookie cutter and place on parchment-lined baking sheet, about 1-inch apart. Bake for six minutes. Remove and let cool on a wire rack. Repeat until all the cookie dough is gone, rerolling the dough as needed.
For the glaze, whisk together the powdered sugar, water, and almond extract. Pour the sprinkles into a shallow bowl. Dip each cookie top-down into the glaze, then dip again into the sprinkles so that they cover the top of each cookie. Let set on wire rack before serving.
Nutrition Information
Serving size:
1-2 cookies