Disclosure: This post was sponsored by the Grain Foods Foundation and Collectively. As always, my thoughts and opinions are 100% my own! These goat cheese and honey stuffed popovers have the perfect sweet and savory edge, and would make for a great holiday appetizer or soup accompaniment!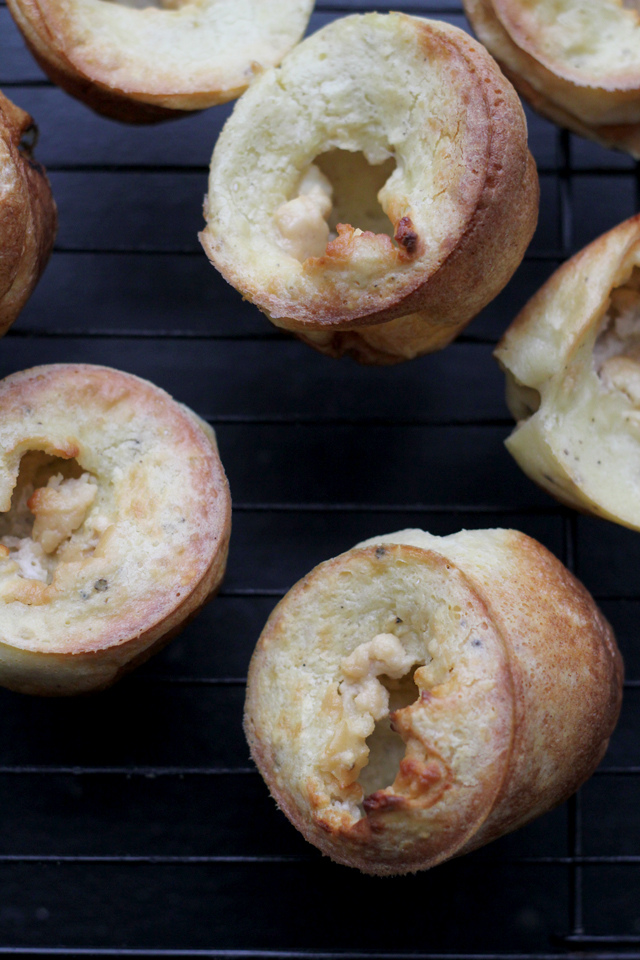 Apparently there's a sliding scale of clean when it comes to bakeware.
There's the "I just came out of a dishwasher all sparkly-like!" kind of clean. (AKA – clean clean).
And then there's the "Handwashed, looks clean to the naked eye but comes thisclose to setting off smoke alarms when preheated in a 450F oven for 15 minutes" kind of clean. (AKA – zero percent clean clean).
So, this sliding scale is actually binary. Or, as my boss would say, "Being clean is like being pregnant. You either are, or you aren't."
I'll let you guess which of those categories my cupcake tins fall into.
And then I'll let you guess who insisted that we open up the windows so that we could "let some air in" during this whole smoky disaster, thereby cooling the pans that I had worked so hard (and deprived us of oxygen for) to heat up, forcing me to put them back in the oven to preheat because popovers don't quite..pop over…unless they start in a hot pan.
Thus starting the vicious cycle all over again.
And then I'll let you guess who I almost strangled.
But fear not.
They popped!
Seeing that was pretty much the proudest moment of my young adult life.
I was so on the edge of my seat during the whole popping process that I kind of sneaked peaks at them even though cracking open the oven door, even just a little, goes against yet another cardinal rule of popover-making.
Apparently these "cardinal rules" are basically old wives' tales, though, because I did everything wrong and these still turned out right.
By which I mean they are honey goat cheese stuffed puffs of almost custard-like air.
Which is absolutely the same thing as "right".
A certain fiance of mine might have eaten eleven of them yesterday. ELEVEN. I think that speaks for itself.
So instead of starting off your holiday dinner with a bread basket or rolls from a can this year, step up your game with these popovers! They take only about 10 minutes to throw together, and a half hour to bake, and with some white whole wheat flour mixed into them, they are a little bit more nutritious than you're average carb.
If you're looking for more healthy recipes that incorporate whole grains, or just some information on why incorporating grains into a well balanced diet is good for you, then check out http://www.grainsforyourbrain.org, a helpful resource provided by the Grain Foods Foundation!
Goat Cheese, Black Pepper, and Honey Popovers
These goat cheese and honey stuffed popovers have the perfect sweet and savory edge, and would make for a great holiday appetizer or soup accompaniment!
Ingredients
3 large eggs, room temperature
1½ cups 2% milk, room temperature
1½ cups white whole wheat flour
1¼ tsp salt
1¼ tsp freshly ground black pepper
4 oz goat cheese, room temperature
2 tbsp honey
Instructions
Preheat oven to 450F, with an oven rack in the lower third of the oven. Preheat a muffin tin in the oven while you prepare the batter.
In a large bowl, whisk together the eggs and milk. Whisk for a minute so that the mixture becomes frothy.
Sprinkle the flour, salt, and black pepper over the top. Whisk until well combined. There may be some small lumps remaining.
In a small bowl, mix together the goat cheese and honey.
Remove the muffin tin from the oven and spray with cooking spray. Divide the batter among the cups, filling them about ¾ full. Drop about a tsp of goat cheese into the center of each cup, dividing it evenly.
Bake popovers for 15 minutes at 450F. Lower heat to 350F and bake for another 15-20 minutes more, until puffed up and browned all over. Immediately turn out onto a wire rack when done. Serve immediately.
Notes
An Eats Well With Others Original