Small batch recipe for light and fluffy funfetti angel food cupcakes topped with a simple creamy vanilla buttercream (and more sprinkles!!)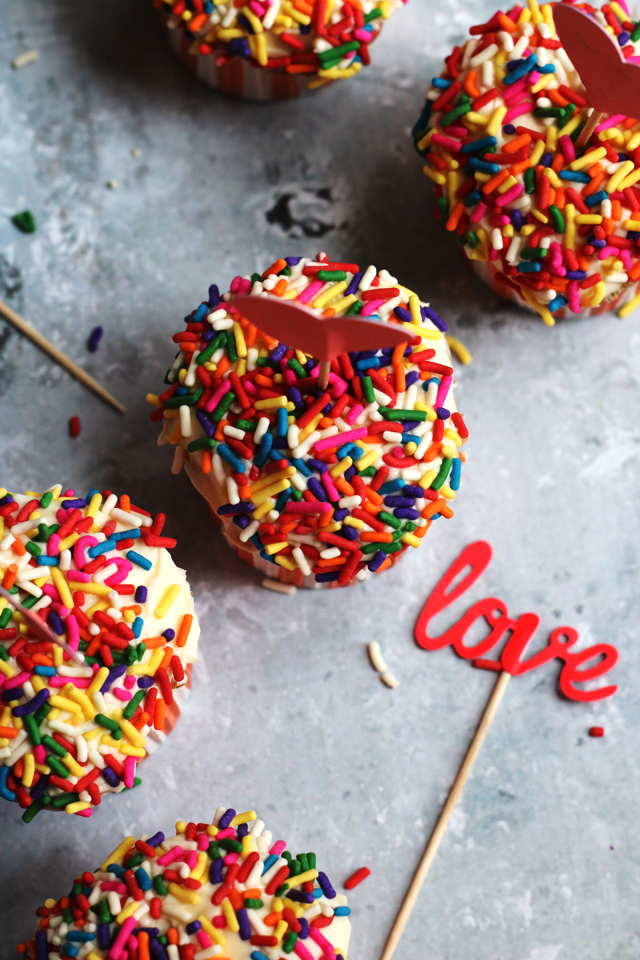 I'm in this new season of mothering in which Remy wakes up at an ungodly hour (FIVE. f-ing. A. M.) and expects me to take care of her.
Whhhhhaaattttttttt.
Pretty sure I sleep trained her to sleep in until at least seven to avoid this exact problem.
Realistically, I have to wake up around then anyway to get to work on time so it's not a HUGE ordeal.
………………………BUT THAT WAS MY "ME" TIME.
I would voluntarily wake up just a little bit early so that I could have a WHOLE HOUR to myself to sip my coffee in complete silence while reading food blogs, editing photos, meditating, etc.
Now I sip my coffee to to a background of Frozen.
(Every day, 2 weeks in a row. And counting.)
#ThisIsMotherhood
Ilovemychild. Ilovemychild. Ilovemychild.
Seriously, she's the light of my life but if I have to hear Let It Go one more time, I'm going to go berserk.
Give me Moana over Princess Elsa any day.
I made these small batch funfetti angel food cupcakes for Remy's birthday a few weeks ago and they were such a hit that I'd be lying if I said that it hadn't crossed my mind to make another batch and use them to bribe her into choosing a different movie to watch every morning.  Somehow sprinkles for breakfast just doesn't seem like the best thing to inhale before 6AM, though.
The recipe for these is from my girl Christina over at Dessert For Two who is the small batch dessert MASTER. It makes only 6 cupcakes so it is perfect for small family gatherings (or just for mommy and daddy to scarf down while their toddler is sleeping, ahem). The cakes themselves are light, airy, and so festively fun and are smothered in a simple vanilla buttercream and then doused in even more sprinkles. They make any occasion just a little bit extra special.
(Even 5:30AM wake ups. Or so I've heard.)

Funfetti Angel Food Cupcakes
Small batch recipe for light and fluffy funfetti angel food cupcakes topped with a simple creamy vanilla buttercream (and more sprinkles!!)
Ingredients
For the cupcakes
¼ cup all-purpose flour
1½ teaspoons cornstarch
⅛ teaspoon salt
3 large egg whites
¼ teaspoon cream of tartar
5 tablespoons sugar
½ teaspoon clear vanilla extract
2 tablespoons multi-colored sprinkles
For the frosting
6 tablespoons unsalted butter, room temperature
1½ cups powdered sugar
¼ teaspoon clear vanilla extract
2-3 tablespoons milk or cream, for thinning
Instructions
Heat oven to 350F. Line 6 cups of a muffin tin with paper liners. Set aside.
Sift together the flour, cornstarch, and salt into a medium bowl. Repeat for a total of 3 sifts. Set aside.
In a separate (clean!) bowl, beat the egg whites on high until starting to foam. Add in the cream of tartar and beat until soft peaks form.
Add in the sugar, one tablespoon at a time, beating constantly. Add in the vanilla and beat to combine.
Fold the flour mixture into the egg white mixture, taking care not to beat too much air out of the eggs. Fold in the sprinkles and divide the batter into the cupcake cups. Smooth the tops with an offset spatula and place in the oven. Bake for 17-19 minutes, or until the tops are golden and a toothpick inserted in the center comes out clean.
Remove the cupcakes from the oven and allow to cool on the top of the oven.
Once the cupcakes are completely cooled, make the frosting. Beat together all of the ingredients in a bowl. Thin the frosting with the milk as needed.
Frost the cupcakes as desired and top with more sprinkles.