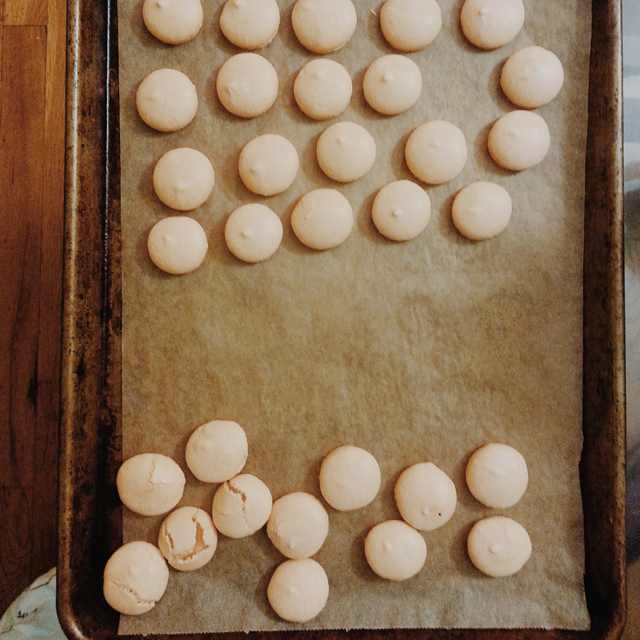 1. I tried to put the cracked macarons in the punishment corner of the pan…but there were so many, it ended up being the punishment SIDE. That's the thing about macarons…you think you've figured out the recipe and your oven and how to make the recipe in.your.oven…and then everything goes haywire.
2. But when they're cute, they're so cute. Makes up for all the gray hairs.
3. The weather has been progressively spring-like here (you know, if we ignore the snow this past Saturday), and it makes me want to bake bake bake. Mostly with ALL THE BERRIES, because we know they'll be gone in a heartbeat.
4. Yes, warmer weather makes me want to turn on my oven. I'm WEIRD, okay?
5. What berry desserts do I HAVE to make this year??!
6. And on a related note, what salads should I be eating? Because, you know. Balance.
7. My real job/school has been crraazzyyy lately, so sorry if I've seemed a little aloof/MIA. We are pushing to get a paper submitted and that means I have to do experiments/think about science alllll daaaayyyy looonnngggg. Which means when I get home, I am tired and just want to lay on the couch and yell things at Grey's Anatomy.
8. The.Boy really loves it when I'm like this. Really really.
9. I don't really practice Lent, but the.boy is Greek Orthodox and does the whole "meatless Wednesday and Fridays" thing, and I have to say…it.is.great. Why, do you ask? Because now we have an excuse to go to all the vegan/vegetarian restaurants I always want to go to, but he usually vetoes!! Why have I not been exploiting this for the last 30 days?!
10. Last Friday we hit up Candle Cafe. This Friday….open for suggestions.