Savory hand pies filled with sweet roasted carrots, buttery leeks and creamy goat cheese encased in the flakiest whole wheat crust.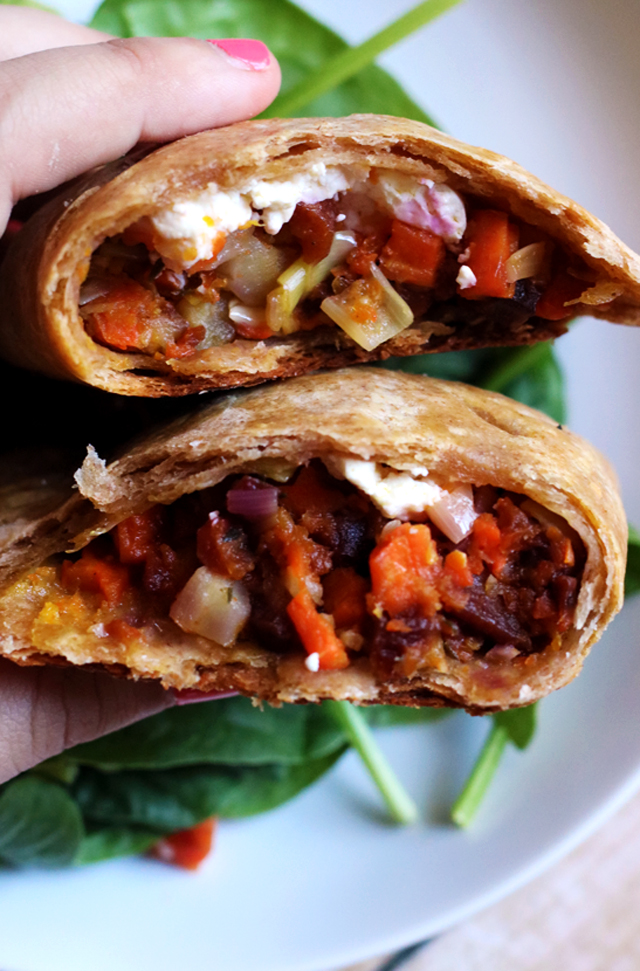 For those of us who miss the days when we could buy Pop Tarts from the student center with breakfast/lunch/midday snack/dinner frequency and our cholesterol wasn't even angry about it!
Those were the days, you guys, and we didn't even know it.
But also for those of us who mostly miss the idea of the pop tart and not the actual thing.
Because chemicals and weird processed ingredients and, hey. They never even tasted that good!!!
(What were we thinking?!?!)
I'm mostly in the latter category, but having not tasted a pop tart in a decade or so, I don't really feel equipped to comment on their current taste.
But if they're anything like I remember……
…yeah. We can do better.
These are a savory version of those pop tarts of yore, perfect for all the meals, all the minutes, all the days.
Sure, they take a little bit more energy and intention than something you can unwrap and throw in the toaster for two minutes, but I've always maintained that the best things in life are worth waiting for, especially when pastry dough is involved.
Roasted carrots and caramelized leeks are tossed with crumbled goat cheese and then encased in the flakiest whole wheat pastry dough. They're wholesome in a way that pop tarts could never be, and absolutely full of three-dimensional flavor.
Make a big (or double!) batch and store them in the freezer for when those grab-and-go moments take hold. You won't be sorry.
Savory Carrot, Leek, and Goat Cheese Hand Pies
Savory hand pies filled with sweet roasted carrots, buttery leeks and creamy goat cheese encased in the flakiest whole wheat crust.
Ingredients
For the whole wheat pastry dough
1½ cups all purpose flour
1½ cups whole wheat flour
1 tbsp sugar
1 tsp kosher salt
½ cup unsalted butter, chilled, cut into ½-inch dice
¼ cup sour cream
¾ cup + 2 tbsp ice cold water
For the filling
1 medium leek, white and light green parts finely chopped
2 tsp unsalted butter
¼ cup + 2 tsp olive oil
½ cup water
2½ lb multi colored carrots, peeled and cut into ¼-inch dice
1 tbsp kosher salt
½ tsp freshly ground black pepper
1 tbsp chopped fresh thyme leaves
2 tsp minced garlic
4½ oz goat cheese, crumbled and divided into 6 portions
For the egg wash
1 large egg yolk
1 tbsp cold water
Instructions
For the whole wheat pastry dough
Place the flours, sugar, and salt in the bowl of a food processor and pulse to combine. Add in the butter and pulse again, just until the butter is broken down into pea-sized pieces. Add in the sour cream and pulse again, 2-3 times. Add in ¾ cup of the ice water and pulse another 2-3 times. Remove the lid from the food processor and check to see if the dough has come together and will clump once you press it together. If it does, you are done. If it feels dry or just crumbles when you try to press it together then add more cold water, a tbsp at a time, and pulse again to incorporate it.
Gather the dough together and pat into a rectangle about 5x6 inches. Wrap in plastic and chill for at least 1 hour.
For the pies
Heat oven to 425F.
Heat the butter and 2 tsp of the olive oil in a medium pan over medium-high heat. Add the leek and saute until tender, about 3 minutes. Add the water to the pan and swirl to combine. Turn the heat down to low, cover, and cook until the leeks are soft, about 10-15 minutes. Remove from the heat and set aside.
Place the carrots in a bowl with the remaining ¼ cup of olive oil, salt, and black pepper. Toss to combine. Spread on a parchment-lined baking sheet and roast for 30 minutes, or until soft, stirring halfway through. Remove from the oven and sprinkle with the garlic and thyme. Place back in the oven and roast for another 10 minutes, stirring again at the halfway point. Remove from the oven.
Place half of the roasted carrot-garlic mixture in the bowl of a food processor and puree until smooth. Transfer the carrot puree to a bowl and mix with the remaining carrots and leeks until well combined. Season to taste with salt and black pepper. Set aside.
Unwrap the chilled dough and place it on a lightly floured work surface. Divide it into 6 equal-sized pieces. Roll out one portion of the dough into an 8.5 x 6-inch rectangle. Set aside and repeat with the remaining dough.
Lower oven to 375F.
Place one of the dough rectangles onto a floured work surface with the short edge facing you. Make the egg wash by beating together the egg yolk and the water. Use a pastry brush to brush a one-inch border around the edges of the dough.
Place ½ cup of the carrot-leek filling off-center on the rectangle of dough. Push down the filling with the back of a spoon so that it is flat. Top with one portion of the cheese. Fold the short edge of the dough over the filling and use a fork to crimp the edges shut. Repeat with remaining hand pies.
Line two baking sheets with parchment paper. Place 3 pies on each sheet. Brush with the egg wash and use a knife to cut a few slits in each pie. Place int he oven and bake until golden brown and hot, about 30-35 minutes. Allow to cool for a few minutes before serving.
Notes
Recipe from
The Dahlia Bakery Cookbook: Sweetness in Seattle
More Savory Hand Pies: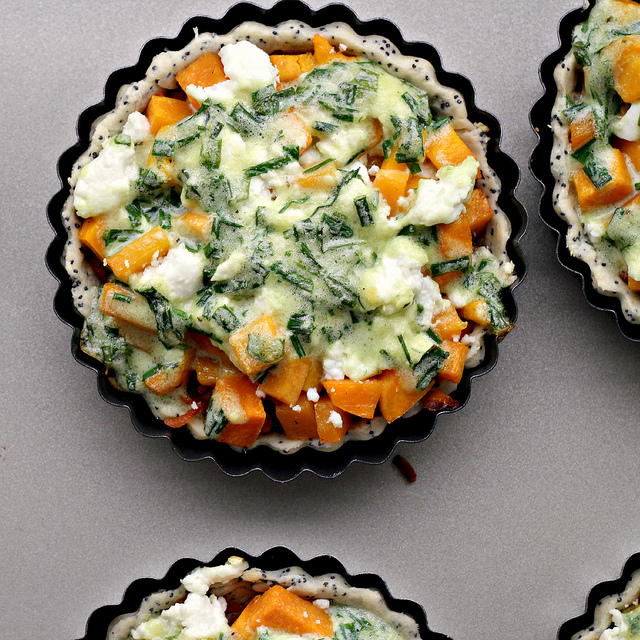 Butternut, Carrot, and Goat Cheese Tartlets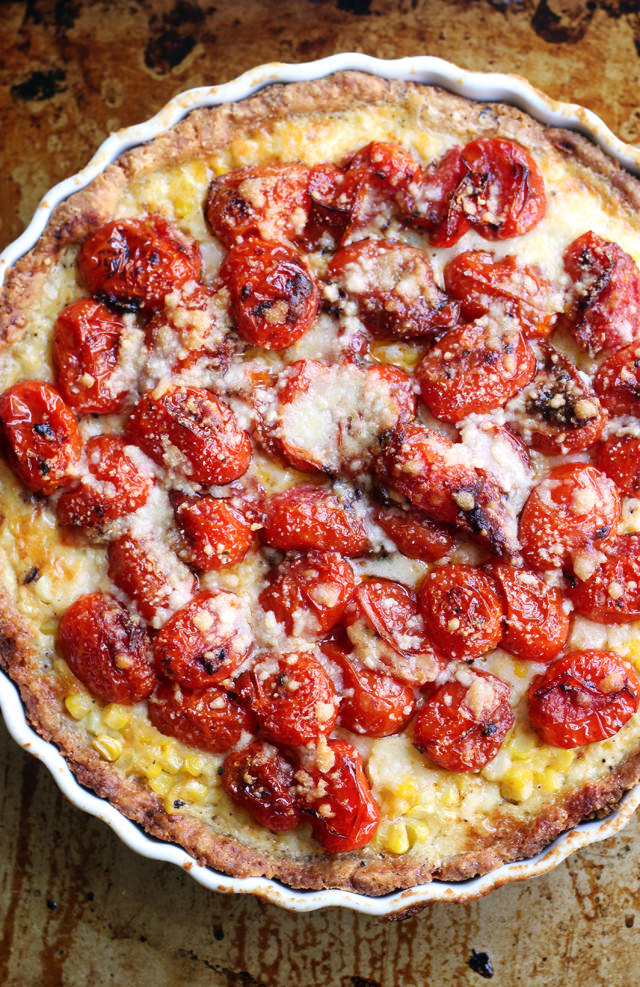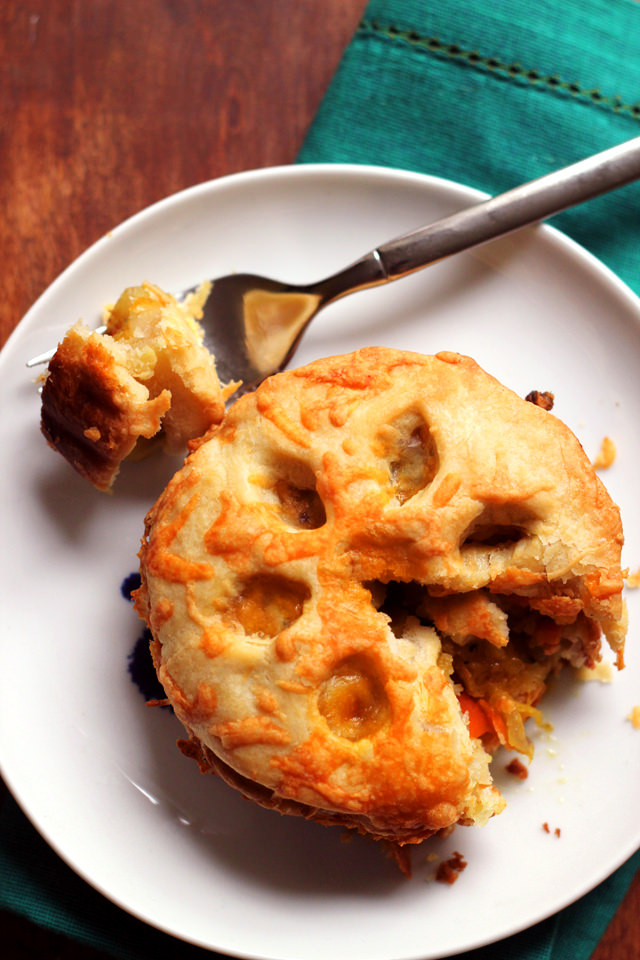 Curried Root Vegetable Pot Pies