Korean bbq salmon bowls made with white rice, quick pickled cucumbers, a light salad, and a spicy gochujang sauce on the side.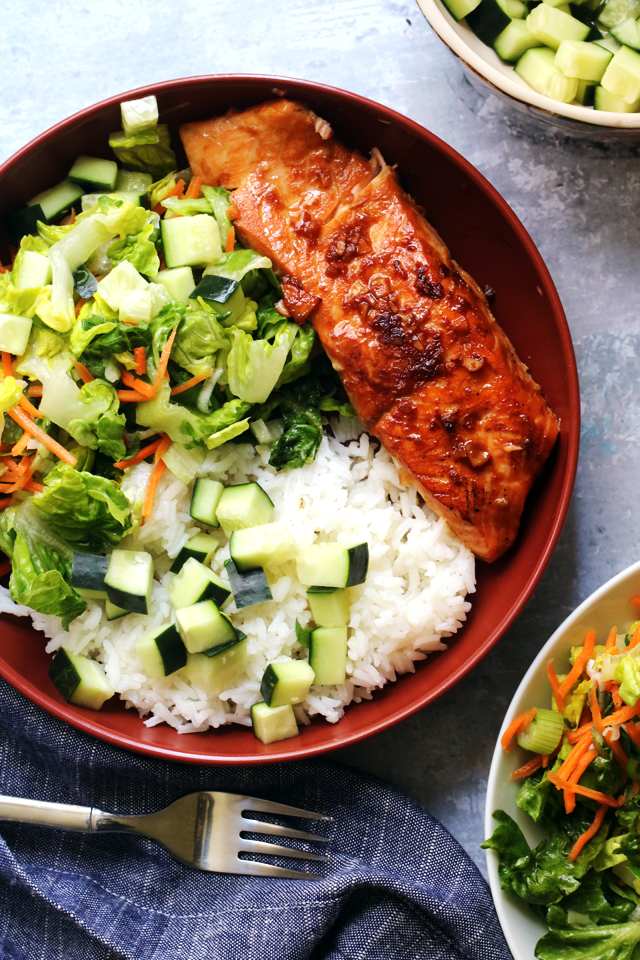 This is SURVIVAL SALMON.
We survived the week!
I survived my first 27 hour shift!
All of the patients in the ICU survived overnight while under my care!
Miracles, all around.
And now we get to do it all again next week. Thank goodness these bowls are so easy to make, because we are going to need a lot of them.
Consider these my secret weapon for when I want to make it seem like i have my s*** together, at least in terms of getting a complete meal on the table, but barely want to lift a finger while making dinner.
The hardest/most time intensive part is whisking up the various sauces/marinades/dressings. And that takes less than five minutes.
I kid you not.
Also, a LOT of this can be done ahead, including pickling the cucumbers, mixing up the salad dressing, stirring together the gochujang sauce, and prepping the marinade. I tend to not love rice left over, but you can even cook that up a few days before if you're less picky about it than I am.
Now, before the authenticity police roll on in, let me just say that this is probably not anything like what you'll get at an actual Korean bbq restaurant. If you want something like that, you should probably find a blog/cookbook that specializes in Korean food. But in the meantime, if you want some food that tastes good and is inspired by Korean flavors…hey, I got you.
Korean BBQ Salmon Bowls
Korean bbq salmon bowls made with white rice, quick pickled cucumbers, a light salad, and a spicy gochujang sauce on the side.
Ingredients
For the salmon
2 garlic cloves, minced
1 tsp grated ginger
4 (6 oz) salmon fillets
⅓ cup soy sauce
1½ tbsp brown sugar
2 tsp toasted sesame oil
For the quick pickled cucumbers
10 oz cucumbers, cubed
2 tbsp rice vinegar
½ tsp sugar
For the bowls
1 cup white rice
1 heart romaine lettuce, shredded
6 oz shredded carrots
2 scallions, thinly sliced
2 tsp toasted sesame oil
4 tsp rice vinegar, divided
¼ tsp sugar
4 tbsp gochujang
½ tsp black or white sesame seeds
Instructions
For the salmon
Whisk together the garlic, ginger, soy sauce, brown sugar, and sesame oil. Place the salmon in a ziploc bag. Add the soy sauce mixture to the bag with the salmon and allow to marinate for 20-30 minutes in the fridge.
Heat a nonstick skillet over medium-high head. Add the salmon and cook until tender, about 3-4 minutes on each side. Add the remaining marinade to the skillet and cook for another 1-2 minutes. Set aside.
For the quick pickled cucumbers
Toss the cucumbers with the vinegar and sugar. Allow to sit for at least 20-30 minutes. (Can be made up to 3 days ahead.)
For the bowls
Combine the rice and 2 cups of water in a medium saucepan along with a pinch of salt. Cover with a lid and bring to a boil. Once the water is boiling, lower the heat to medium low and cover. Allow to simmer for 20 minutes, or until all of the water is absorbed. Remove the cover to release the steam and then allow to sit for 5 minutes. Fluff with a fork.
To make the salad dressing, whisk together the sesame oil, 2 tsp of the rice vinegar, and sugar.
In a large bowl, toss together the romaine lettuce, carrots, and scallions. Add the dressing and toss again.
In a small bowl, whisk together the gochujang and remaining 2 tsp rice vinegar. Set aside.
To serve, divide the rice among 4 bowls. Top each with one of the salmon fillets, a quarter of the salad, and a quarter of the cucumbers (drained). Serve with sesame seeds and gochujang sauce on the side, to garnish.