A lattice-topped raspberry rhubarb slab pie that is perfect for a summer party! It makes enough to serve a crowd and is perfect with a dollop of vanilla ice cream on top.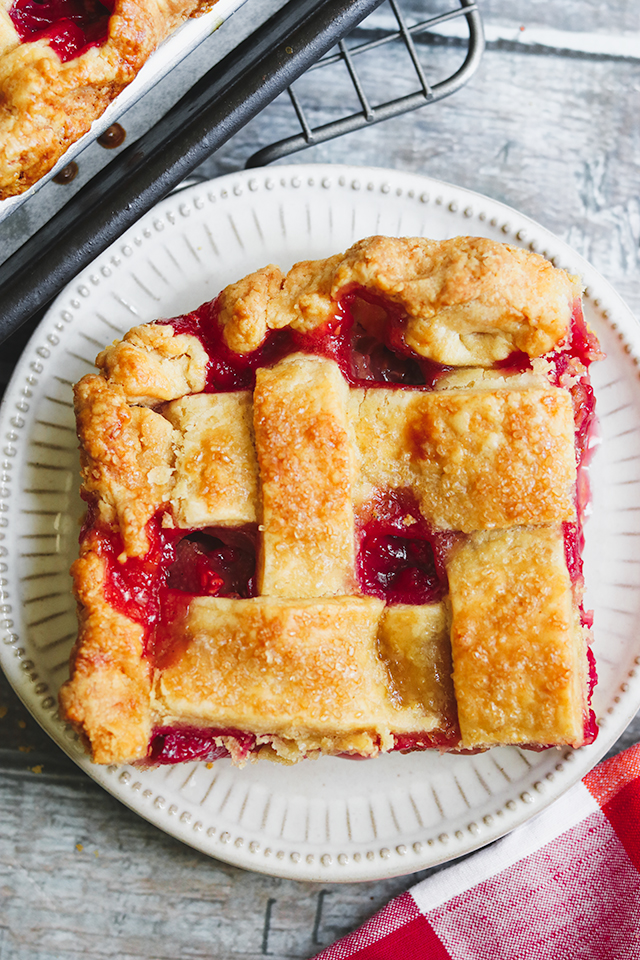 Earlier this summer I committed a cardinal baking sin. 
Yes, it was that bad. Yes, I still wake up in a cold sweat thinking about it. No, I don't want to talk about it but I will anyway because there are no secrets between us and also because I want you to learn from my mistakes and never find yourself in the same awkward position that I did.
Here goes.
I made pie for a barbecue at my mother's house and there was not enough to go around.
(And I may or may not have taken the last slice full on knowing that someone would end up with crumbs and a few forlorn pieces of filling that had oozed out onto the pie plate.)
(No comment.)
So obviously the next time we went over I full on overcompensated by making a slab pie large enough to serve a small army.
This is that pie.
OF COURSE on that day there were at least five fewer people present to eat said pie and so we had leftovers, but I have absolutely no regrets seeing as how I took the leftovers home with me and ate them for breakfast the next day. If that's not a prime example of how to live your best life, I don't know what is.
Though I love pie in any way, shape, or form, there is no doubt in my mind that slab pies are the superior pies for entertaining. They're typically made in a jelly roll or baking pan rather than a pie plate, which means that they are roughly twice the size of your average pie. Also, their rectangular shape makes them easier to cut into however many slices you need.
Not to mention that their crust:filling ratio is objectively perfect, with slightly more crust and slightly less filling than your typical circle-shaped pie.
(I'm a crust gal through and through, in case you haven't noticed.)
The recipe for this raspberry rhubarb slab pie comes from Melissa Weller's A Good Bake cookbook. While strawberries are rhubarb's typical pie companion, raspberries are a nice alternative for those who are looking for something a little different.
The raspberry-rhubarb combo has just the right edge of sweetness to it while still maintaining a good amount of tart flavor to offset the richness of the all-butter crust. The filling is also flavored with orange zest and the scrapings of two vanilla beans, making for a really bright and well-rounded flavor. It's thickened with arrowroot powder and sets up perfectly with nice, clean cuts.
I was anxious about the crust, specifically about having to roll it out into such large sheets, but it was a dream to work with. Weller's pate brisee uses a mix of all purpose and whole wheat flour along with a bit of sugar to make a really tasty crust. She also calls for a measured amount of water, stating that exercising restraint in how much liquid is used prevents shrinkage while baking. This is something that I have struggled with in the past but was really happy with how this crust held its shape.
It's the perfect celebration of summer pie season, which is all too quickly coming to a close, so be sure to make it while there's still time.
Lattice-Topped Raspberry Rhubarb Slab Pie
A lattice-topped raspberry rhubarb slab pie that is perfect for a summer party! It makes enough to serve a crowd and is perfect with a dollop of vanilla ice cream on top.
Ingredients
For the crust
48 tbsp (678 g) unsalted butter, cold, divided
5 cups (600 g) all purpose flour, divided
1¼ cups (300 g) whole wheat pastry flour, divided
6 tbsp (76 g) sugar, divided
3 tsp (18 g) fine sea salt, divided
1 cup (236 g) water, cold, divided
For the filling
1½ lb (681 g) rhubarb
1 lb (454 g) raspberries
2 cups (400 g) sugar
zest of 1 orange
2 vanilla beans
¼ cup + 2 tbsp (44 g) arrowroot powder
1 tsp fine sea salt
For baking the pie
1 large egg
pinch of fine sea salt
2 tbsp (26 g) demerara sugar
Instructions
For the crust
Cut half of the butter (24 tbsp, 339 g) into ½-inch thick pieces. Lay the pieces on a plate in a single layer and place in the freezer for 10 minutes.
Combine half of the all purpose flour (300 g), half of the whole wheat pastry flour (150 g), half of the sugar (38 g), and half of the salt (9 g) in the bowl of a stand mixer fitted with the paddle attachment. Mix for 1 minute on low speed to combine.
Remove the butter from the freezer and add it to the mixer bowl. Mix on low speed for 1-2 minutes, or until it is mostly coarse crumbs with some larger pieces of butter mixed in.
Add half of the cold water (118 g) to the bowl and mix on low speed until it just starts to come together.
Pour onto a clean work surface and pat into a rectangular block. Place onto a long sheet of plastic wrap and top with another sheet of plastic wrap. Run a rolling pin over the dough until it is ½-inch thick. Wrap completely in plastic wrap and place in the refrigerator to chill for at least 2 hours or overnight.
Repeat with the remaining half of the ingredients.
When ready to bake, remove both blocks of dough from the refrigerator and allow them to rest on the counter for 10-15 minutes.
Grease the bottom and sides of a jelly roll pan with butter and set aside.
Unwrap one block of dough and place on a lightly floured work surface. Roll into a 15x20 inch rectangle. Place on the prepared jelly roll pan and guide the dough into the creases and sides of the pan. Trim the dough so that there is a 1-inch overhang. Gather the trimmings and pan them into a thin square block. Place the pan with the crust in it and the block of trimmings into the fridge.
For the lattice, dust the work surface again with for and roll the second block of dough into a 15x20-inch rectangle.
Turn a baking sheet upside down and top with parchment paper. Place the rolled out dough onto the baking sheet, folding over the edges if necessary. Place in the refrigerator and chill for 30 minutes.
Remove the block of dough trimmings from the fridge and roll into a 12-inch square. Slide onto a piece of parchment paper and place on top of the rolled out dough. Chill for 30 minutes. Remove from the fridge and cut into 1-inch strips. Remove the lattice dough from the fridge and place on a work surface with the short edge facing you. Cut lengthwise into 1-inch strips. Place all of the strips back in the refrigerator while you prepare the filling.
For the filling
Trim the rhubarb and cut into ½-inch thick pieces. Place in a large bowl with the raspberries. Set aside.
In a medium bowl, combine the sugar with the orange zest and the seeds of 2 vanilla beans. Use your fingers mix the orange zest and vanilla beans into the sugar. Add the arrowroot powder and salt to the sugar. Mix to combine. Add to the bowl with the rhubarb and raspberries. Gently mix until well combined.
Remove the pie shell from the refrigerator and scoop the filling into it, using a spatula to spread it into an even layer.
Remove the lattice strips from the refrigerator. Spread 7 of the long strips evenly across the pie. Weave in the shorter strips to form a woven lattice top. Trim the edges so that the lattice is flush with the inside rim of the pan.
Gently roll the overhang of the dough up to the rim of the pan. Crimp to seal. Place in the refrigerator to chill for 30 minutes.
For baking the pie
Heat oven to 375F.
Remove the pie from the refrigerator.
In a small bowl, whisk the egg with the salt to make an egg wash. Brush over the pie dough and sprinkle the sugar on top.
Place on a parchment-lined baking sheet and bake for 50-60 minutes or until the filling is bubble and the crust is golden, rotating halfway through.
Remove to a cooling rack and allow to cool for at least 1 hour before serving.