Start your day off right with a bowl of yogurt topped with this sweet and crunchy candied ginger, almond, and quinoa granola. 
Disclosure: This post was sponsored by Yulu Yogurt. As always, my thoughts and opinions are my own.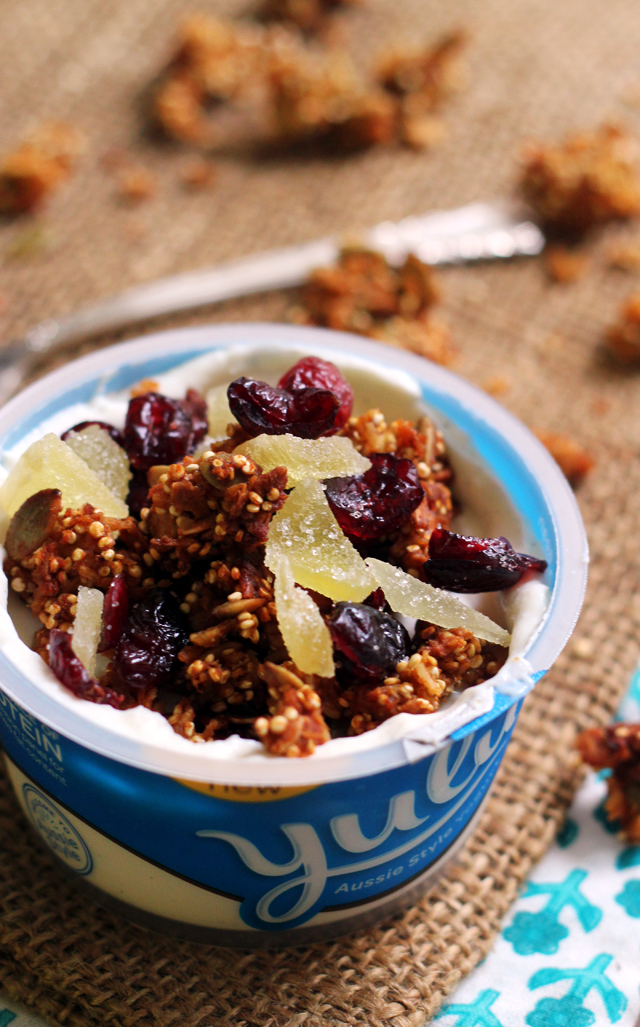 So you must have heard of Trivia Crack.
The smartphone app that's sweeping the nation and making us wish we remembered everything anything we learned in 4th grade geography.
This must have been what our teachers meant when they said it would come in handy later in life.
They were so much more clairvoyant than I would have thought. Huh.
Personally, I wish I hadn't.
Heard of it, that is. Not so much for myself because I refuse to entangle myself in these newfangled "app" doodads, but mainly for the.boy who now spends his nights sitting on the couch screaming about how knowledge of Harry Potter trivia is not a measure of intelligence!
And so I spend my nights listening to him sit on the couch and scream about how lack of Harry Potter trivia knowledge is not a measure of his intelligence!
Honestly, if I had known he had never read Harry Potter before we got married, the entire basis of our relationship would certainly have come into question, but the topic was somehow casually suspiciously avoided for three years.
And here we are. Legally bound to each other. So lucky.
At least we have granola.
And by "we", I mean "I".
Because this has nuts and quinoa and all sorts of healthy good for you things in it and I can't keep my hands off it. Out of it.
Basically, I'm not sharing and you can't make me.
I've actually never made granola before, if you can believe it.
But then I tried new Aussie style Yulu Yogurt and it was all extra creamy! and double smoothed! and pretty much tastes like vanilla ice cream.
And what is ice cream without something sweet and crunchy on top?
Now you see where the granola comes in.
Because Yulu Yogurt is super nourishing and full of only good quality, honest ingredients I wanted to keep the granola full of equally delicious and nutritious things.
Oats, quinoa, almonds, pepitas, dried cranberries, dried cherries, crystallized ginger, dried coconut, canned pumpkin, and a boatload of warm spices.
I bet your storebought granola can't do that.
Eating the granola-smothered yogurt made for the perfect breakfast, in my opinion, but that didn't stop me from also eating it as pre-workout snack. And an after dinner dessert. And a mid-lunch treat.
It's really perfect anytime is where I'm going with this.
Unlike Trivia Crack, which should really just be enjoyed in the privacy of your own home as far away from your spouse as possible. Trust me.
Candied Ginger, Almond, and Quinoa Granola
Start your day off right with a bowl of yogurt topped with this candied ginger, almond, and quinoa granola. It has just the right amount of crunchy sweetness.
Ingredients
¾ cup rolled oats
½ cup quinoa
⅓ cup pepitas
⅓ cup sliced almonds
⅓ cup unsweetened shredded coconut
¼ cup brown sugar
1 tsp ground cinnamon
1 tsp ground ginger
1 tsp kosher salt
½ cup pumpkin puree
¼ cup honey
2 tbsp olive oil
¼ cup dried cranberries
¼ cup dried cherries
½ cup crystallized ginger, finely chopped
Instructions
Heat oven to 350F.
IN a large bowl, toss together the oats, quinoa, pepitas, almonds, coconut, brown sugar, cinnamon, ginger, and salt.
In a small bowl, whisk together the pumpkin, honey, and olive oil. Add to the dry ingredients and toss until thoroughly combined. Spread out on a parchment-lined baking sheet in an even layer. Bake for 30-40 minutes, stirring every 10 minutes, until golden brown and crunchy. Let cool completely.
Toss with the dried fruit and ginger. Serve over yogurt.
 More Healthy Breakfasts: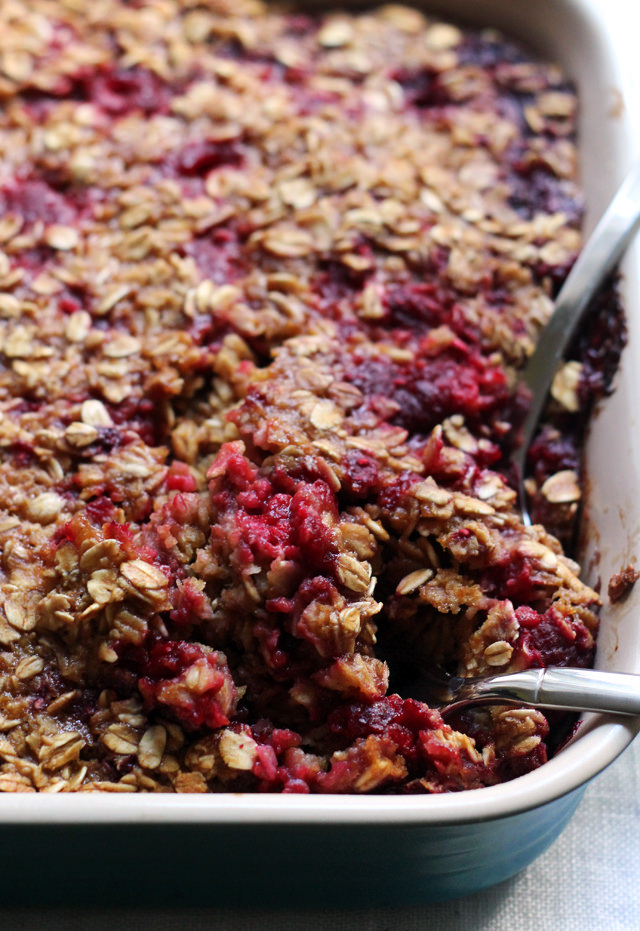 Baked Raspberry Oatmeal with Brown Butter Drizzle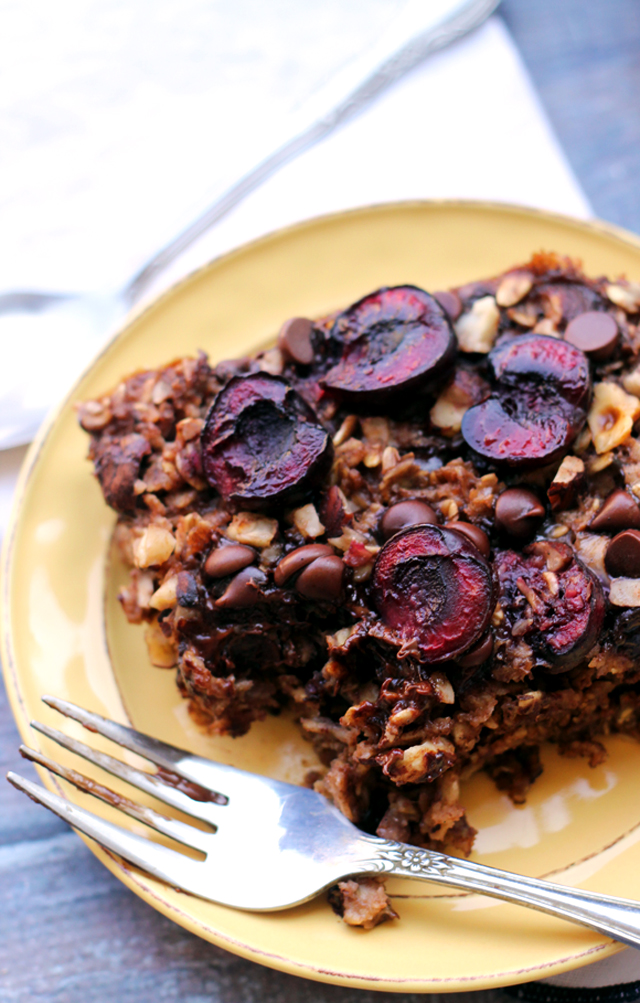 Chocolate-Covered Cherry Baked Oatmeal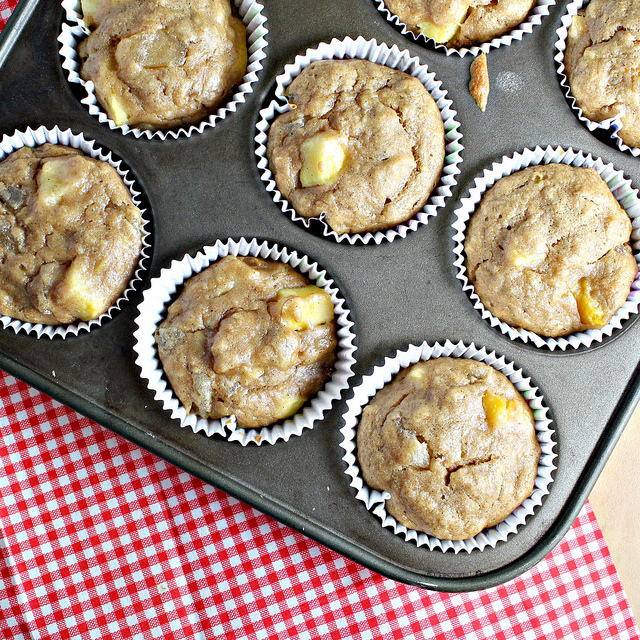 Vegan Mango Banana Muffins with Crystallized Ginger
From Around the Web:
Nutella Pumpkin Slow Cooker Granola from Crunchy Creamy Sweet
Cranberry Apple Yogurt Parfait from Nutmeg Nanny
Big Cluster Peanut Butter Granola from Pinch of Yum
Chocolate Coconut Chia Pudding from Lauren Kelly Nutrition
Coconut Vanilla Overnight Oats from My Whole Food Life
This is a sponsored conversation written by me on behalf of Yulu. The opinions and text are all mine.